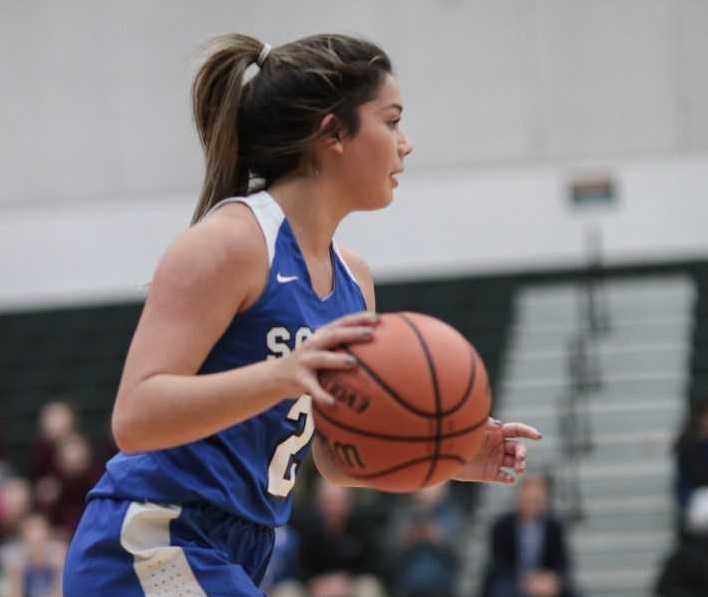 Perhaps the biggest unknown in 6A girls basketball is No. 5 South Medford.
Starting three sophomores, the Panthers are 13-2, but they don't own a win against a team currently in the top 10 of the OSAAtoday 6A coaches poll. Eight of their games have been on the road against California teams, including both of their losses, 60-36 to La Jolla Country Day and 58-49 to Valencia.
So how good is South Medford?
"It's hard to say," South Medford coach Tom Cole said. "We're still growing as a team and we still have some consistency issues we need to work out. Some quarters and some games we look really, really good, and I think we can play with anyone. And two quarters later, I scratch my head."
The Panthers have beaten five California teams with combined records of 73-22 -- including Del Norte (15-2) -- but comparative scores in Oregon reveal little.
The Panthers won 65-62 over Central Catholic (7-7), a team that lost by one point to No. 3 Tigard but also lost by 31 to No. 6 Jesuit and 48 to No. 2 Benson. Even within that Central Catholic game, though, South Medford was a bit of a mystery, leading by 19 points at half before hanging on for dear life at the end.
"They're having to learn how to win, how to finish games strong," Cole said.
Winning has been the norm in recent years at South Medford, where the Panthers won 92 consecutive conference games over eight years before Sheldon ended the streak last season.
For seven seasons in a row, the Panthers won at least 21 games and reached the state tournament -- including three finals appearances and one title (2012) -- before going 17-10 and losing in the round of 16 last year.
Of the nine players on the team's roster last season, seven were freshmen. This year, the team has three freshmen, five sophomores, one junior and one senior.
"We're still ridiculously young, even this year," Cole said. "I don't know that I've seen a team, certainly at the large-school level, be the composition of kids that I had last year."
All five starters returned, led by Weber State-bound Ula Chamberlin. The 5-foot-9 senior guard and is averaging a team-high 19.2 points and shooting 40 percent (34 for 85) from three-point range.
"Last year was difficult year for her because she was a junior and she was our veteran," Cole said. "This year she has a chance to be the first kid out of our program to be a three-time all-state kid. Physically, she's stronger, and her confidence level – in leading and being a stable presence – is different."
Bella Pedrojetti, a 5-10 junior guard, is drawing interest from Division I programs, according to Cole. She is averaging 13.7 points and shooting 37 percent (37 for 99) on three-pointers.
The sophomore starters are forwards Kaili Chamberlin (10.0 points, 5.0 rebounds) and Shakia Teague-Perry (7.4 points, 7.8 rebounds) and guard Toni Coleman (9.9 points, 3.9 steals).
The Panthers open Southwest Conference play Friday at home against South Eugene. They play four conference games before going on the road to meet No. 8 Sheldon (11-4) on Feb. 1.
Cole said he knows "there are some teams that we would have distinct matchup issues with" among the 6A contenders, in particular No. 1 Southridge and Benson.
"Certainly I think Southridge and Benson are in a class different than probably everybody else," Cole said. "And then there some other very good teams between Beaverton and Tigard and Jesuit. So how do we fit in with them?"
At this point, it's anybody's guess.
Regardless of how this season unfolds, the future is bright for South Medford. The team is loaded with young talent, and next year will add one of the top-rated freshmen in the nation in 5-10 guard Donovyn Hunter, who already is drawing major-college interest.
"Everybody is on to her. She's incredibly gifted," Cole said. "Her dribbling, it's pretty impressive. I've never seen anything like it. I've never had a kid coming in that's as skilled as she is, in terms of her ballhandling. It's crazy."