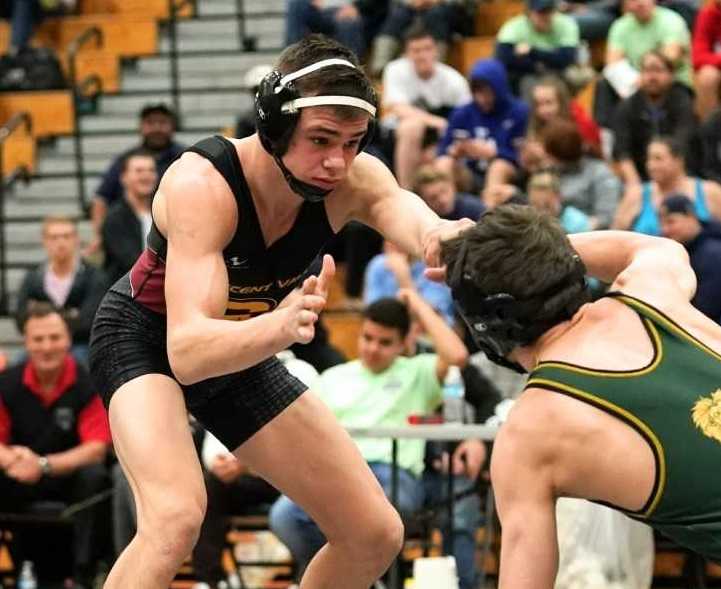 HILLSBORO – Crescent Valley has never won a wrestling state championship.
Given the way the Raiders stole the show in the finals of the 21-team Reser's Tournament of Champions on Saturday at Liberty High School, that may be about to change.
It was a virtual parade of champions for Crescent Valley as it went 5-0 in the finals, getting titles from seniors Legend Lamer (145) and Kaimana Wa'a (285), sophomore Chance Lamer (113) and freshmen Gabe Whisenhunt (106) and James Rowley (152).
For a team that hasn't even earned an invitation to the prestigious meet in the past, it was a smashing performance. The 5A Raiders scored 177.5 points, surpassed only by 6A powerhouse Newberg (214).
"It's been such a fun time, going from last year, losing almost every dual, to now like being one of the top teams in the nation," Chance Lamer said. "It's been really fun seeing our team evolve."
Legend Lamer is a three-time state champion and Chance Lamer has one title, but now the brothers have plenty of support with the addition of Wa'a, who is back after missing his junior season to focus on football, and the impressive freshmen.
"We've got big plans," Legend Lamer said. "Hopefully win a district title in a couple weekends and then a state title. It's a three-way race between us, Dallas and Crook County. We're going to have to train hard and peak to our potential, and I think we can take home the state championship."
Legend Lamer, whose only loss this season came against a California wrestler, rolled to his title by pinning all four of his opponents. He capped it with a first-round pin of the top seed, West Linn sophomore Cael Brunson, using what he calls his "bread and butter," the cross-face cradle.
"I feel really good mentally and physically," said Legend Lamer, who has signed with Cal Poly. "I feel like I can wrestle with anyone in the country right now."
Chance Lamer posted a 19-4 decision over Newberg freshman Ayden Garver in the final.
"I thought it was going to be a tough match. I focused more on conserving my energy," said Chance Lamer, who placed fifth in the Cadet World Championships in Croatia in July. "I didn't want to waste shots to waste my energy. I didn't know I'd beat him that bad, but I had confidence that I'd beat him."
Wa'a had a sensational tournament, pinning all four of his foes, including a first-round fall of Century sophomore Broderick Reese in the final. Wa'a has come a long way since early in the season.
"I had a hard time fighting off my back at the beginning of the season, but after a while, I just started practicing harder," Wa'a said. "I felt like I flipped the switch as soon as we hit Reno TOC (Dec. 20-23). As soon as we hit that, my coaches told me that I needed to start getting pins."
Wa'a, who has signed to play football at Hawaii, started the season at 305 pounds but has dropped to 283. He said wrestling has helped him with his flexibility, too.
"I wasn't even going to wrestle, but my Hawaii coach called me and he was like, 'What are you doing this offseason?'" Wa'a said. "I told him all the things I thought he wanted to hear, and he was like, 'You're going to wrestle.' So I told him OK."
Whisenhunt won his title with a first-round pin of Cascade freshman Mauro Michel, making him 3-0 against Michel this season. Rowley posted a 14-0 decision over Sweet Home junior Travis Thorpe for his title.
Five wrestlers repeated Reser's titles from 2018: Culver senior Lorenzo Vasquez (120), Crook County junior Hunter Mode (126), Mountain View junior Beau Ohlson (138), West Linn senior Sean Harman (170) and Sprague junior Santos Cantu (195).
The most intriguing final was at 120, where Vasquez faced Newberg senior Christopher Strange in a battle of reigning state champions. Vasquez dominated, however, cruising to a 10-2 victory, much different than last year, when he defeated Strange 10-8 in the Reser's 113 final.
Vasquez, a three-time champion in 2A/1A, relished beating a 6A champion in Strange.
"It means a lot, especially that our division, 2A, is weaker," Vasquez said. "Coming to tournaments like these, and dominating, showing them what I can do, makes me feel a lot better. Showing them, 'Yeah, I'm 2A, but I'm still good.'"
Ohlson, a two-time 5A champion who has moved up to 6A this season, showed that he has made excellent progress since getting a late start to the season due to a broken thumb. He pinned three of his five opponents at the tournament, stopping Redmond senior Jacob Curry in the second round of the final.
The late start affected Ohlson's conditioning, but he is catching up.
"I didn't expect to do as good," Ohlson said. "I've been working on healing it up, lifting weights a little bit, and getting my strength back. I think it's doing all right. I think this is definitely a steppingstone. I think regionals will be where it's at, for sure."
Cantu, who is going for his third 6A title this season, defeated Newberg junior Hunter James 12-5 in the championship match. It was a rematch of last year's 6A final, which Cantu won 13-4.
"I could have scored more, but it's all right," Cantu said. "I was obviously dictating the pace and scoring, shooting. I feel like I kind of slowed down a little bit towards the end."
Cantu adds the title to a season that includes a championship at the Reno Tournament of Champions in December.
"My mental approach has been the best it's ever been. I'm calm, I'm relaxed," Cantu said.
Mode defeated Roseburg sophomore Kahleb Diaz 16-6 in the final. Mode, who won the Reser's title at 106 last year, not only has jumped three weight classes to 126, but Crook County has climbed from 4A to 5A. He is enjoying the challenge.
"It's pretty cool wrestling people I haven't wrestled before, getting a feel for people," Mode said. "I like it a lot. I think state's going to be a challenge. It's just going to be who wants it more."
Harman had little trouble plowing through the 170 bracket to stay unbeaten for the season. The two-time 6A champion handled Sweet Home senior Hayden McDonald 15-5 for the title.
Newberg used its premium depth to pile up points all over the brackets, but the Tigers went 1-3 in the finals. Their only title came from an unlikely source, sixth-seeded freshman Charlie Evans (132).
Evans laid waste to his bracket, beating the No. 3 and No. 2 seeds before knocking off the top seed, Dallas senior Joseph Foster, 5-1 in the final.
"It's a big boost. Now I feel like I can wrestle with anyone in the state," Evans said.
Does Evans belong among the 6A contenders?
"It doesn't matter what I think. Charlie thinks he does," Newberg coach Neil Russo said. "Charlie never steps on the mat and thinks he can't win. And he's right most of the time.
"He came into the season -- like a lot of these young kids -- kind of off the radar. I tried to hide them for as long as I could, but the cats are out of the bag."
Other winners included Lebanon sophomore Keith Brown (220), Crook County junior Kyle Knudtson (182) and La Grande junior Parker Robinson (160).
In the finals, Brown defeated Sprague senior Jacob Luna 3-1; Knudtson pinned David Douglas senior Romeo Manue in the second round; and Robinson pinned Hillsboro senior Nick Peterson in the first round.