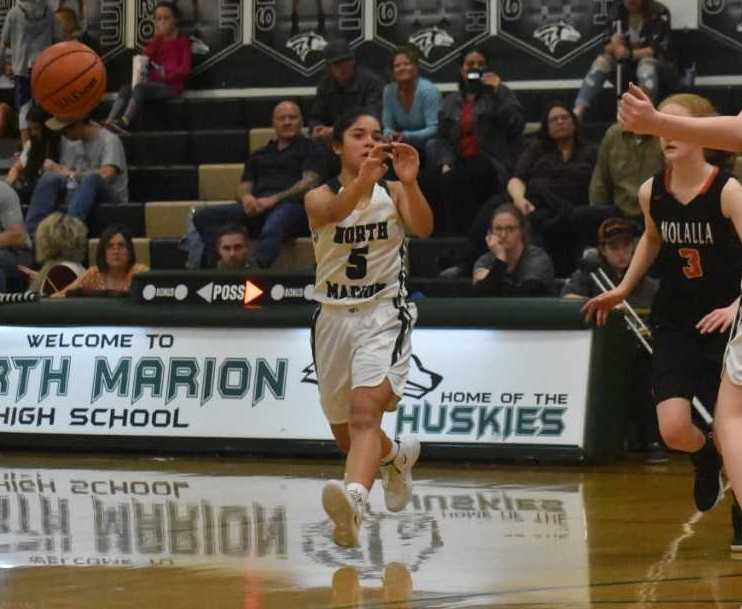 AURORA – It took No. 3 North Marion a while to warm up, but the Huskies finally kicked into gear to roll past visiting Molalla 66-36 in a 4A Tri-Valley Conference girls basketball game Friday night.
North Marion (15-5, 6-0) took the lead for good in the middle of the second quarter on a basket by 6-foot-2 senior post Raymee Boese, extended the advantage to 29-17 at half and opened a 42-20 lead three minutes into the third quarter.
"I definitely thought we were tired, which made it slower," Huskies senior post Paige Martin said of her team's start. "We just had to pick up the energy and keep going … We kind of got into our rhythm and started to play how we play."
Boese and the 6-1 Martin drew much of Molalla's attention, but after a while, it began to open up the perimeter game for senior wing Mar Verastegui, sophomore guard Mya Hammack and junior wing Katie Ensign to hit open shots.
"It was good because once we passed it inside, they all collapsed and it really gave us a chance to our shooters to really do their job," Ensign said.
Defense fueled North Marion's transition game as the Huskies went on a 28-5 run to pull away. Molalla managed only 12 points in the second and third quarters.
"We definitely picked up our defense since the first quarter," said Ensign, who scored 19 points. "We all had to step it up if we wanted to go play to our potential."
North Marion has a week off before playing at Madras (13-6, 5-1) with first place on the line.
"We just have to practice hard and go in there like we know how to play," said Martin, who scored 13 points. "We're definitely not going to have it easy. It's definitely a long drive and we're not going to get calls our way, but I think just practice will get us there."
Junior Madeline Lisac had a team-high 12 points for Molalla.