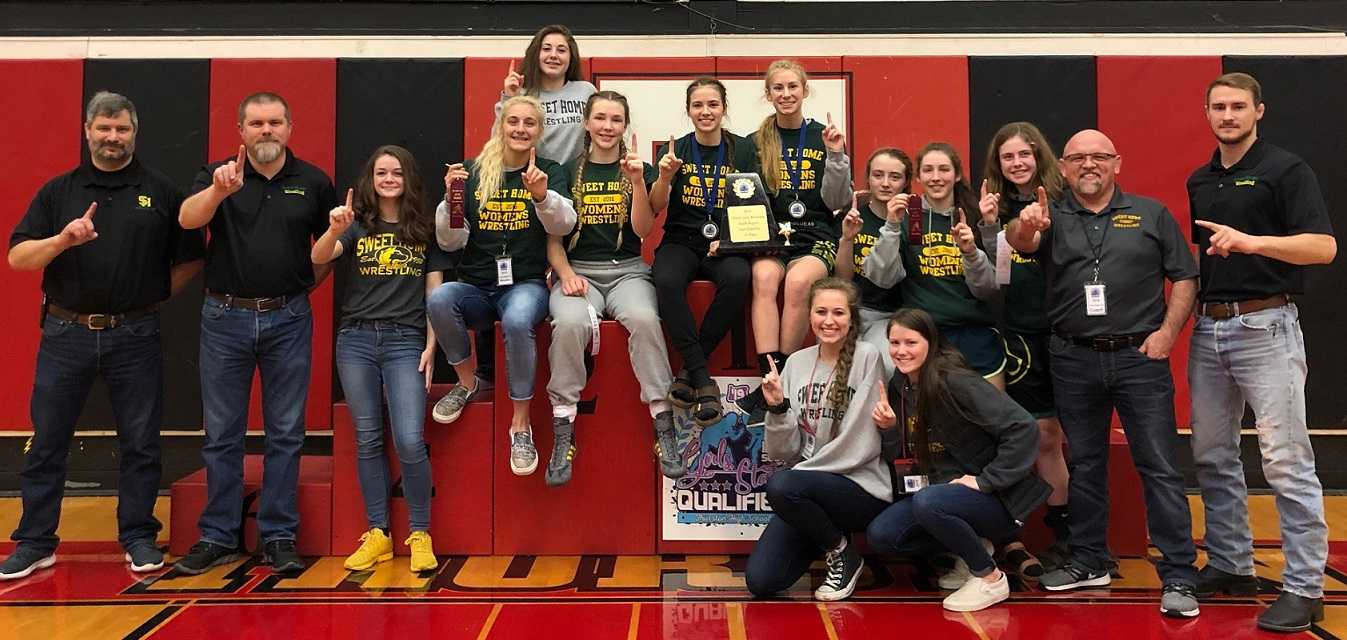 Sweet Home and Hillsboro emerged as the big winners in the inaugural OSAA girls wrestling regional qualifying tournaments Friday and Saturday.
Sweet Home won the 54-team Southern Division tournament at Thurston High School, scoring 145 points to top Thurston (138.5) and Bend (116).
Hillsboro finished first in the 53-team Northern Division tournament at Liberty High School, racking up 132.5 points to outscore Hood River Valley (123), Century (122) and Scappoose (120).
In recent years, girls teams met in a single qualifying tournament to determine four state qualifiers for each weight class. This time, the teams were split into two regions, with the top two placers in each weight class earning berths to state tournament Feb. 22-23 at Veterans Memorial Coliseum.
"I think it was fantastic," Sweet Home coach Steve Thorpe said of the new format.
Having two qualifying tournaments allowed for smaller brackets. In the past, the brackets sometimes included more than 40 wrestlers competing for the four state berths.
In the semifinals at state, the No. 1 seeds from the Southern Division will face the No. 2 seeds from Northern Division, and vice versa. For the first time, girls will compete for an OSAA-sanctioned championship.
The division tournaments included nearly 400 girls.
"I think women's wrestling has grown to a point where I think we need to have a bigger bracket at the state tournament," Thorpe said. "A four-girl bracket is not a great representation of the number of women that are wrestling."
Of Sweet Home's nine entries, seven of them placed in the top six in their divisions, allowing the Huskies to overcome Thurston, which entered 15 wrestlers. Sweet Home got titles from senior Marissa Kurtz (110 pounds) and junior Lexi Schilling (105), both of whom pinned their way through the tournament.
"Sweet Home wrestling is a successful program and it has a lot of tradition, and for our ladies to come in and do this, it wasn't a surprise for us," Thorpe said. "We went there with that as a goal.
"I knew that beating Thurston was going to be awful tough. … It's very exciting for us, and I think it gives us motivation for the future to continue to grow our women's program."
Kurtz, who beat Schilling in the 105-pound final at state last year, is one of five reigning state champions to advance with regional titles, all in the Southern Division tournament.
The others are North Medford senior Kyleigh Lopez (115), Phoenix junior Emma Truex (125), Central Linn senior Sarah Conner (135) and Madras junior Bailey Dennis (190), a transfer from Ridgeview.
In the Northern Division tournament, Hillsboro had three champions in senior Riana Jenkins (170) and freshmen Ayana Medina (105) and Emma Blackwell (110).
Second-year Hillsboro wrestling coach Stephen Moreno credited the addition of girls coach Maddy McIlwain with getting the wrestlers focused on goals.
"Last year we had several girls that had the talent, we just didn't know how to put expectations together," Moreno said. "We knew we had tough girls. We knew that they would make awesome wrestlers.
"When we brought coach Maddy on, that's when we were able to put expectations into scope. She was that driving force, to make sure that we were funneling that program up the right way. We have all the talent. I'm excited for the next couple years. We'll end up having that pipeline of female wrestlers here. Girls wrestling here, it's a cool place to be."
Moreno said Jenkins is an example of how Hillsboro is developing girls wrestlers. Jenkins was a girls basketball player the last three years before deciding to try wrestling this season.
"She's been wrestling for 11 weeks, and now she's wrestling for a state championship," Moreno said.
A look at the finals results:
Southern Division
100 -- Olivia Flack (La Pine) 19-0, Jr. over Samantha Dara (Grants Pass) 12-2, Jr. (Fall 1:57)
105 -- Lexi Schilling (Sweet Home) 18-4, Jr. over Riana Martin (Scio) 6-1, Sr. (Fall 1:07)
110 -- Marissa Kurtz (Sweet Home) 23-1, Sr. over Kyleigh Cuevas (Bend) 17-3, So. (Fall 3:58)
115 -- Kyleigh Lopez (North Medford) 6-0, Sr. over Arionna Young (Grant Union) 6-1, Fr. (Fall 0:29)
120 -- Charli Stewart (Bend) 21-2, So. over Breanna Mestas (Bonanza) 13-5, Jr. (Fall 1:52)
125 -- Emma Truex (Phoenix) 10-0, Jr. over Cailee Hallett (Thurston) 23-2, So. (Fall 1:19)
130 -- Taylor Ohlson (Mountain View) 19-0, Jr. over Elexis Walker (Douglas / Camas Valley) 8-2, Sr. (Dec 7-1)
135 -- Sarah Conner (Central Linn) 3-0, Sr. over Kerrilee McMahan (Gilchrist) 8-5, Sr. (Fall 2:56)
140 -- Alexandra Byrne (Mountain View) 15-4, Fr. over Alexandra Contreras (Brookings-Harbor) 11-2, Sr. (MD 12-1)
145 -- Anna McDougal (Elmira) 24-8, Fr. over Kara Davis (Eagle Point) 8-1, So. (Dec 3-2)
155 -- Trinity Hutchison (Grant Union) 9-1, Sr. over Fatima Albanian (Bend) 18-5, So. (Fall 2:52)
170 -- Evangelina Toruno (La Pine) 23-0, Sr. over Jordan Blanton (Myrtle Point) 4-2, Fr. (Fall 2:43)
190 -- Bailey Dennis (Madras) 4-0, Jr. over Jasmine O`Neill (La Pine) 11-3, So. (Fall 2:22)
235 -- Raina Herzog (Cottage Grove) 16-5, So. over Samantha Stroud (South Umpqua) 1-2, Sr. (Dec 7-1)
Northern Division
100 -- Sophia Redwine (Newberg) 11-0, Fr. over Emma Baertlein (Oregon City) 3-1, So. (Dec 7-0)
105 -- Ayana Medina (Hillsboro) 33-4, Fr. over Allie Ocain (Rainier) 30-5, Sr. (TF-1.5 5:18 (18-2))
110 -- Emma Blackwell (Hillsboro) 28-7, Fr. over Emma Jones (Scappoose) 18-6, Jr. (Fall 3:04)
115 -- Kendall Martin (Sandy) 15-0, Sr. over Faith Strode (Liberty) 17-10, Sr. (TF-1.5 4:10 (16-1))
120 -- Jaden South (Milwaukie) 6-3, Jr. over Sophie Keefer (Lincoln) 11-4, So. (Fall 1:49)
125 -- Emily Sullenger (Hood River Valley) 18-4, Fr. over Bella Amaro (Scappoose) 28-5, Fr. (Dec 4-3)
130 -- Alexys Zepeda (Gervais) 4-0, So. over Marley Zook (Roosevelt) 27-4, Sr. (Fall 1:44)
135 -- Piper Staniford (Franklin) 8-0, So. over Elbereth Ragsdale (Glencoe) 11-3, So. (Dec 10-3)
140 -- Tyler Richardson (Vale) 19-2, Fr. over Elena Kroll (Hood River Valley) 34-3, Sr. (Dec 3-0)
145 -- Grace Miller (Hood River Valley) 38-1, Sr. over Belle Erhardt (Scappoose) 17-8, Sr. (Fall 0:37)
155 -- Lilliann Restrepo (Century) 22-3, Sr. over Noelle Acosta (Nyssa) 13-4, Jr. (Fall 3:14)
170 -- Riana Jenkins (Hillsboro) 29-8, Sr. over Natalie Brauser (Lincoln) 8-5, Sr. (Fall 1:54)
190 -- Fiona McConnell (Milwaukie) 18-0, So. over Dore Young (Franklin) 4-3, Jr. (Fall 1:33)
235 -- Abby Osei (Ontario) 8-1, Fr. over Glenna Barranco (Sunset) 8-4, Jr. (Dec 7-1)