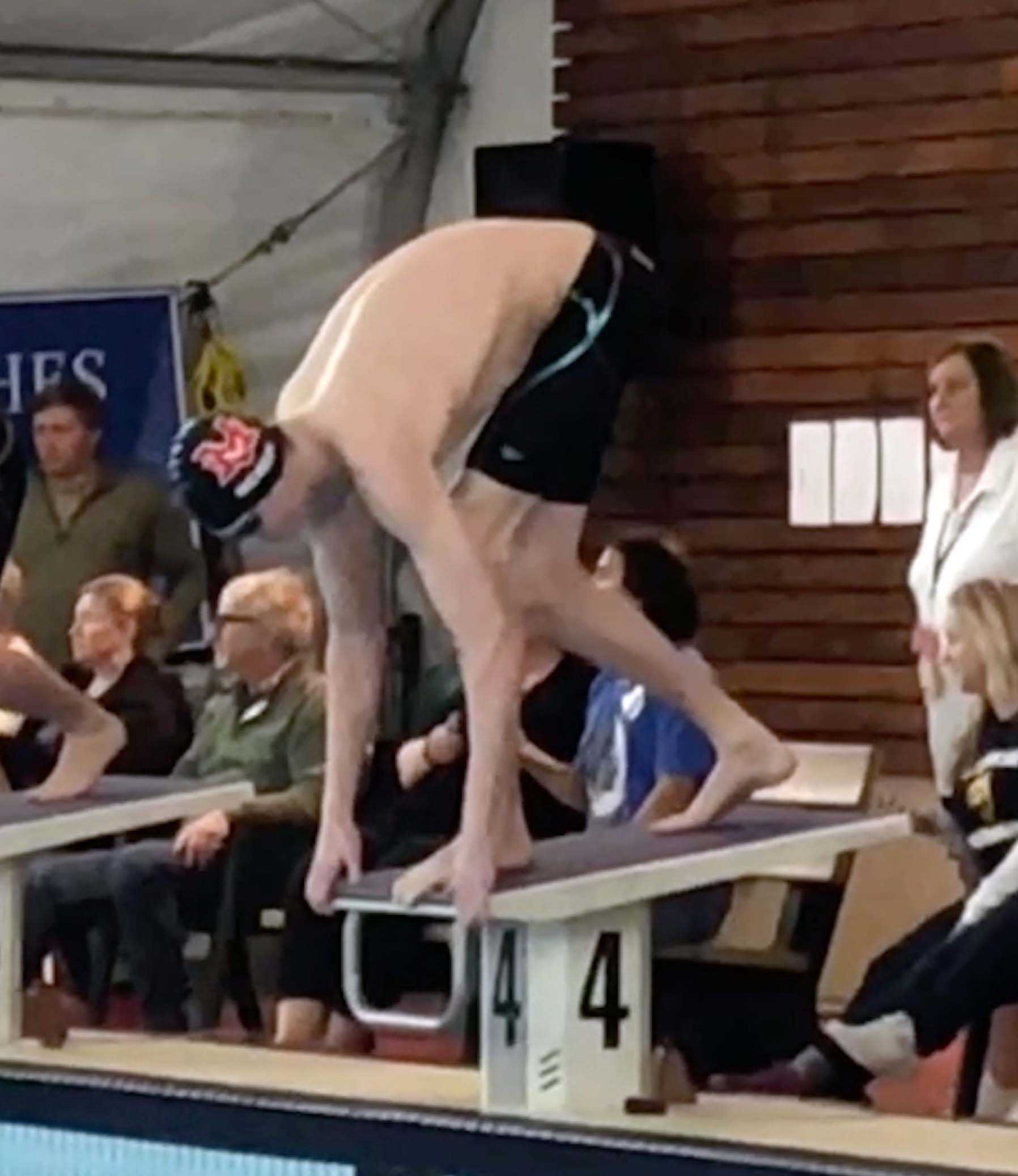 [Editor's note: Griffin McKean is the eldest of three brothers who come by their swimming talent naturally. Both of their parents swam collegiately at the University of Arizona. McKean won the 200 I.M. and 100 breaststroke for Mountain View HS at the 5A state meet two years ago and captured titles in the 200 free and 100 breaststroke last season. Let's get to know a little more about Griffin with this year's state meet on the horizon. We asked Griffin, whose team has moved up to 6A this year, to review more than 20 random questions, then pick five to answer]
OSAAtoday: When the lights are out and you're just about to fall asleep, what do you think about?
McKean: I think about the things I did during the day and maybe why some of them happened. I also think about the next day and the problems that might come up. I try to think how I will solve them when they come up.
OSAAtoday: Tell us a joke that will make everyone groan.
McKean: Kid: I'm hungry!
Dad: Hi hungry I'm Dad.
OSAAtoday: You'll be given a four-year scholarship to a Power 5 school but only if you shave off your hair and go out bald in public for a year. Are you game?
McKean: Hands down. I've never gone bald before but in this case I would have to do it. There is no doubt.
OSAAtoday: What about going to college scares the bejeebers out of you?
McKean: The thing that scares me most about college is what comes after and the expectation of a solid job and later a family.
OSAAtoday: If swimming wasn't a major focus of your life, how would you be filling all that free time?
McKean: I probably spend my time studying and building things. It might be electronics, wood, metal…maybe working on cars, but I do like building things.
***
Enjoy our previous "Take Five" articles…
Take Five with…Wilsonville's Gabe Reichle -- http://www.osaa.org/today/article/533/view?title=Take+Five+with+%E2%80%A6+Wilsonville+wing+Gabe+Reichle
Take Five with…Banks' Aspen Slifka -- http://www.osaa.org/today/article/530/view?title=Take+Five+with+%E2%80%A6+Banks+guard+Aspen+Slifka
Take Five with…Thurston's Isaac Lange -- http://www.osaa.org/today/article/502/view?title=Take+Five+with+%E2%80%A6+Thurston+baller+Isaac+Lange
Take Five with…Beaverton's Laura Erikstrup -- http://www.osaa.org/today/article/498/view?title=Take+Five+with+%E2%80%A6+Beaverton+cager+Laura+Erikstrup
Take Five with…Jesuit's Trent Martinez -- http://www.osaa.org/today/article/487/view?title=Take+Five+with+%E2%80%A6+Jesuit+swimmer+Trent+Martinez
Take Five with…West Linn's Sean Harman -- http://www.osaa.org/today/article/481/view?title=Take+Five+with+%E2%80%A6+West+Linn+wrestler+Sean+Harman
Take Five with…Benson's Ciera Ellington -- http://www.osaa.org/today/article/456/view?title=Take+Five+with+Benson+guard+Ciera+Ellington
Take Five with…La Salle Prep's Addison Wedin -- http://www.osaa.org/today/article/450/view?title=Take+Five+with+La+Salle+Prep+cager+Addison+Wedin
Take Five with…Catlin Gabel's Lizzy Cook -- http://www.osaa.org/today/article/440/view?title=Take+Five+with+Catlin+Gabel%E2%80%99s+Lizzy+Cook
Take Five with…Lake Oswego's Josh Angle -- http://www.osaa.org/today/article/431/view?title=Take+Five+with+Lake+Oswego%E2%80%99s+Josh+Angle