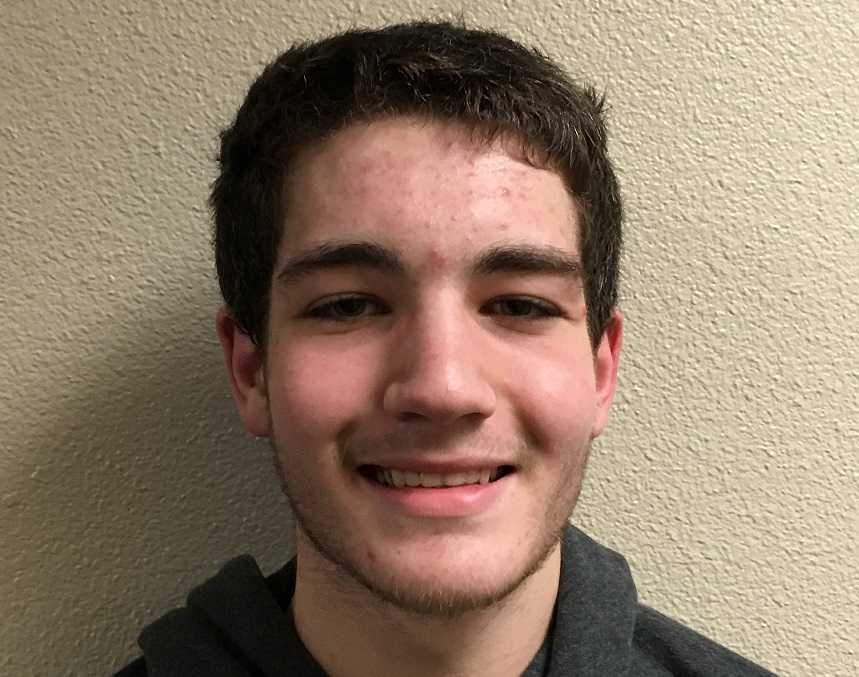 ALOHA – Dustin Silver was behind nearly every play in a pivotal fourth-quarter run for Perrydale on Tuesday night at Life Christian.
So it was only fitting that the 6-foot-2 senior guard made sure his team held on in the final seconds to win in the first round of the OSAA / OnPoint Community Credit Union 1A Boys Basketball State Championship.
Silver flew over from the weak side to challenge a shot by 6-5 sophomore Kobe Jenson at the rim and allow the Pirates to escape with a 51-49 win that puts them in the round of 16.
Life Christian had rallied from a 10-point deficit in the last three minutes and had the ball under its basket with five seconds left, trailing by two points. The Lions inbounded into the paint to Jenson, who appeared to have a clean look from close range until Silver arrived and altered his shot, which missed high off the backboard and landed in the hands of the Pirates.
"It was a two-point game, and the worst that we wanted to happen was going into overtime, so we had to just really go after it all the way," Silver said. "That's why I pretty much helped over."
It was a typically alert play by Silver, the Casco League player of the year, who led his team with 18 points.
"He really loves to float and just kind of read eyeballs, and read passes," Perrydale coach Brian Domes said. "What a great play there at the end, just to get in front and change the play."
Junior Kyler Thorson and senior Max Kitzmiller had 11 points each and junior David Domes added nine points for the Pirates (20-8), the No 3 team from the Casco League.
Perrydale, the No. 14 seed, plays at third-seeded Triad on Friday for a berth in the eight-team state tournament. The Pirates, semifinalists in 2017, lost at Triad 67-55 in the round of 16 last year.
"It'll be fun to do a rematch," Silver said. "I think we've got a good chance if we play our game. We play better as a team. This year, people are doing more than they did last year. We're stronger players."
It was a tough loss for Life Christian (16-5), the No. 2 team from the Valley 10 League. The Lions dramatically improved after going 3-15 in the 2A Northwest League last season, and with all but one of them eligible to return next season, the future is promising.
"They've just been getting better and better," said Life Christian coach J.S. Nash, who played at Oregon State. "It's a learning experience for a lot of them, being in this position for the first time. But I think they handled it great. They surprised themselves in certain situations and kind of figured out what they're made of."
Perrydale looked as if it might blow away Life Christian when it jumped to a 20-8 lead, but the Lions fought back behind 5-4 junior Blake Lambert, their jet-quick point guard. They made four three-pointers in the second quarter, two by Lambert, to pull within 25-24 at half.
Lambert hit another three-pointer early in the third quarter to put Life Christian up 29-27, and converted on a drive and turnaround jumper to keep the Lions ahead 33-32. But that would be Lambert's final points as the Pirates concentrated their defense on him down the stretch.
"We didn't want the game to be close down the stretch, because what are you going to do with him?" Brian Domes said of Lambert. "I asked my son, 'Can you guard him man-to-man?' And he said, 'No, he's too quick.' He's so fundamentally sound. Phenomenal player. Six-foot, he'd be a different player, probably."
Down by three points, Perrydale went on a 15-2 run to lead 49-39 with 2:56 left. Silver scored on three drives and had two assists and a steal during the surge. Kitzmiller blocked Lambert and David Domes turned it in to a layup, feeding the frenzy.
"Pretty much we hit one basket, and we just kept it going," Silver said. "We were just talking about how we need to keep it up. And the crowd was getting into it. We're good with carrying the momentum."
Poor free throw shooting nearly cost the Pirates, though. They missed all four of their free throws in the last two minutes, including two one-and-one chances, and Life Christian got two three-pointers from freshman Nicholas Porpora and another triple from senior Cooper Kangas.
Porpora's second bomb cut the lead to 51-49 with 42 seconds remaining. Thorson missed two free throws with 14 seconds left, leaving the door open for the Lions.
Lambert missed a 12-footer and Jenson rebounded, but the ball was knocked out of bounds with five seconds left, setting up the final sequence.
Kangas, a transfer from Southridge, had 17 points for Life Christian, which also got 16 points from Lambert and nine points from Porpora.
A look at Tuesday's other 1A first-round games in the OSAA / OnPoint Community Credit Union 1A Boys Basketball State Championship:
Riddle 66, North Lake 39: Nate Hopkins scored 20 points and Colby Greer added 13 for the host Irish (23-4), who jumped to an early 21-4 first quarter lead and never looked back. North Lake, behind the duo of Silas Roth and Tyce Grassman, cut the lead to 11 in the second quarter but an 18-6 run in the third quarter extended Riddle's 16-point halftime lead to 28 points and put the game out of reach. North Lake, which was No. 8 in today's OSAAtoday coaches poll, two spots ahead of Riddle, finished the season 19-5.
Dufur 39, Joseph 31: Host Joseph led Dufur 10-7 after one quarter but was held scoreless in the second quarter to fall behind 22-10 at the half. A full-court press helped the Eagles pull within two points in the fourth quarter but they were doomed by missed lay ups and free throws. Sophomores Cooper Bales and Trey Darden scored 11 points apiece to lead Dufur, which improved to 17-9. Chase Murray, Mason Ferre and Tyler Homan combined for 25 in the loss for Joseph, which finished the year 18-10.
Sherman 66, North Clackamas Christian 44: Sherman, No. 2 in today's OSAAtoday 1A coaches poll, led North Clackamas Christian 31-26 at halftime before outscoring the Saints 35-18 in the second half to claim the 22-point home victory. Four Huskies scored in double figures for Sherman – Luke Martin (17), Caleb Fritts (16), Keenan Coles (13) and Wade Fields (12) – which improved to 23-3 on the year. Hadden Stark had 14 to lead NCC, which finished 21-5.
Trinity Lutheran 60, Jordan Valley 30: Matt Eidler scored 25 points and added seven rebounds and Cash Niemeyer and Scooty Gilbert tallied 13 points apiece for the victorious Saints, who defeated Jordan Valley in the first round of the 1A state playoffs for the second consecutive year. Trinity Lutheran, ranked sixth in the latest OSAAtoday coaches poll, never trailed and led by nine points at halftime before turning it on after the break. The Saints (21-5) outscored Jordan Valley 21-9 in the third quarter and cruised to the win to avenge last year's 21-point loss. Trinity coach Eric Eidler credited the defense of Layton Valentine in holding Jordan Valley's senior standout Zeke Quintero to just nine points in the loss.
St. Paul 63, Eddyville Charter 47: Leading by only five points in the third quarter after bolting to an 18-3 lead to start the game, Justin Herberger made two three-point shots in the third quarter to help St. Paul (19-7) regain control at home. Herberger finished with a game-high 25 points and Jaidyn Jackson added 16 for the Buckaroos. Junior Keagan Spikes went over 1,000 career points for Eddyville and finished with a team-high 17. Kurt Faxon added 13 for the Eagles, who concluded their season 12-13.
North Douglas 45, Mohawk 34: The visiting Warriors (18-10) rebounded from a 9-0 deficit to eliminate the Mustangs (14-11). Justin Smith scored seven points in the first quarter as North Douglas closed to within 14-11. The Warriors, who held Mohawk to 20 points in the last three quarters, forced 18 turnovers and committed 10. Tanner Parks and Smith scored 12 and 11 points, respectively, for North Douglas. Tyler Black scored 22 points for Mohawk.
Powder Valley 58, Crane 47: Powder Valley avenged an early season loss by winning by 11 at Crane. The score was tied at 26-26 at halftime before the Badgers outscored Crane 15-7 in the third quarter. Reece Dixon led the way for Powder Valley with 16 points. Omar Benites added 15 and Roper Bingham scored 11. Jacob Dunn and Rhett Landon teamed for 24 points for Crane in the loss.