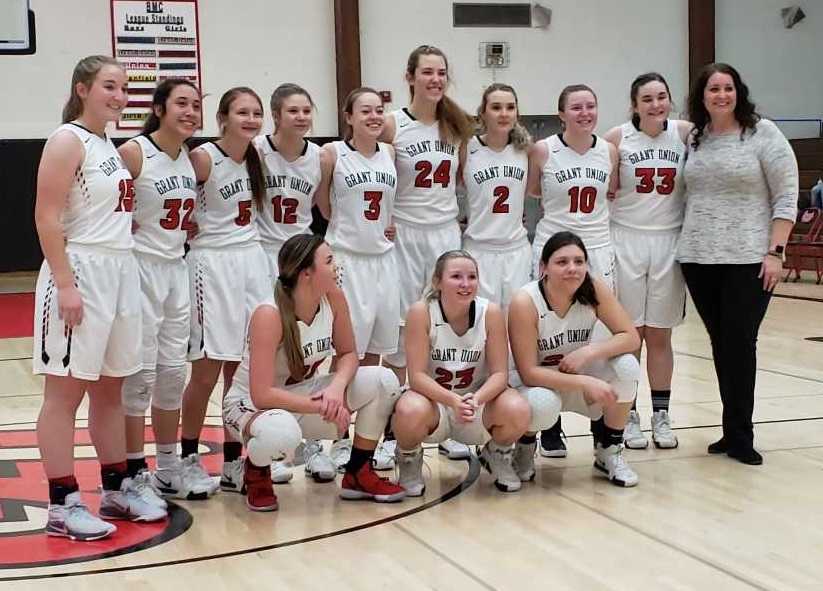 JOHN DAY -- No. 5 seed Grant Union scored the first nine points on its way to a 69-47 win over No. 12 Gervais in the round of 16 in the OSAA / OnPoint Community Credit Union 1A girls basketball playoffs Saturday.
The Prospectors (18-5) advance to the eight-team state tournament, where they will face No. 4 Coquille in a quarterfinal Thursday at Pendleton Convention Center.
"It's amazing, I love playing at the (Pendleton Convention) Center. I'm excited," said Grant Union's Hallie Wright, who had 18 points. "We're just going to come out like we usually do and play hard with intensity. We don't know much about the teams, but we'll play the way we know hard."
Madi McKrola and Kaylee Wright added 15 and 12 points, respectively, for the Prospectors, who led by 14 points at half and coasted to the win.
"We didn't know much about them, we just came out with the same intensity, like we usually do. We play like we usually do," Hallie Wright said. "The intensity built throughout the whole game. We were pretty intense through the whole game and I think that's what got us the W."
Gervais coach Kyle Buse said the start dictated the rest of the game.
"We got kind of bullied around there in the first three minutes of the game, and that was the game," Buse said. "We get behind, and it makes it tough. It makes it tougher to come back. … That kind of hurt us mentally."
Gervais (18-9) got 13 points from Celi Vasquez and 10 points from Mary Davidson.
Saturday's other games:
Central Linn 50, Lost River 41 – Central Linn, ranked sixth in the OSAAtoday coaches poll, used a big fourth quarter to get past Lost River in a game played on Friday at Central Linn. The Cobras were behind by four points to start the final quarter before rallying. Colleen McLaughlin hit six three pointers and scored 20 points total to lead Central Linn's attack. Sarah Conner added a double-double with 11 points and 10 rebounds.
Kennedy 68, Lakeview 17 – Kennedy played like the top-ranked team in the OSAAtoday 2A coaches poll from the start. The team played fast and its entire roster, dominated inside behind Kalyssa Kleinschmit and Sophia Carley (30 points combined) and made the extra pass to create scoring opportunities for teammates. "From the moment of tip off, it felt as though our team was ready to play," said coach Kerry Hall. "We played under control and had a great defensive effort from all 12."
Heppner 59, Santiam 47 – A 12-1 run to start the game sparked the Mustangs at home. Heppner, No. 7 in the OSAAtoday 2A coaches poll, lengthened its lead to 15 at halftime. Santiam coach never get closer than 10 in the second half. Sydney Wilson scored 18 points, Madison Combe added 13 and Madison Ashbeck had 10 for Heppner, which executed its game plan and played hard throughout, said coach Robert Wilson. Senior Maddison Hicks paced Santiam with 13 points. Junior center McKenzie Dodge added nine.
Oakland 58, Toledo 23 – Defensive pressure and outstanding work in transition helped second-ranked Oakland to the wire-to-wire home win. Hadley Brooksby scored 24 – 17 in the first half -- and added nine steals to lead Oakland. Gabby Parnell added a career-high 13 points and Cassidy Jones contributed 10 boards for the victorious hosts, who forced 30 Toledo turnovers. Morgan Hinds' eight points led Toledo.
Vernonia 48, Monroe 46 – Monroe had played in the last two OSAA 2A championship finals but was stunned at home by Vernonia, which rallied from a 10-point deficit midway through the third quarter. After Vernonia went on its second run of the second half to seize a 44-40 lead, Monroe rattled off six straight to regain the lead. But Vernonia answered with the final four points, with Jayden Hartman playing a key role, to complete the stunner.
Coquille 54, Union 32
Enterprise 45, Portland Christian 34