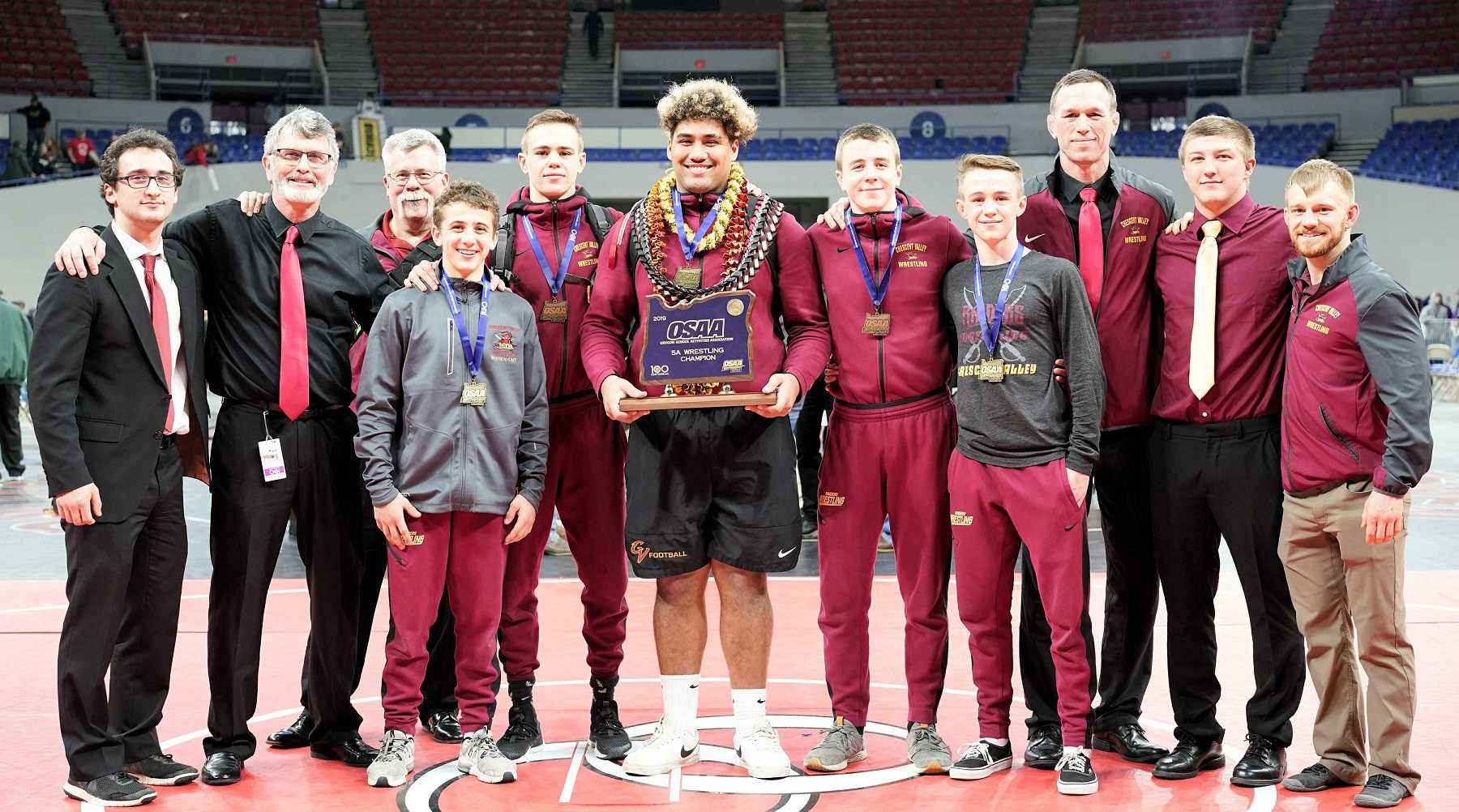 PORTLAND -- Kaimana Wa'a has been in pressure situations on the football field before. But what the Crescent Valley senior faced on the wrestling mat Saturday night was on another level.
"Never. That's crazy," Wa'a said. "I can't compare nothing to it. That was really scary."
The fate of the Raiders was in Wa'a's hands when he took to the mat for the 285-pound final of the OSAA / OnPoint Community Credit Union 5A championships at Veterans Memorial Coliseum. And he came through in a big way, giving Crescent Valley its first state title.
Wa'a pinned Dallas junior Ashten Brecht in 41 seconds for six team points, just enough for the Raiders to overtake Crook County 187.5-186 for first place.
Wa'a had gone 3-1 against Brecht this season, pinning him twice in January and winning 10-5 in the Special District 3 meet. This time, he needed at least a major decision to save his team.
"I knew it was going to be hard to major him," Wa'a said. "I knew I'd have a better shot of pinning him."
The Raiders' chances rested on Wa'a after Crook County junior Kyle Knudtson won by pin in the 195 final, putting the Cowboys in front.
"We tried not to put too much pressure on him," Crescent Valley coach Chad Lamer said. "I knew he could do that, just because he's so powerful."
Wa'a was mobbed by his teammates after the win.
"I never thought my team would ever win a state title, or ever get near it," Wa'a said.
The pin capped a brilliant performance by the Raiders. They brought eight wrestlers to the tournament, and five of them won titles: freshmen Gabe Whisenhunt (106) and James Rowley (145), sophomore Chance Lamer (113), senior Legend Lamer (152) and Wa'a.
"Everyone in our room makes us a lot better," Legend Lamer said. "We have a lot of hammers that beat up on each other."
The Cal Poly-bound Legend Lamer became Crescent Valley's second four-time champion, following Alex Rich (2012-15), and finished his high school career unbeaten against Oregon wrestlers. Chance Lamer won his second title.
Crook County – which had won five of the last six 4A titles, including last year, before moving up – settled for second place. Dallas (163.5) and Thurston 152.5) were next.
Crook County got titles from Knudtson and juniors Zachary Mauras (132) and Hunter Mode (126), a 4A champion last year. Thurston had three champions in sophomore Manuel Monroy (138) and seniors Austin Watson (160) and Avery Jaramillo (195).
North Salem won two titles in senior Ein Carlos (170) and junior Antonio Garcia (220). Carlos, a 6A champion the last two years, got a late start to the season due to a hand injury and had to cut about 20 pounds.
"I'm like 70 percent right now," Carlos said. "I was sluggish. I still performed, but that was me pushing through. I was definitely worried about my gas tank. I was out for so long, and I got so fat."
6A
Roseburg didn't win an individual title, but the Indians' 23 wrestlers racked up enough points to win their sixth consecutive 6A championship and 11th in 13 seasons.
"I'm not sure we were favored again this year, but we found a way to get it done. So I'm really proud of the boys," Roseburg coach Steve Lander said.
Roseburg scored 263 points to hold off Newberg (256), which had six finalists. Sprague (188), Mountain View (151) and West Linn (133) were well off the pace.
The Indians had two runners-up in freshman Nash Singleton (113) and senior Logan Folsom (170).
"We would've liked to have been better and won more matches, but we won enough matches and scored enough team points," Lander said. "It's hard because you have a lot of kids that don't reach their goals, and you're still fighting for the group and the team. And we were able to pull that out against an outstanding Newberg team."
Newberg went 3-3 in the finals, getting titles from freshmen Nicky Olmstead (106) and Ayden Garver (113) and senior Oliver Myers (182).
Several wrestlers won their third state titles: Sherwood senior Gaven Jolley (126), Centennial senior Phillip Kue (132), Mountain View junior Beau Ohlson (138), West Linn senior Sean Harman (170) and Sprague junior Santos Cantu (195). Kue and Harman extended their winning streaks to 113 and 100 matches, respectively.
The Ohio State-bound Kue said he felt the pressure to go out on top during his 4-1 finals win over Newberg freshman Charlie Evans.
"It was crazy. It was a 2-1 match, all I could think of was, 'I can't mess up,'" Kue said.
Harman, who has signed with Missouri, picked up his third title after coming up short as a freshman.
"It's been a dream of mine to be a four-timer, but I lost as a freshman so I had to adjust," Harman said. "I had to change my plan. It's sad, but it's cool to finish it. I'm super proud of where I am."
Jolley bounced back after losing in the semifinals last year.
"My goal was always to be a four-timer," Jolley said. "Last year obviously was heartbreaking. This year I just came back twice as hard. Three-time state champion is pretty good. Wish it was four-time, but all the work I put in, I'm really proud of myself. I think it's better than winning another state title."
Ohlson got his first 6A title after winning two in 5A. He was able to get back on track despite returning to the mat in late December after recovering from surgery to repair a broken thumb.
"I knew I had to get in shape for this tournament," Ohlson said. "I worked extra hard to keep up, did my extra hours, and it paid off."
Like Ohlson, Cantu stayed on track to become a four-time champion.
"I would love to wrap it up if God blesses me with it," Cantu said.
Sprague senior Landon Davis (160) defeated the top seed, McKay senior David Rubio, in a finals rematch. In last year's final, Rubio beat Davis 3-1 on a third-round takedown. This time, Davis broke a 3-3 tie with a third-round takedown and won 5-4.
"That match last year has replayed in my head every single day," Davis said. "I knew what he was capable of, and I knew he could beat me, so I had to push that much harder. … It's what I've dreamed of since I was a little kid, to win a state title in a Sprague singlet."
4A
Tillamook won its first title since 2008, using its 4A-high 21 qualifiers to score 264.5 points and beat Sweet Home (241) and La Grande (189).
"We had a big group of seniors, so it was nice for them to go out on top," Tillamook coach Lonnie Eggert said. "It feels good. It's been a team effort from everybody top to bottom, so it's pretty awesome. It's been a long time in the making."
It was the final tournament for Eggert, who is resigning as coach to work in administration. He was a member of Tillamook's 1993 title team and coached the 2008 team.
"I was born and raised in Tillamook, so I don't know if I'll ever separate myself from it," he said of the wrestling program. "Hopefully, these kids will go to school, come back and help teach."
All three of the Cheesemakers' top seeds came through with titles in seniors Caleb Werner (170) and Fabian Niemi (182) and junior Quintin Metcalfe (120). Werner pinned all four of his foes in the tournament.
Tillamook got perhaps the biggest upset of the tournament in the 132 semifinals. Fourth-seeded senior Luis Macias won 11-4 over the No. 1 seed, Marshfield junior Kody Koumentis, a two-time champion.
Sweet Home, La Grande and Cascade each had two champions: Sweet Home juniors Jackson Royer (132) and Travis Thorpe (152); La Grande juniors Parker Robinson (160) and Christopher Woodworth (195); and Cascade freshman Mauro Michel (106) and sophomore Noah Thompson (145).
Banks senior James Ellis (220) won his second title.
3A
La Pine won a highly competitive team race for its first championship. The Hawks scored 150 points to surpass Nyssa (141), Harrisburg (134) and reigning champion Willamina/Falls City (126).
Senior Derrik Kerr led the way for La Pine by winning his third title, matching his brother, David (2015-17). Their father, Dave, and Tommy Gallamore (2018) are the only other La Pine wrestlers to win titles.
The team title gives Derrik bragging rights.
"It's always a family competition," Derrik Kerr said. "It means a lot to be able to not only win a third, but to win a team title, too. It's amazing. It's the best thing ever.
"We've been talking about it all year long. … Everybody worked their butts off. We definitely deserved this."
Harrisburg senior Dax Bennett became his school's first four-time champion. Bennett, the champion at 182 last year, dropped down to 170 and won a 6-4 decision in the final over Nyssa junior Adam Simpson, who won the 170 title a year ago.
Bennett cut about 20 pounds in the strategic move.
"Putting your body through that, you've just got to try to tell your mind and body, 'It sucks, but you've got to do it,'" Bennett said. "It'll pay off in the end, and obviously, it does."
Bennett's move opened space for his teammates – sophomore Chandler Strauss (182) and junior Leithan Briggs (195) – to pick up titles, and had the benefit of taking points from Nyssa. Harrisburg also got a title from senior Chance Hendrickson (126).
Nyssa senior Jose Sanchez (220) won his third title, as did Pleasant Hill senior Titus Rice (145), a transfer from Creswell. Rice lost a 1-0 decision in the 145 final last year.
"At that moment, I was pretty mad and upset," Rice said of the loss. "But I guess I like wrestling too much to just give up. I've been doing it for a while, so it's like, why not just finish? I'm back and I feel better."
Willamina/Falls City senior Jordan Reyes (106), Cascade Christian junior Gabe Vidlak (120), Nyssa junior Elijah Cleaver (152) and Dayton senior Blake Larsen (285) won titles for the second year in a row.
2A/1A
Culver continued its dominance of the small-school division by winning its sixth consecutive title and 12th in 13 seasons. The Bulldogs finished with a 136-71 edge on runner-up Glide, which moved from 3A this season.
"It was a really good day for us," Culver coach J.D. Alley said. "Today we came in here with nine kids and put them all on the podium."
The Bulldogs also celebrated their third four-time champion in senior Lorenzo Vasquez (126), who pinned all three of his opponents.
"I'm not going to lie, I was pretty nervous going in there," Vasquez said. "I didn't want to make any mistakes. As soon as we hit the second round and it was 5-0, it kind of switched in my head."
Culver senior Cylus Hoke (195) won his second title by pinning his three foes in the tournament. The Bulldogs also got a title from senior Lane Downing (138), who had his appendix removed in December and was weakened by an infection that resulted from the surgery.
"The first of January, we didn't know if we were going to have Lane," Alley said.
Glide senior Zack Holland, the 3A champion at 160 last year, won the title at 170. Holland is 70-0 in the last two seasons.
Joseph/Wallowa senior Steven Beckman (113), Lowell senior Kasey Erwin (132) and Neah-Kah-Nie senior Tristan Bennett (220) also won titles for the second consecutive year.
Girls
Hood River Valley took home the girls title, which was sanctioned by the OSAA for the first time. The Eagles' finished with 48 points to defeat Hillsboro (38), Bend (33), Grant Union (32) and La Pine (32).
Senior Grace Miller (145) was the lone champion for Hood River Valley.
Gervais sophomore Alexys Zepeda (130), the top-ranked 122-pound girl in the nation, gutted out an 8-3 win over Mountain View junior Taylor Ohlson in the final.
Zepeda, who finished third at 113 in the 3A boys tournament last year, had planned to wrestle in the boys tournament this year but missed weight by two-tenths of a pound.
"Next year, I'm definitely going to wrestle boys. I'm going to be ready," Zepeda said.
Zepeda, who won two national titles last summer, said she wasn't on top of her game in the final.
"I just felt slow. Not technical, just real slow," she said. "That's not me out there."
Newberg freshman Sophia Redwine made history by becoming the first official OSAA champion with a 6-0 win over Oregon City sophomore Emma Baertlein in the 100 final.
"It means absolutely everything to me," Redwine said. "I love wrestling so much, and I've been working hard to get where I'm at, waking up at 4, 5 in the morning. This is exactly what I wanted."
Redwine said the girl wrestlers are setting an example.
"It's showing other female wrestlers that they can get out here and accomplish whatever they want," Redwine said. "It's come a very long way. I feel like female wrestlers have grown immensely, and that's something that people are starting to see, that females can actually wrestle. They can work as hard as guys can."
Five champions from last year's exhibitions won titles for the second year in a row: Sweet Home senior Marissa Kurtz (110), North Medford senior Kyleigh Lopez (115), Phoenix junior Emma Truex (125), Central Linn senior Sarah Conner (135) and Madras junior Bailey Dennis (190).