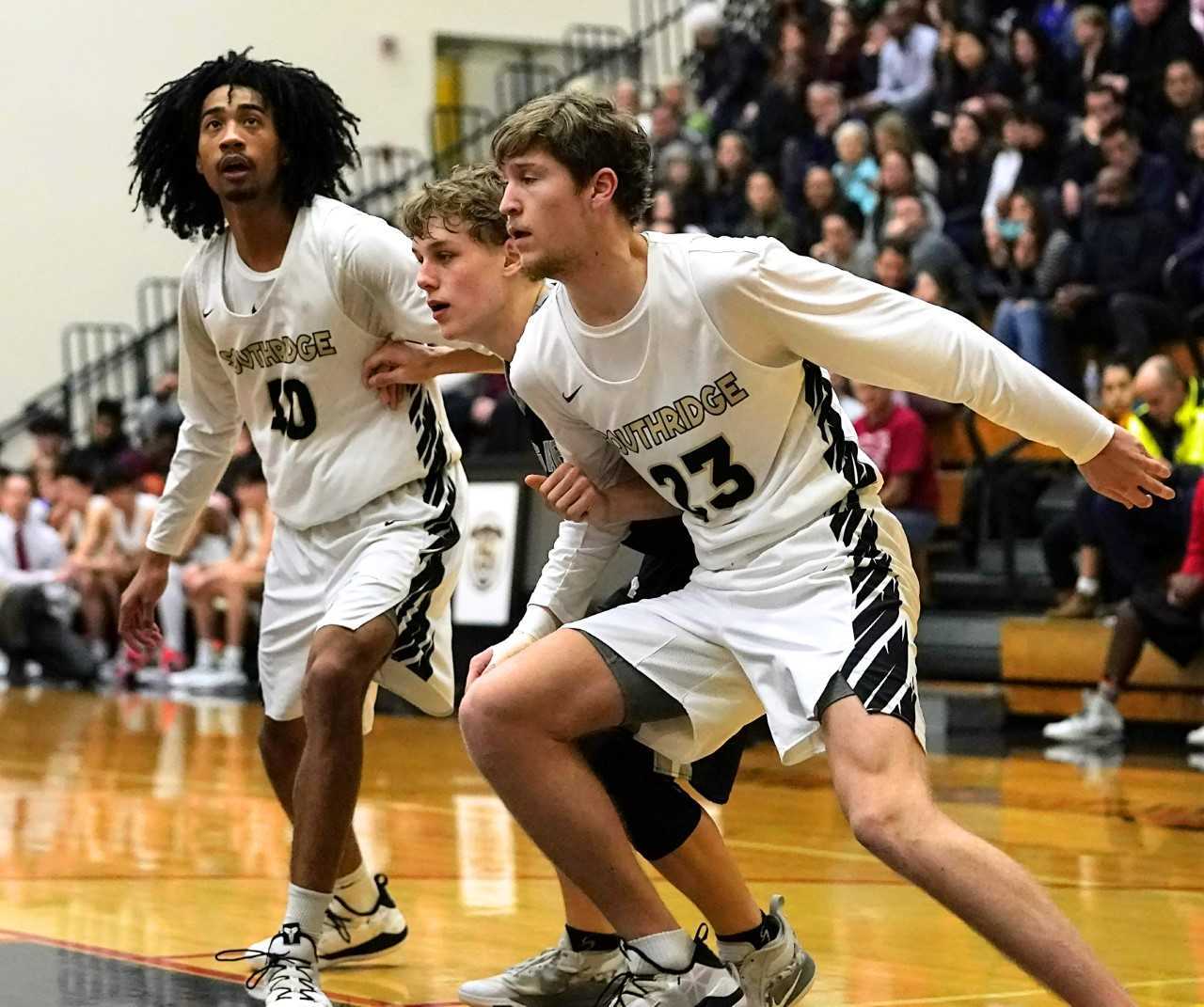 BEAVERTON -- No matter how hard the Southridge Skyhawks tried, they could never quite pull away from the pesky Mountain View Cougars on Thursday night in the first round of the OSAA / OnPoint Community Credit Union 6A boys basketball playoffs.
Mountain View senior Chase McClain paced the Cougars with 21 points, but it wasn't enough as the No. 14 seed Skyhawks (16-9) ended the game on a 6-0 run to take a 63-56 victory over the No. 19 Cougars (15-10).
"Honestly, our lack of execution kind of set the tone early. We were flat a little bit," McClain said. "We were aggressive, but our shots just really weren't going in."
After entering the final period down eight, a timely three by junior forward Grant Jordan brought the Cougars to within one with under a minute left. That shot was the wake-up call for the Skyhawks, who held the Cougars scoreless after that shot.
With just 20 seconds left, a steal by Southridge senior Ben Pak all but sealed the game.
"The kids didn't hang their heads," Mountain View coach Bob Townsend said. "We give up an easy lay-in when they're up one, and then we force a tough shot when we still are in the game. Once you're down four or five, it's tough in high school to get back in it."
Added McCain: "That was kind of our 'do-or-die' moment right there, and our mentality should have been like that the whole game."
The game started slow with both teams only combining for nine points after the first five minutes of the game. The Skyhawks were particularly sloppy as they turned the ball over seven times in the opening quarter.
It took a little while, but eventually both teams settled into the game and started to find a rhythm. The Skyhawks played like the better side throughout most of the first half, but only one point separated the two teams heading into intermission.
Whereas Southridge was the team turning the ball over the start the game, the Skyhawks spent the second half forcing all of the turnovers. Their defense held the Cougars to just five third-quarter points as stifling defense turned into fast-break offense, often led by Pak and senior guard Pono Van Dusen.
"Our goal was to get out in transition, but our defense had to create it," Southridge coach Philip Vesel said. "In the third quarter, our defense got us going a little bit."
Added senior Ross Davis: "I think after we realized our defense was working, that's when we bought into everything and kept going hard and knowing that steal after steal we were just going to continue getting those buckets."
Townsend was particularly pleased with his team's performance in the second half. He felt that the added energy was exactly what his team needed to climb back into the game and have a shot at advancing to the second round.
"We'll take an eight-point deficit going into the fourth quarter at Southridge in a playoff game," Townsend said. "We were happy to only have an eight-point deficit and playing out of a quarter to see who will win it.
"You want both teams to play well and the game to be decided on the floor, and that's what happened today. We just weren't on the winning end."
Pak and senior Brock Henry combined for 39 points and 11 assists on 45-percent shooting and were the catalysts for a young Skyhawks team with very little playoff experience. No other Skyhawk scored in double-figures.
"Ben and Brock played outstanding and were ready to go from the beginning," Vesel said. "I thought they both kinda carried us through to make sure that we could get that win."
The game was initially scheduled forTuesday, but due to the snowy conditions, it got pushed back to Thursday afternoon.
The playoff run continues Saturday in north Portland for the Skyhawks. All that stands between them and a second consecutive trip to the Chiles Center is last year's runners-up, the Jefferson Democrats.
Other first-round games Thursday:
Jefferson 103, Bend 66: Keylin Vance came off the bench to make seven three-pointers and score 27 points for the Democrats. Nate Rawlins-Kibonge added 16 points and 12 rebounds and Marcus Tsohonis had 13 points and four assists.
Freshman Lamar Washington made three three-pointers in the first half as Jefferson built a 56-30 lead.
Bend got 19 points from Bryan Brown and 13 points each from Brian Warinner and Justin Kerr.
North Medford 44, Sunset 42: Garrett Parker scored inside with 3.5 seconds left -- his only basket of the game -- to give the Black Tornado the road playoff win, their first in coach Scott Plankenhorn's 13 seasons.
Jaray Thomas scored 17 points and Jeff Carpenter added 10 points for North Medford, which settled down after falling behind 10-0. Sunset got 14 points from Braeden Sato.
Tigard 72, Roseburg 58: Stevie Schlabach scored 32 points and Drew Carter and Diego Lopez added 19 and 16 points, respectively, as the Tigers overcame a dynamic performance by Indians 6-4 senior wing Collin Warmouth.
Warmouth made his first eight shots and finished with a school-record 43 points. He also holds Roseburg scoring records for a single season and career.
Leading 33-27 at half, Tigard scored the first 10 points of the third quarter and pushed the lead as high as 20 points. The Indians cut the lead to 11 but could get no closer.
Barlow 73, Sheldon 63: Jesse White and Evan Inglesby scored 26 points apiece as the Bruins turned back the Irish. Dominic Jacoby added 15 points for Barlow, making three of the team's seven three-pointers.
Patrick Herbert had 26 points for Sheldon.
South Eugene 54, McNary 48: Josh Paul scored 16 points and Aidan Clark added 13 points to lead the Axe past the Celtics.
McNary scored the first eight points of the second half to pull within 25-23, and took its only lead of the second half at 29-28. The Axe wrestled back the lead and iced the win by making eight free throws down the stretch.
Boston Smith led McNary with 19 points.