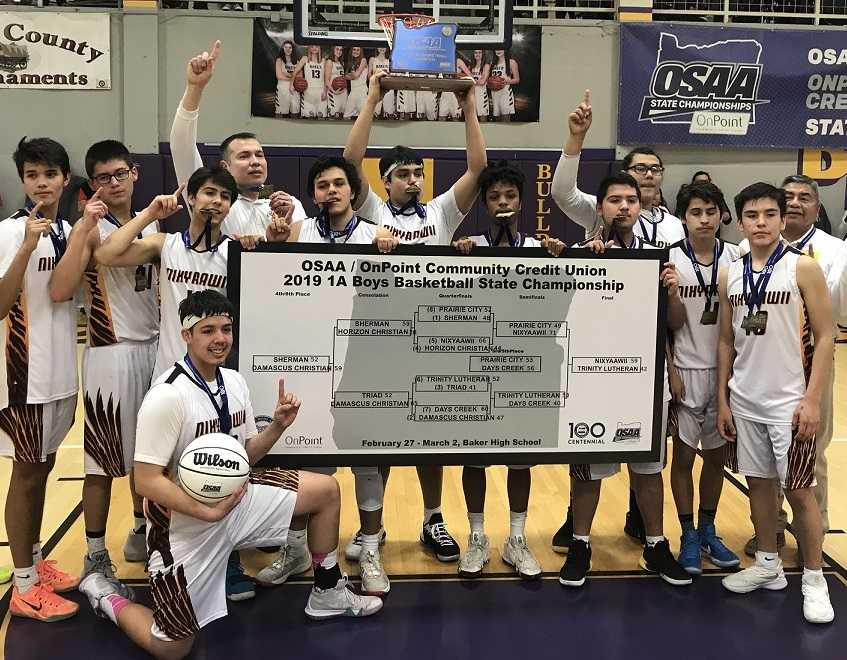 BAKER CITY – Nixyaawii had seen its girls basketball team win state championships in 2011 and 2017.
But the Pendleton charter school, which serves the Native American population, had to wait until Saturday night to see its boys team accomplish the feat.
Junior guard Mick Schimmel had 17 points, 13 rebounds and three blocked shots as the Golden Eagles routed Trinity Lutheran 59-42 in the final of the OSAA / OnPoint Community Credit Union 1A tournament at Baker High School.
"It means everything," Schimmel said. "We grow up playing basketball our whole lives around that reservation. Basketball is pretty much our life on the reservation."
Nixyaawii, which lost to Country Christian in the 2015 final, won the tournament after being eliminated in the quarterfinals last year.
"We've had some really good teams in the past, so to put one on the wall back in our gym as a boys state champion, it feels amazing, knowing you're the last team standing at the end of the year," coach Shane Rivera said. "It's nice to see the kids really reap the rewards of all that hard work."
No. 5 seed Nixyaawii (28-2) entered the tournament on a hot streak and blew away the competition, winning three games by a combined 61 points.
"In the tournament, I feel like we played amazing," Schimmel said. "As a unit, we came together and we really gelled, and that's what got us through the tournament. In this game, I felt like it was shaky at first, but later in the game we came together, as usual, and we got the win."
Sophomore post Magi Moses had 12 points and eight rebounds and junior guard Quanah Picard added nine points for the Golden Eagles.
Nixyaawii led 14-5 after one quarter and Schimmel scored seven points in the second quarter as the lead grew to 28-10. Trinity Lutheran scored the last six points of the first half, four by junior guard Cash Niemeyer, to make it 28-16.
After Saints freshman guard Scooty Gilbert hit a jumper to pull his team within 28-18 early in the third quarter, the Golden Eagles pulled away. Schimmel hit a three-pointer and Picard made a jumper for a 38-22 lead after three quarters. Moses scored early in the fourth quarter for a 40-22 edge.
No. 6 seed Trinity Lutheran (24-6) of Bend, playing in its first state tournament in its fifth varsity season, could not keep up with the Golden Eagles.
Gilbert had 18 points and Niemeyer added 11 points and 14 rebounds for the Saints. Matt Eidler, a 6-5 junior wing who was the Mountain Valley League player of the year, finished with seven points and seven rebounds, well off his 19.5 average.
Nixyaawii won its last 12 games – all by double figures – after a 92-53 loss to Washington small-school power Kittitas in late January.
"I felt like we started clicking really well toward the end of the season," Rivera said. "We got a big wake-up call when we played Kittitas. That refocused us. We had the kids to get the job done. They came together at the right time."
Schimmel, the brother of former Hermiston and Franklin girls star Shoni Schimmel, now shares family bragging rights with his sister Milan, who won a title at Nixyaawii.