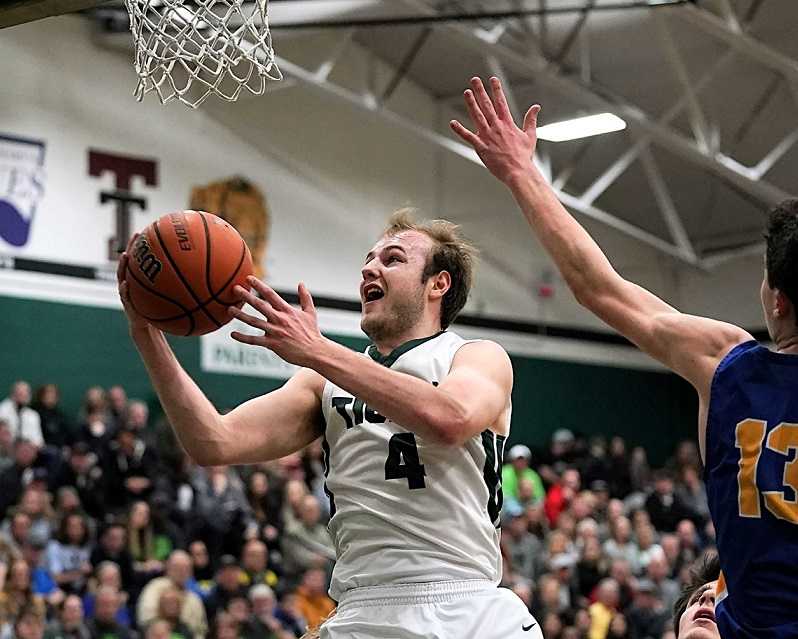 Host Tigard got off to a hot start Saturday night and held off Barlow's second-half surge to win 85-74 and earn a spot in the eight-team 6A boys basketball tournament.
The Tigers led 7-0 and 13-3 on their way to a 26-9 advantage after one quarter. They pushed the lead as high as 27 points in the third quarter before Barlow fought back, but the Bruins could get no closer than 11 points.
Stevie Schlabach scored 36 points, Drew Carter had 23 points and Jazz Ross added 11 points for No. 7 seed Tigard (17-9). The No. 10 Bruins (18-8) got 29 points from Evan Inglesby, 14 points from Jesse White and 12 points from Joey Wolcott.
Barlow committed 33 fouls and had four players foul out. Tigard made 27 of 39 free throws and Barlow was 19 of 31.
Tigard will meet No. 2 South Salem in a quarterfinal of the OSAA / OnPoint Community Credit Union 6A tournament at 8:15 p.m. Wednesday. The Tigers lost at home to South Salem 60-53 on Dec. 14.
Other boys playoff games Saturday:
Jefferson 81, Southridge 46: The No. 3 seed Democrats took care of the No. 14 Skyhawks to set up a 6A quarterfinal matchup with Portland Interscholastic League rival Grant.
Jefferson led by five points in the third quarter before going on a 31-2 run to open a 63-29 lead heading into the fourth quarter. Keylin Vance scored 15 points and Marcus Tsohonis added 13 points for the Democrats, who won their 16th consecutive game.
Seaside 53, Sisters 42: Ryan Hague scored 24 points and Chase Januik had 18 points for the two-time reigning 4A champion Seagulls, who earned a trip to state. Noah Richards had 13 points for Sisters.
It was the last home game for Seaside's decorated senior class, which has lost only three home games in the last four seasons.
Thurston 60, Corvallis 39: The reigning 5A champion Colts, playing a home game at Springfield because the roof of its gym collapsed under the weight of snow, pulled away in the middle of the third quarter to beat the Spartans.
Thurston led by three points in the third quarter before outscoring Corvallis 33-15 the rest of the way. Mason Miller scored 18 points and Isaac Lange added 16 points for the Colts. Isaac Gabriel had 13 points for Corvallis.
Silverton 75, Springfield 46: Drake Ulven, Grant Dunn and Josiah Roth each scored 12 points for the Foxes in the home win. Ulven and Dunn made four three-pointers apiece. Levi Nielsen added 10 points and 12 rebounds.