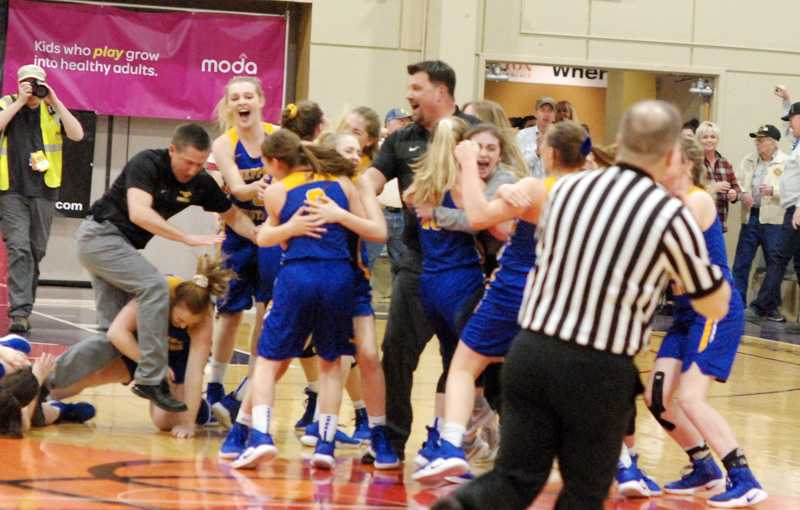 PENDLETON -- Heppner won its first state championship since 1986 Saturday night at the OSAA / OnPoint Community Credit Union Girls 2A State Basketball Championship in Pendleton. The Mustangs twice rallied from double-digit deficits and withstood a last-second Coquille shot to beat the Lady Devils, 41-40, in a game that wasn't pretty but sure was exciting.
"I can't believe this is real," said Heppner sophomore Sydney Wilson, who led all scorers with 22 points and all rebounders with 11. "This is very exciting."
"This is unbelievable," added senior guard Jacee Currin, who added 10 points, seven rebounds and five assists. "We were relentless. My freshman year we won two games. All this season we've grown. We knew if we didn't give up we had a chance. The effort came from every single person on the court tonight."
Heppner needed maximum effort from everyone because twice the Mustangs were close to getting blown out in front of a partisan crowd at the Pendleton Convention Center located just over an hour's ride from home. The first time came after six minutes of play in the first quarter. Coquille, which is located on the southern coast more than 450 miles from Pendleton, built a 14-4 lead. The Lady Devils controlled the boards and got eight points from Morgan Baird and four more from Abbey Dieu. Coach Tim GeDeros was concerned after Coquille upset top seed and defending champion Kennedy in a semifinal the evening before that his team wouldn't be mentally ready for another challenge, but they looked invincible.
Once the Coquille lead reached double digits, however, passivity seemed to take over. The Lady Devils, who started the game 4-for-7 from the floor, went 2-for-15 the rest of the half, settling for low-percentage shots and failing to feed Baird, the six-foot lefty and the tournament's most dominant player.
Heppner never stopped.
"It was really tough [being down by 10]," Sydney Wilson said. "Our coaches told us to calm down and stay at our pace and we did."
Wilson, who was always working to get good looks, scored seven and Madison Combe hit a three pointer from the wing as the Mustangs closed to within 18-16 at halftime.
"They played harder than we did," GeDeros said.
Coquille, which had avenged its only loss on the season in the semifinals, came out to start the second half determined to work the ball inside to Baird. The strategy worked. She scored six early points as part of a 13-3 run that put the Red Devils ahead 31-19 with less than three minutes to play in the third.
A Wilson three was the only dent on the scoreboard for Heppner during that stretch, but it was significant. The points came on a set piece, an inbounds pass to the sophomore who, thanks to a pick, was wide open behind the arc. Time and time again down the stretch, Heppner exploited Coquille's man-to-man defense by creating prime scoring opportunities on inbounds plays.
"I view that as a crucial part of the game," said Robert Wilson, Heppner's fourth-year coach. "If you can execute on those possessions it can make a difference and it did."
Sydney Wilson (no relation) hit her second three of the quarter, off an assist from Currin, to cut the Coquille lead back to single digits but a sweet dish from Baird to Dieu for a lay-in extended the Lady Devils' lead to 33-22 with less than one minute to go in the period. Coquille, playing in 2A in 2019 after several years as a 3A school, had a robust lead and appeared on its way to capturing its first-ever girls basketball title.
But the Lady Devils had to keep doing the things that had, for the second time in the game, built such a sizeable lead. Inexplicably, the team stopped doing them.
"We could have played a little harder," GeDeros said.
With Coquille playing passively, Heppner, always working, scored four points in the closing seconds of the third quarter – a stick back from Wilson and coast-to-coast drive from Currin – to pull within seven starting the fourth, then continued its run with nine more points to open the final period. When Wilson drained her fourth three of the game from the top of the key off of an inbounds pass from Curtin with 5:16 remaining, the Mustangs led for the first time since 2-0 early in the first quarter.
Baird, who finished with 21 points, 14 rebounds, three assists and four steals – leading Coquille in every category – scored on an assist from Halle Layton to tie the game but Heppner answered thanks to a bucket from Curtin on an inbounds pass from Madelyn Nichols to reclaim the lead. Nichols assisted again on Heppner's final field goal, another three-pointer from Wilson on yet another successful inbounds play. Only 93 seconds remained and the Mustangs now had a two-possession lead, 40-36.
With Coquille having to foul, Wilson, who played State despite a pulled hamstring, made one of two free throws with 46 seconds remaining and it proved crucial, because Baird scored inside and was fouled with 29.9 ticks to go. When she converted the free throw, the Lady Devils had closed to within 41-40.
Heppner had a chance to extend its lead, but missed the front end of a 1-and-1 with 22 seconds remaining. Coquille got the ball to Baird but her shot was blocked by Jenna McCullough. A loose ball scramble ensued and Coquille gained possession long enough, in an official's view, to grant the Lady Devils (27-2) a time out with 6.4 seconds left to play.
In the huddle, apparently contemplating that Heppner would try to take Baird out of the play with suffocating defense, GeDeros set up a final shot for either Dieu or Layton, his only seniors on the floor. The inbounds pass found Dieu 10 feet from the basket. The forward, who had scored 11 points in the game, had a good look from the angle. The shot simply did not drop. The clock ran out in the ensuing scramble. Heppner was a champion once again, 33 years after claiming its first and only title before last night.
"We kept talking all of the state tournament that there's going to be ups and downs and you had to keep battling and trust each other and what we do," said Coach Wilson, whose team finished 22-8. "I think this is Game 30 for us. We've had a lot of tough games. I think that experience helped."
Playing without fear also helped the Mustangs. While Coquille appeared afraid to win after taking big leads in both halves, Heppner embraced the challenge of trying to come back. The players felt no pressure.
"If anybody had told them at the beginning of the season that they'd be playing for the state title they would be surprised and happy about it," Coach Wilson explained. "I just told them to go out there and play hard."
The state title completed a four-year cycle for Heppner's six seniors that started with the Mustangs going 2-17 in Coach Wilson's first year four seasons ago.
"We had a rough start," said Coach Wilson, who had only 13 girls in his entire program back in 2015-2016. "We've built over the past four years. Look what we accomplished."
In the third-place game…
Kennedy 49, Enterprise 31 – Kalyssa Kleinschmit scored 16 of her game-high 18 points in the first half as Kennedy led start to finish to defeat the Enterprise Outlaws for third place. Playing without injured starters Hailey Arritola and Ellie Cantu, Kennedy, the 2018 state champion, showed off the depth head coach Kerry Hall had touted all year. The Trojans put seven players in the scoring column and also forced 28 turnovers in the win. Shelby Moncrief led Enterprise with 10 points.
In the fourth-place game…
Central Linn 45, Vernonia 31 – Central Linn made up for poor shooting by winning the turnover battle, 19-8, in its wire-to-wire win over Vernonia for the fourth-place trophy. The Cobras outscored Vernonia in every quarter, lengthening a three-point advantage after one to seven points at halftime, and nine points heading into the final quarter. Jessica Neal made five free throws in the fourth quarter for Central Linn, which was never threatened in the final period. She finished with a game-high 13 points for the Cobras (23-6) while Colleen McLaughlin added 10. Jordyn Walters and Brooklynn Walters combined for 21 points in the loss for Vernonia, which finished 17-11.