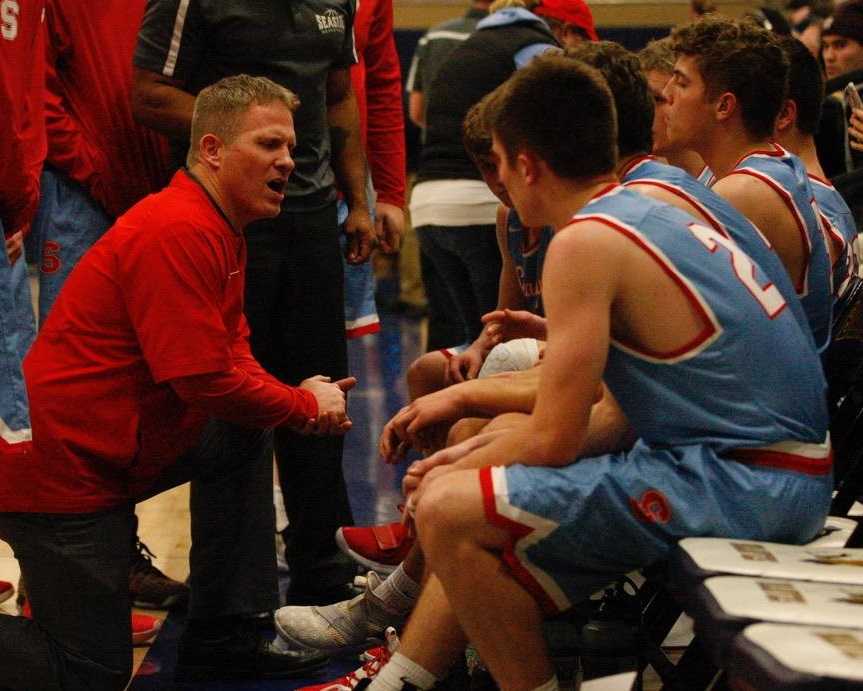 The start of the season came with a reality check for Seaside's boys basketball team.
The two-time reigning 4A champion Seagulls, with their starting lineup back intact, had every reason to believe that they were the team to beat in the state. But road defeats to Marshfield and Stayton in the first nine days revealed that they weren't playing with the same edge.
Coach Bill Westerholm sensed complacency creeping into his team.
"Many community members just think it's going to be a given, which in turn means that sometimes kids believe that," Westerholm said. "It took us a while to kind of get that out of our system.
"Our kids thought we could just go through the motions and we would get wins. But we kind of had that bullseye on our back, and we didn't respond early on in the year."
By the time December ended, the Seagulls were back on track. They cruised to titles in holiday tournaments at Seaside and Summit, finishing off the month with a 49-45 win over reigning 5A champion Thurston.
"We kind of started figuring things out," Westerholm said.
The Seagulls, who became the first team to repeat in 4A since the classification was formed in 2006-07, will try to make it three in a row this week in the OSAA / OnPoint Community Credit Union 4A tournament in Forest Grove. No. 2 seed Seaside (22-3) opens with a quarterfinal Thursday against No. 7 North Marion (16-9) at Pacific University.
The Seagulls know that their past achievements aren't going to matter at tip-off.
"We've preached it all year – and I think the kids understand – that every season is a new season," Westerholm said. "Once you get to the state tournament, you hope to get three games, but three aren't guaranteed if you don't play well in the first one."
Seaside won 17 in a row before losing at Banks 54-53 in the Cowapa League finale, forcing the Seagulls to share the league title with the Braves. But they came back two days later to beat Banks 51-42 for the league's top playoff seed.
Still, it's the Braves (24-3) who own the No. 1 seed in the state tournament. Seaside-Banks is a rivalry that goes well beyond the basketball court, as evidenced in the fall when the Braves defeated the Seagulls 31-20 in the 4A football final.
"Banks knows how to win because they won it in football," said Westerholm, whose team includes nine football players, including his senior son, Payton, the quarterback. "It's always good to have a team like that to play against. Hopefully, we have a chance to play them sometime in this tournament."
With the teams opposite sides of the bracket, it would have to be in a trophy game Saturday.
4A boys quarterfinals, Thursday, Pacific University
No. 9 Marist Catholic (17-8) vs. No. 1 Banks (24-3): The teams met Dec. 27 in a tournament at Sisters, with Banks prevailing 57-52 in double overtime. Banks, a semifinalist last year, has never won a title. The Braves have a powerful post in 6-7 senior Blake Gobel (14.2 points, 8.3 rebounds, 2.5 blocks), a perimeter threat in 6-4 junior wing Jacob Slifka (13.0 points, 40 three-pointers) and a steady senior guard in Dakota Bunn (11.3 points). Marist Catholic, down from 5A this season, has won 11 of 13 behind junior guard Nick Stice (11.4 points, 3.2 assists) and senior guard Max Whittaker (13.7 points, 4.7 rebounds).
No. 5 Marshfield (21-5) vs. No. 4 Woodburn (21-4): Marshfield, which won its only titles in 1947 and 1953, has lost in the quarterfinals in three of the last four seasons, including last year. Pirates post Cory Stover, a 6-7 senior who has committed to Oregon State for football, averages 12.0 points, 9.0 rebounds and two blocks. Woodburn is playing in its first tournament since making the 5A quarterfinals in 2011. Bulldogs 6-2 senior guard R.J. Veliz (21.5 points, 7.0 rebounds, 6.0 assists), a transfer from 3A Blanchet Catholic and the son of first-year Woodburn coach Raul Veliz, passed 2,000 career points this season. Marshfield beat Woodburn 58-45 on Jan. 12 in Coos Bay.
No. 6 Henley (17-7) vs. No. 3 Stayton (20-3): Oregon West Conference champion Stayton, which has won 13 in a row, is in the tournament for the first time since 2008. The Eagles have a big front line that features high-scoring 6-8 senior center Kaleb Anundi (18.4 points, 8.8 rebounds) and 6-7 senior forward Riley Nichol (15.6 points, 9.2 rebounds). Stayton holds a 56-49 win over Seaside on Dec. 15. Henley is led by senior guard Andrew Reynolds (15.1 points, 4.9 rebounds, 2.6 assists), a transfer from Mazama, and 6-4 junior post Matthew Neubert (13.0 points, 5.4 rebounds). It is the third trip to the quarterfinals in four seasons for Henley.
No. 7 North Marion (16-9) vs. No. 2 Seaside (22-3): Seaside has two senior guards – Chase Januik (18.0 points) and Payton Westerholm (10.0 points, 7.0 rebounds, 3.0 steals) who were starters on the last two title teams. Junior forward Ryan Hague (14.0 points) has assumed more of a scoring role than last year for the Seagulls. Seaside is averaging 64.6 points per game, second in 4A to Madras (72.0). Six of North Marion's losses have come against other quarterfinalists – including a 58-57 home defeat to the Seagulls on Jan. 11 – with the others to 2,000-enrollment California schools. Junior guard Sergio Jiminez (22.5 points, 8.9 rebounds) and senior guard Jared Hauser (13.1 points) lead the Huskies.
4A girls quarterfinals, Thursday, Forest Grove HS
No. 9 Marist Catholic (17-8) vs. No. 1 Marshfield (25-1): Marist Catholic, last year's 5A champion, has reached the tournament after its coach (Terry Harrison) left for 5A Churchill and two of its best players (Emma McKenney, Kayley Elliott) landed at 5A Springfield. The Spartans have an all-league senior guard in Madison Ficek and a promising sophomore in 6-0 forward Ruby Vlahov, the daughter of former Australian Olympian and South Eugene standout Andrew Vlahov. Marshfield, which beat Marist Catholic 56-39 and 48-38 in Sky-Em League games, has four starters back from last year's 4A champion, including the Sky-Em co-player of the year in senior guard Tess Garrett (16.0 points, 3.9 rebounds, 4.2 assists). The Pirates have won 15 in a row since their only loss, 46-31 at North Marion.
No. 12 Newport (17-8) vs. No. 4 North Marion (20-5): It's been a memorable season for Newport, which lost coach Steve Sain three weeks ago (undisclosed reasons) and has made the tournament for the first time in 11 years. Longtime teacher and coach Kurt Hargett and Mike Wagner -- who have a combined five daughters on the team -- took over as interim coaches. The Cubs advanced with a 37-31 overtime win at Hidden Valley. Newport was 0-4 against Philomath and Stayton in Oregon West games. North Marion, the only team to beat reigning champion Marshfield, enters on a 12-game winning streak. The Huskies have the Tri-Valley Conference player of the year in senior wing Mar Verastegui (12.0 points, 4.5 rebounds), who is headed to Corban University for soccer.
No. 6 Philomath (22-3) vs. No. 3 Banks (20-5): Four-time reigning Cowapa League champion Banks has last year's 4A player of the year in explosive 5-11 senior wing Aspen Slifka (23.2 points, 6.5 rebounds, 4.8 assists, 5.8 steals, 57-percent from the field), who has signed with Northwest Christian. It is the fifth consecutive tournament appearance for the Braves, who were runners-up in 2017 and made the semifinals last year. The have never won a title. When the teams met Dec. 5 at Banks, Slifka scored 16 points as the Braves held off Philomath's second-half charge to win 52-51. The Warriors got 20 points from 5-10 freshman guard Sage Kramer, who is averaging 17.9 points and 6.3 rebounds. Philomath's last title came in 2000.
No. 7 Stayton (20-4) vs. No. 2 Baker (22-1): Stayton's defense, which holds opponents to a 4A-low 29.2 points, gets a big test against Baker, which is scoring a 4A-high 59.2 points. Stayton, a quarterfinalist last year, has won 12 in a row. The Eagles are led by 6-0 senior forward Marri Martinez (14.8 points, 7.6 rebounds, 1.9 blocks) and junior guard KJ Nyquist (11.4 points, 3.0 steals). Baker has won 16 in a row since its only defeat, 61-46 at Burns, a 3A semifinalist. The Bulldogs lost in the quarterfinals the last two years. Baker earned a berth with a 67-31 playoff win over Seaside, getting 18 points from junior guard Sydney Younger and 17 points from senior guard Jayme Ramos. Younger and senior post Rose Gwillim each average 15 points per game.