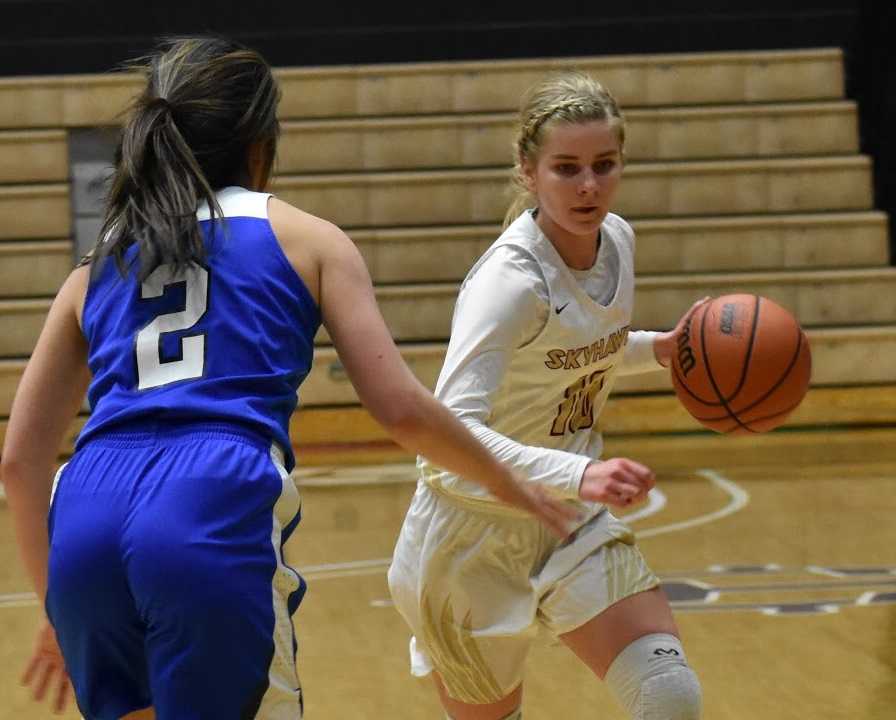 PORTLAND -- Southridge might not have a single senior on its roster, but the two-time reigning state champion Skyhawks are a veteran force.
Their experience and execution were on full display Thursday afternoon as the No. 1 seed Skyhawks (23-3) defeated the No. 8 seed South Medford Panthers 48-29 in the quarterfinals of the OSAA/ OnPoint Community Credit Union 6A girls basketball tournament at the Chiles Center.
Southridge sophomore Cameron Brink had a game-high 20 points and 15 rebounds before taking a seat early in the third quarter.
"It's always important when you have a good leader like her," Southridge coach Michael Bergmann said of Brink. "She does so many things. I thought she was a good teammate tonight, where she was kicking out when they were doubling, and did a great job on defense. It's crucial to have your top players play with lots of energy, and she did that tonight."
Southridge came out strong to build leads of 9-0 and 20-5.
"That energy carries us throughout the game," Brink said. "You come out and get an early lead then it just kind of ruins the spirit of the other team."
Bergmann said of the fast start: "It always help because then we can sit back in our defense and not have to stress about teams trying to slow us down. It's a good thing if we can come out early. We did a good job in the press of making them not be able to get settled."
On Friday night, the Skyhawks will be up against a familiar foe when they face rival Beaverton in the semifinals. They won both Metro League meetings against the Beavers.
Emma Schmerbach had six points for South Medford (23-4). The 29 points were the lowest scoring total that a high-octane Panthers have put up this season. The Panthers shot 1 for 9 from behind the ar,c which is far from normal for a team that relies on their perimeter shooting.
"It's disappointing," South Medford coach Tom Cole said. "We were not the version of ourselves that got us to the tournament.
"It was disappointing when some of the kids who have typically been better were not today. What we got to hope is that tomorrow is a new day and we can regroup and put forth a better effort in the morning."
Cole noted the Skyhawks' length at every position and his team's lack of an inside presence were key factors.
"Our kids lacked some confidence, played a little tentative, which is a reflection of youth, because I think they realized the length Cameron presents in that middle, and she certainly showed that by a few blocks she had early in the first half," Cole said. "I think all those variables altered things."