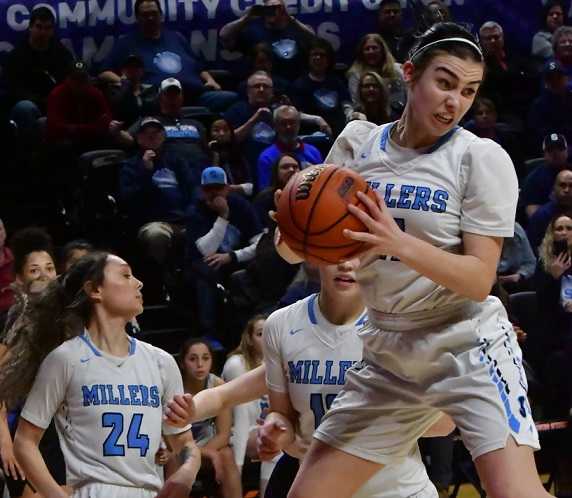 CORVALLIS -- The Springfield Millers came back from a five-point halftime deficit to top Churchill 54-46 in the quarterfinals of the OSAA / OnPoint Community Credit Union 5A girls basketball tournament Thursday at Gill Coliseum, and all they needed to do was turn their undershirts inside out.
At least, that's what Millers head coach Teke Silva said.
She explained that late in the first quarter, the officials went to her assistants and said logos showing on the shirt were too big, and thus made their uniforms illegal. If they didn't hide the logos at halftime, Springfield would be assessed technical fouls.
That didn't go over too well with the players, Silva said.
"Like high school kids are, they went into total mental meltdown," Silva said. "They are on the bench worrying about their shirts and not playing basketball. I didn't know that rule, and the officials never said it to me, they said it to my assistants."
Silva's solution? Turn them inside out. Problem solved.
Churchill's halftime lead lasted five minutes, and then Springfield 6-foot-2 senior post Kayley Elliott went to work with no logos visible. Elliott scored 17 of her game-high 21 points in the second half, and she looked unstoppable in the paint. Whether she caught it deep in the paint with her back to the basket or off set plays at the elbow, she couldn't miss, and Churchill was content on trying to guard her with one defender.
"They weren't getting in front of me, and until they wanted to guard me, I was going to keep scoring," Elliott said. "If they would have doubled, I had shooters to kick it out to."
Elliott had eight points in the last 3:35, including two beautiful post moves on the block and inside the paint. She started the flurry with a smooth turnaround jumper in the lane, then at the 2:27 mark, she caught the ball on the low block, spun toward the baseline and finished with a layup to give the Millers a 50-44 lead. She finished her scoring with a putback off an Emma McKenney miss and drove the final nail in the coffin with 1:06 left.
Elliott said the team wasn't exactly worried about the halftime deficit.
"I don't think there was a time we were scared," Elliott said. "We knew we had it figured out, and we practiced three days for this."
Silva said Churchill tried to take away McKenney because of her perimeter shooting ability in the second half, so it was obvious who the Millers needed to run offense through.
"When you have a player like Kayley Elliott, you have to take advantage of mismatches," Silva said. "We have to make them pay for stuff like that. I think we ran the same play five or six times down the floor to her because she had that mismatch. We executed well."
Churchill looked great offensively in the first half. They moved the ball with fluidity in the halfcourt and created great shot opportunities. Natalie Elstone gave the Lancers a 23-21 lead with a midrange jump shot from the corner, then Isis Smith buried a three-pointer with 40 seconds left in the half for a 26-21 lead.
Things slowed down for the Lancers in the second half. They scored nine points in each the third and fourth quarter, and shot just 6 fior 22 from the field and 0 for 8 from three-point range.
Springfield shot 50 percent, 10 for 20, in the second half and was 3 for 9 from three-point range.
For the Millers, Rebecca Durbin was 8 for 10 from the foul line and she ended with 12 points. McKenney ended with eight points on 3-of-8 shooting and Elliott also had eight rebounds.
For Churchill, Smith led with 14 points on 5-of-13 shooting. Tiara Bolden came off the bench to score 10 points and Stella Scott pulled down nine rebounds.
Springfield advances to the semifinals Friday night against No. 7 Crater (another Midwestern League rival). Elliott said while this was a nice win over a league rival, the work isn't over.
"It's good, for now," Elliott said. "The first one is always the hardest, and we've got two games to go so we've got that to focus on."