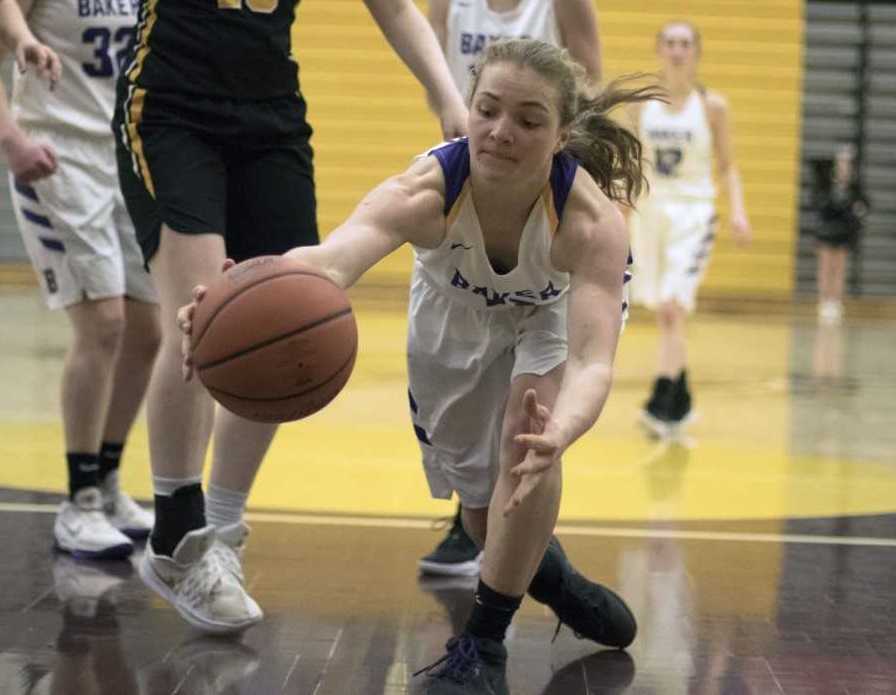 FOREST GROVE -- The Baker Bulldogs brought a flair for the dramatic into the OSAA / OnPoint Community Credit Union 4A girls basketball tournament, and they will carry that on to the state championship game Saturday night at Pacific University.
Although Baker's quarterfinal victory over Stayton was perhaps more dramatic, its 61-56 semifinal win over Philomath on Friday was equally as impressive.
The Bulldogs bested a Philomath team that shot 23 of 52 and had four starters score in double digits. Baker's shooting line wasn't nearly as pretty — 16 of 57 from the field — but the Bulldogs' work at the free throw line and some well-timed shooting in the second half made all the difference.
Baker converted 24 of 34 free throws, giving them a 14-point edge from the stripe. They also added five three-pointers while the Warriors struggled from deep, missing all of their four attempts from long range.
"We had to keep rotating the ball to get open looks, I knew our shots were going to fall eventually," Baker senior Rose Gwillim said.
Gwillim led the way for Baker, making her mark across the stat sheet with 18 points, 20 rebounds and five assists. Gwillim helped mitigate a slow opening quarter that saw the Bulldogs trail 17-14.
Philomath padded its early lead almost exclusively with points in the paint, primarily from sophomore Mia Rust, who finished with 11 points and eight rebounds.
After a shaky first quarter, Baker slowly clawed its way back and eventually built a 13-point lead midway through the third quarter. That scoring flurry came courtesy of juniors Sydney Younger and Isabella Nemec, who finished with 15 and 12 points, respectively.
"Our offense starts with our defense, and we knew we had to grit it out on defense to get our offense going," Gwillim said. "And that's what we did in the second half."
But Philomath wasn't finished.
The Warriors came back to tie 54-54 with just over a minute left in the fourth quarter. Philomath junior Emma Pankalla led her team with 15 points on 7-of-12 shooting, and chipped in seven rebounds and four assists. But the Warriors never found an answer for Gwillim down the stretch.
"You've got to have a post like Rose that can get in there and get rebounds, because she's a great passing post, too," Baker coach Mat Sand said. "When she gets the double-team, she can kick it out and find that balance."
The Bulldogs have been state tournament visitors the past two years, but failed to make it out of the quarterfinal round both times. Now, Baker will face Marist Catholic for a shot at the title.
"You saw the game before, this team can put up some points," Sand said. "We've done 29 in a quarter before. I had no doubt in my mind that this team could score buckets, I just knew it was a matter of time."
No. 9 Marist Catholic 46, No. 12 Newport 45: Marist Catholic's one-two punch of senior Madison Ficek and sophomore Ruby Vlahov lifted their Spartans to a state title berth on Friday night in Forest Grove.
Ficek tallied 18 points and four rebounds,and Vlahov added 17 points and five rebounds. Their team needed every one of those points to help topple a strong Newport team.
Neither team seemed able to separate themselves anywhere on the stat sheet -- except one critical spot. Marist Catholic held the Newport bench scoreless throughout the game to hold their slim edge.
The Spartans, 5A champions last season, now earn the chance to play for their second state title in two years.