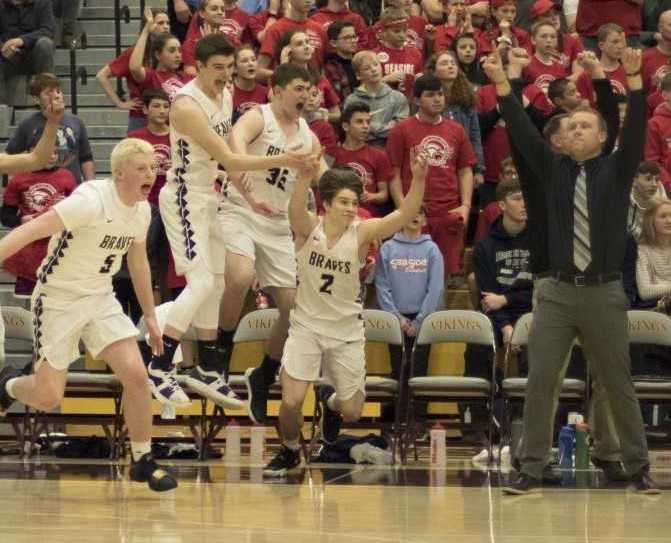 FOREST GROVE — Top-seeded Banks used a second-half surge to beat Cowapa League rival Seaside 62-56 in the final of the OSAA / OnPoint Community Credit Union 4A boys basketball tournament Saturday afternoon at Pacific University.
In winning their first title, the Braves ended the Seagulls' two-year reign. Three months ago, Banks won its first football championship by defeating Seaside 31-20 in the final.
The Braves and Seagulls had met three times during the season, with Seaside earning a 2-1 edge. But Banks tried out a brand new game plan in the fourth meeting Saturday.
The Braves committed to playing a 2-3 zone for the entire game, and weathered an early storm from Seaside that featured a flurry of three-pointers and put Banks in a 29-22 halftime hole.
"We had to trust the process. We knew they had good shooters," Banks coach Marcus Roche said. "They shot 50 percent in the first half, but we knew sticking with our zone was going to be our best bet."
Seaside junior guard Beau Johnson had 13 points on 5-of-6 shooting in the first half to lift the Seagulls.
"They're a great man-to-man team, and we play man," Banks senior Blake Gobel said. "But when we zone up, we feel like they're a little more hesitant to shoot. Zone just seemed to work so we went with it tonight."
Seaside was able to hold junior Jacob Slifka — Banks' top scorer during the tournament — scoreless in the first half, but they couldn't contain him for long. The third quarter brought the first points of the game for the 6-foot-4 forward and helped spark a 17-10 run heading into the final quarter. Slifka finished with seven points and eight rebounds.
"At halftime, we talked about getting me some more touches and we set up some more plays," Slifka said. "Our guys set some great screens for me."
The third quarter momentum swing was also aided by an active Banks defense that hassled Seaside's shooters, and kept them from finding any rhythm from long range.
"In the second half, we kind of extended our wings up because we knew Blake (Gobel) could handle the key," Slifka said. "So we were able to get out on their shooters a little better."
Gobel proved to be the catalyst for Banks all afternoon. He finished with a game-high 24 points and 13 rebounds. He also helped Banks outscore Seaside 18-9 on second-chance points.
"He's one of the top defenders in the whole state, he's so active," Roche said of his 6-7 center. "Whether he's scoring a ton or not, he's such a huge part of our team with his athleticism and his ability to go get the ball."
Although Banks built a nine-point lead in the fourth quarter, Seaside had another run left in them. The Seagulls cut Banks' lead to 57-54 with just over a minute left in the game, thanks a Beau Johnson three-pointer followed by a forced turnover and an and-one finish from junior Ryan Hague in quick succession. Banks would need to hit some big shots in the final minutes to hold off Seaside's charge.
"Bret Cameron hit two monster threes down the stretch, he's been such a huge leader for us all year. To get that offensive output from him was huge for us," Roche said.
Cameron, a senior, added 13 points for the Braves behind his three of four shooting night from distance.