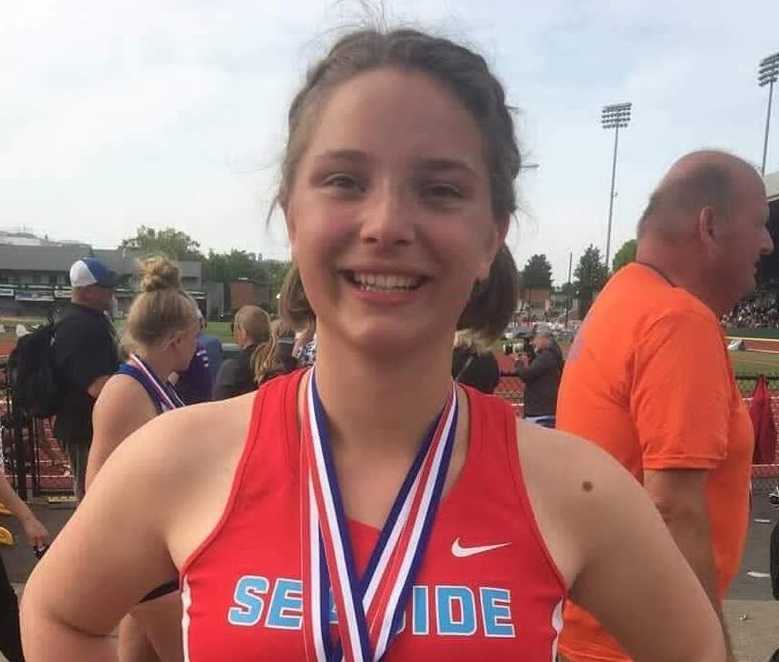 Hundreds of hours spent in the weight room and working on the mechanics of her throws is paying off for Seaside senior Gretchen Hoekstre.
On March 15 at the Cotton Invitational in Southeast Portland, Hoekstre launched state-leading throws to win the shot put (42-2) and the discus (144-2). The discus mark is just outside of the top 10 nationally.
"All summer I trained over 15 hours a week with weight training and footwork and throwing," Hoekstre said. "There are so many girls in California, Georgia, Florida (and other place), and those are the girls in the top 20 in the nation.
"At the end of last season someone said, 'Why not me?' and I took that to heart. I've been working hard to see it coming together and it's coming together already."
Hoekstre, a senior who committed to Brigham Young University on Monday, has made a recent switch from the glide to the spin technique in the shot put. It's a more complicated throwing style but adds velocity to the shot before it is released.
In the discus, throwing into a slight headwind, Hoekstre tacked more than 11 feet onto her personal best. She only had three attempts and got her biggest throw on her second try.
"I could feel it come off my fingers and knew it was going to fly," she said.
Last year, Hoekstre won the 4A title in the shot put and placed second in the discus.
Since then, she has been through a change of coaches.
Krystal Pike, a former D3 All-American in the throws, has become a new mentor for Hoekstre.
"There is so much that she has to offer that I never even thought of," Hoekstre said. "She has been to able to hone in on some of my mistakes, and that has helped a lot."
Hoekstre has played volleyball, basketball and softball at Seaside but has focused on track and field for her senior year.
Her best sport is probably weightlifting, which feeds into her throwing success. She is a member of the 750 Pound Club (combination of power clean, bench, squat and dead lift) and is seeking to lift a combined 1,000 pounds this year.
"Weightlifting is where my passion for an individual sport is," Hoekstre said.
Success in the throws is a byproduct of her work ethic.
"She is definitely self-motivated," Seaside head coach Jeff Kilday said. "She comes to practice on time, stays late and is working all the way through it. It's awesome to see as a senior she's doing even better because she's leading out younger classes."
Hoekstre's best chance to face high level competition will likely come at the Jesuit Twilight Relays on May 3.
Her biggest goals are to push her discus best out into the 160s. She'd like to chase after Laura Bobek's all-time 4A record of 162-1.
Hoekstre feels like she's ready to make another step up.
"I think I will," she said. "I think I'll have good next couple of weeks."
Doug Binder is the editor of DyeStat.com