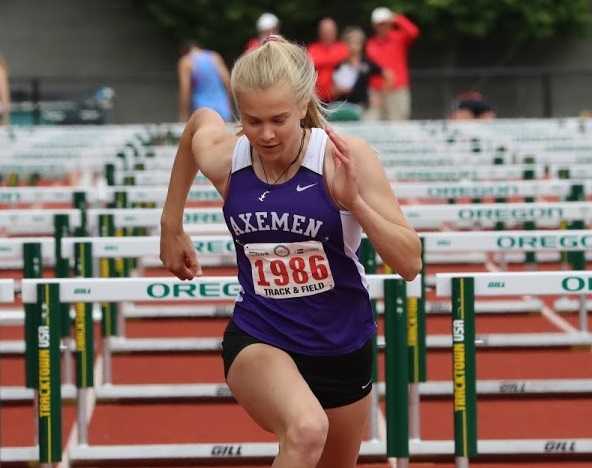 Athletes from all over the state met at the Summit track in Bend over the weekend to try one of track and field's most challenging feats -- the decathlon for boys and the heptathlon for girls.
Arthur Katahdin from Milwaukie and Taylor Chocek from South Eugene emerged over two days as the top multi athletes in the state.
Taking advantage of gap in the schedule due to Spring Break, more than 60 athletes took part in the Summit Decathlon-Heptathlon.
"This was an incredible couple of days," Summit coach Dave Turnbull said. "I was surprised how many we had, especially with the weather we've had. The kids were incredible and our coaches and parents helped put on a great meet."
The standouts, however, were Katahdin and Chocek, a pair of juniors who have been working on all of the disciplines in the multis for years.
Chocek won the seven-event heptathlon with 4,217 points. She was the top scorer in four of the seven events and amassed 756 more points than her nearest competitor, Brette Graham of Lakeview.
Chocek was a 6A state placer last year in the high jump (second) and 100-meter hurdles (fifth).
At Summit, she ran 15.41 seconds in the 100 hurdles, jumped 16 feet and a half inch in the long jump, cleared 5-3 in the high jump, threw a mark of 28-7.75 in the shot put, ran a personal best 26.69 in the 200 meters, and finished the competition with a time of 2:44.52 in the 800 meters.
Her score met the qualifying standard for New Balance Nationals Outdoors, which is held at Greensboro, N.C., in June.
Katahdin bested a field of 48 boys who began the decathlon on Friday, scoring 5,958 points. He finished 501 points ahead of Simon Dexter of Churchill.
Katahdin, representing Mustang Track, won the USATF Hershey National Junior Olympic title in the decathlon in the 15-16 age group last summer with 6,060 points.
This weekend, Katahdin performed near his personal bests in most events. He scored a new personal records in the shot put with 41-4.50, the discus with 123-9, and the javelin with 133-8 and the high jump with 5-9.75.
Katahdin, Dexter and third-place finisher Turner Nye of North Medford all achieved qualifying standards for New Balance Nationals.
Doug Binder is the editor of DyeStat.com