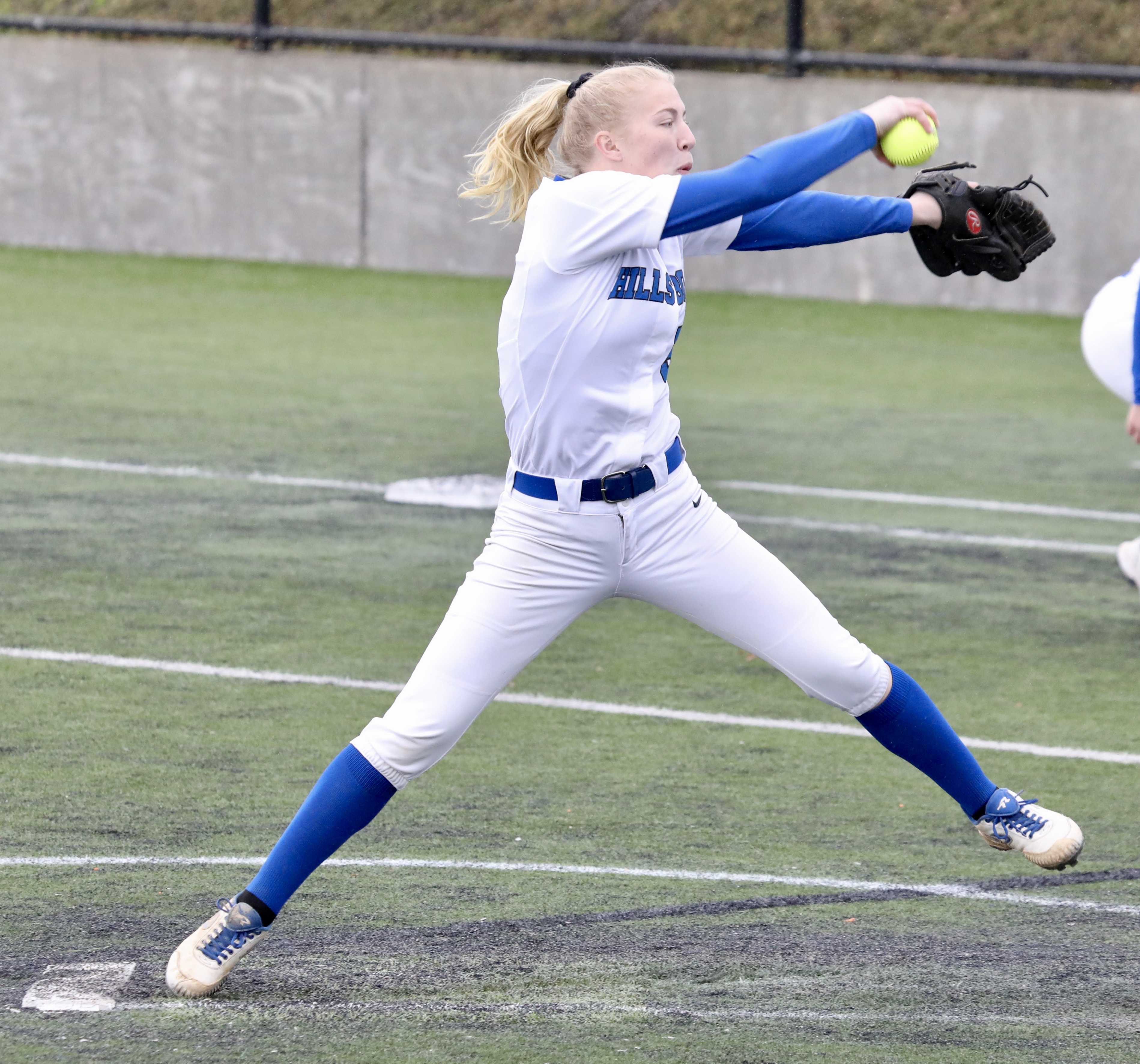 HILLSBORO — For Hillsboro softball pitcher Mckenzie Staub, the equation is simple: A win is good; a no-hitter is better.
But a no-hitter against Putnam? Off the charts. It's an old 5A Northwest Oregon Conference rivalry.
The Spartans junior got all three at Hillsboro Stadium on Thursday afternoon with a 5-0 victory. Throw in the word "domination," too.
Staub struck out 15, including the first six batters of the game and eight of the first nine. She also retired the first 16 batters before the only blemish on her day, a one-out, sixth-inning walk to Allison Davidson. The next batter popped a bunt up for a double play, so Staub faced the minimum 21 batters.
The only walk came in the middle of a nasty squall that raced over the game for an inning, making a ball grip difficult. So top-ranked Hilhi (10-1, 2-0) might make a case that only God could keep her from a perfect game.
Staub has had no-hitters before — she's been pitching since she was a 10-year-old — but this one was special.
"It meant a lot because it was against Putnam," Staub said, with no small trace of respect. "It seems as if it's always 1-0, 0-1 against them."
Indeed. The K-gals are a constant force in the Northwest Oregon Conference. The Spartans beat them out for the league championship last year, but lost in the opening game of the 5A playoffs, while Putnam went all the way to the championship game before bowing to Pendleton.
No. 10 Putnam (6-4, 1-1) isn't that team anymore, but it can still score. The K-gals scored 61 runs in their first nine games.
Staub was fluid from the beginning. She kept the ball low most of the time, moved it around the strike zone at will, and only looked uncomfortable when the rain was dripping off her chin in the rainstorm.
"I was hitting my spots pretty well," she said. "Once you get in the rhythm, it feels good. I felt it in the first inning."
And speaking of scoring runs, the five runs Hillsboro got equaled their low output of the year. Yes, low. The Spartans have scored 103 runs in 11 games, including nine against traditional Hillsboro-area softball monarch Glencoe and 13 on four different occasions.
Hilhi got four of its five runs in the third inning, when it finally got the measure of Putnam starter Melia Croydon.
Kiara McCrea got it started with a smashed single to left field, then stole second. She took third on an infield out, then Staub (she was a shortstop last year) walked and stole second.
Third baseman Rainy Dold — how portentous is that? — slammed a double down the left field line. She reached third on little sister Natalee's pop single to right field and scored on a wild pitch. Natalee Dold got to third on the same wild pitch, then raced home when Natalie Kinney drove an infield single off Croydon's glove.
The way Staub was pitching, four runs was three too many.
And so one of the state's youngest teams ran away with a victory. One of the most interesting aspects of this particular Hillsboro team is that there is only one senior on the roster — Rainy Dold. Against Putnam, the Spartans started Dold, two juniors, five sophomores and a freshman. More than half the team can't even drive legally to the games.
What makes it all click then? Talent, for one — no denying that. But there's more.
"We all have a say in what we're doing," Rainy Dold said. "We trust each other, we're very relaxed, and we communicate. We didn't always have that last year."
The beneficiary of all the success is Sara Harsin, who stepped in to coach this year. She's the varsity basketball coach and a math teacher in her civilian life.
Stepping in to coach a team with this much young talent is like getting a driver's license and a Porsche 911 on the same day.
"This is a really fun group of kids," Harsin said. "They're a good group. I've been straightforward with them about my level of knowledge of the game.
"I just keep them focused. We do things a little bit differently than we used to. I want them to own whatever they have. I have my strengths, Ron (Staub — yeah, Dad) has his strengths. Between them, they've bought into the team mentality."
It's worked to put the Spartans on top this year. If Mckenzie Staub continues to pitch the way she pitched against Putnam, they'll probably stay there, too.