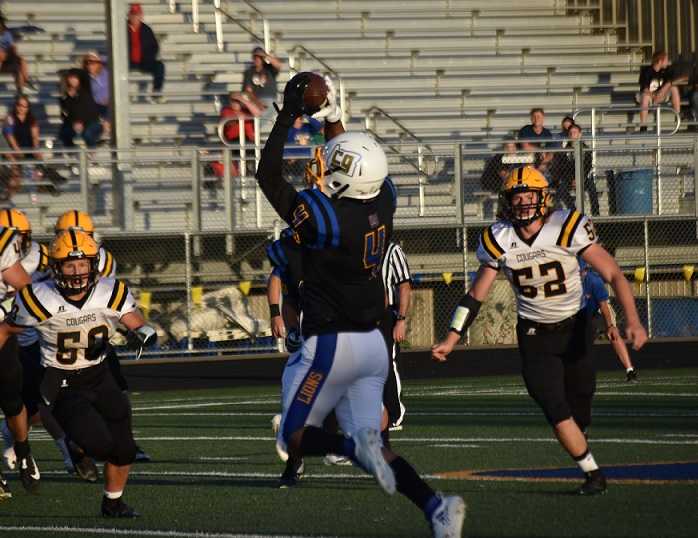 COTTAGE GROVE -- Reigning Class 4A football champion Cottage Grove dug deep to hold off hard-running Cascade 23-19 in the nonleague season opener for both teams Friday night.
Cascade's line was opening holes for running back Ethan Coffey and quarterback Elijah Nolan to pick up big gains. The Cougars had the advantage up front, but the Lions used their second- and third level defenders to slow them down.
Cottage Grove's defense was frustrated at times, but can use it as a building tool moving into the Week 2 match-up at Crook County.
"They got a big line. They got big running backs, but that's just all on our D. We just need to execute," Cottage Grove receiver and safety Erick Giffen said. "We need to build this week. We can't get run over like that ever week. That's a one time thing."
With Cascade's Nolan battling a sore shoulder, the Cougars' plan was to pound the ball with Coffey and allow Nolan heal up enough for next week's game against La Salle Prep.
"It was really awesome. We've been practicing that every day, the same play," Cougars center Westin Nelson said. "Give it to Ethan. Elijah's shoulder's pretty bad right now so we're letting him rest and give Ethan the ball and pound the rock."
Coffey put the Cougars up 19-15 with 5:47 left in the game, but Cottage Grove marched down the field as quarterback Dylan Graves threw to Giffen for the go-ahead score with 4:26 left.
"Oh time of my life. Love Friday night," Giffen said with a smile.
The Cougars were looking to answer, but Graves intercepted a halfback pass to shut down the Cougars for once in for all.
"That was huge. Shout out to Graves, that was a big-boy play right there," Giffen said of the big defensive play. "They ran a trick play to try to end the game. We just made a play and ended it like that."