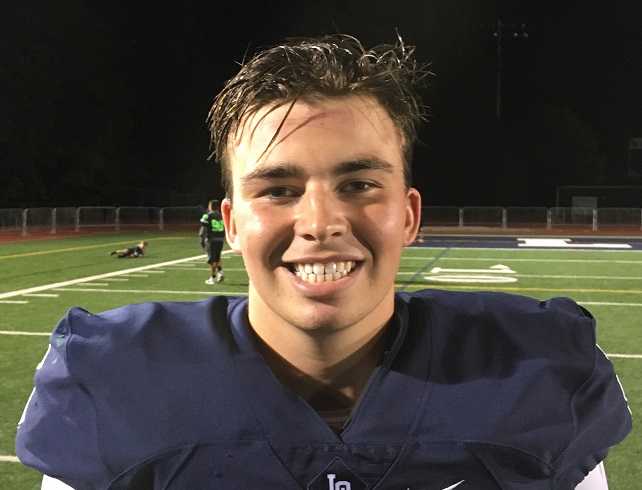 LAKE OSWEGO -- Jackson Laurent has spent his high school football career waiting for his chance to start at quarterback for Lake Oswego.
Friday night, his time finally arrived, and he made it count.
Laurent passed for 298 yards and five touchdowns – including four scores in a whirlwind second quarter – as the No. 7 Lakers opened their season with a convincing 48-21 home win over No. 8 West Salem in a Class 6A nonleague game.
"It was a little bit easier than I expected," said Laurent, who completed 18 of 28 passes and had one interception. "It was great to get out there. Probably never had anything more fun than that."
Three of Laurent's touchdown passes went to junior Thomas Dukart, the brother of Jake Dukart, the Lakers' starting quarterback for the last two seasons who is now at Oregon State. The other two scores went to junior Joe Hutson.
"He showed out," Dukart said. "I didn't know what to expect, but he came ready to play. I'm looking forward to the rest of the season with him."
Lake Oswego coach Steve Coury praised Laurent's performance against the Titans, quarterfinalists last year.
"Unbelievable," Coury said. "It's kind of expected because we've seen him, but you never know until the lights come on, and he hasn't played. But in the last few weeks, summertime, everything, it's like, wow, he's doing some really good things. I thought, 'Man, he's really got it.'
"I've seen it before. The light kind of goes on, and everything slows up into a big vision, and that's the way it felt tonight for him."
The Lakers have high expectations as they bring back a lot of pieces from their semifinal team, but the biggest question mark is the play of Laurent. He provided some answers Friday, in particular during a second quarter as Lake Oswego pulled away.
A blocked punt by senior Gabe DeVille and interceptions by junior Casey Filkins and seniors Matthew Sebolsky and Keenan DeRaeve led to Laurent touchdown passes on four consecutive series. He connected with Hutson on scores of 31 and 30 yards and with Dukart from 27 and six yards as Lake Oswego's lead swelled to 41-7 at halftime.
"Took a few snaps," Laurent said of settling into the game. "I was a little bit nervous, but I knew my guys would fight for me. Joe Hutson, Thomas Dukart, Casey Filkins, those are my guys. Put it up for them, I have 100 percent faith in them coming down with the ball."
Coury likes what he is seeing from his receivers. Dukart had five catches for 78 yards and Filkins had four catches for 90 yards to lead the way.
"It's really a great group of guys," Coury said. "They've got good speed, and they catch the ball. They just keep getting better, too. They made some big-time plays."
Lakers senior linebacker Bryson Breeze, a first-team all-state pick last year, missed the game as he recovers from a knee injury from 7-on-7. He is expected back soon.
Still, Lake Oswego showed that it is loaded with athletes.
"I think if we all stay healthy, we can be a No. 1 team, a contender for the championship," Dukart said.
West Salem's bright spot was senior speedster Anthony Gould, who has committed to Oregon State. He took a short pass and zigzagged for a 54-yard touchdown in the first quarter and got deep for a 67-yard touchdown catch in the third quarter. He also had an 86-yard interception return for a touchdown called back because of a penalty.
"He's fast. Legit fast," Coury said of Gould, who finished with seven catches for 152 yards.
Titans senior quarterback Simon Thompson was inconsistent in his first varsity start. He completed 14 of 33 passes for 230 yards and two touchdowns and had three interceptions.
"I haven't lost faith in him," West Salem coach Shawn Stanley said. "He's going to be great by the end of the year, and so is our team."
The Titans struggled to establish a running game as the Lakers held them to 37 rushing yards on 26 carries.
"Offensively, 10 guys starting new positions," Stanley said. "No excuses, they kicked our butts. But I saw bright spots. There's just a lot of stuff to clean up. A team like that, you can't make all those mistakes. By the end of the year, we'll be a much improved football team. Matter of fact, I guarantee it."
The second quarter mistakes were too much for West Salem to overcome.
"We were fortunate," Coury said. "Couple of big plays, and all of the sudden the score gets out of hand. They'll be a really good team, you watch, in the end. They've got a lot of weapons and lot of scary guys."