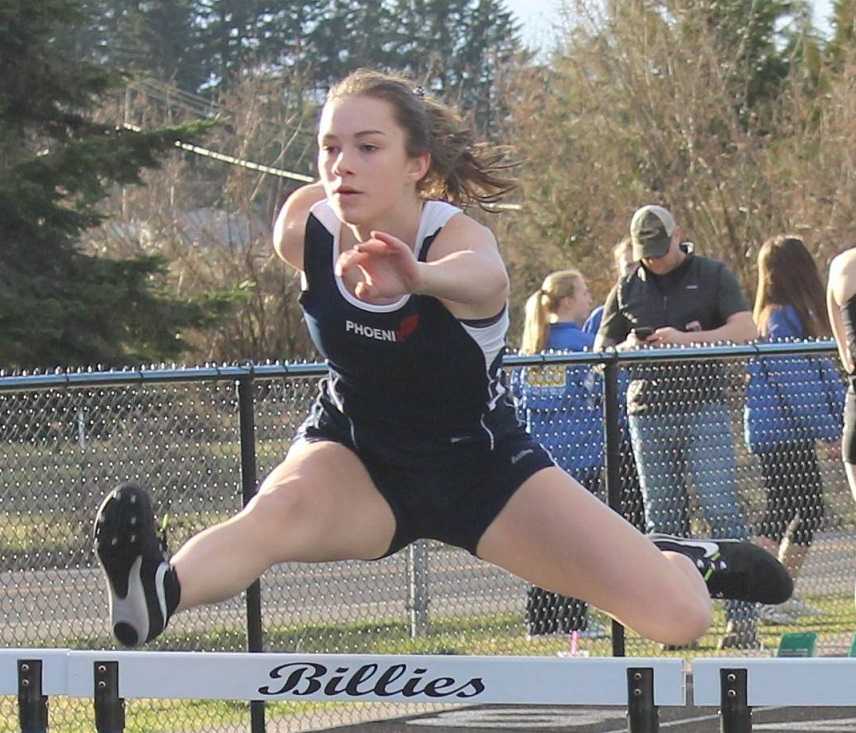 Phoenix junior Sienna Bauer has spent 10 years in gymnastics, but she may be growing out of that sport and into a future in track and field.
Bauer has risen to Level 8 as a gymnast, but at 5-foot-8 she is becoming a bit too tall for one of her favorite events, the uneven parallel bars.
Less than two years ago, while learning a new floor exercise routine, Bauer suffered hyperextensions in both knees. Those injuries impacted her sophomore season of track and field last year, as she endured pain in her hip and back.
"Last track season was pretty tough," Bauer said. "It was hard to break 16 (seconds) in the hurdles last year."
Over the past two weeks, Bauer has beaten competition from bigger schools in the 100-meter hurdles at the Crater Classic (15.26) and last weekend's Summit Invitational (15.51).
Bauer trains on a threadbare track that has exposed cement and cracks running across the lanes. Phoenix hasn't been able to host a meet in three years because of the condition of the 29-year-old surface. Fortunately, voters passed a bond measure that will ensure the track is updated for before her senior year in 2020.
"She's one of those kids whose presence on the team cultivates the culture for the whole team," Phoenix coach John Cornet said. "She's one of those personalities who influences the atmosphere."
Gymnastics has helped prepare her for track and field. Years of honing her coordination and flexibility, and work ethic, have translated to the track.
"I am always interested in events that were random and weird," Bauer said of choosing to focus on hurdles and the triple jump. "The thing about jumps is that, because of gymnastics, I always want to stick the landing."
As a hurdler, a gymnast background is evident in the way she glides over hurdles with a graceful technique that doesn't lose momentum over the barriers.
"Sienna is quick going over hurdles," Cornet said. "We're working on speeding up the three-step in between."
Bauer's 15.26 time in the 100 hurdles, and her personal best of 36-10.50 in the triple jump has her on the cusp of cracking the all-time 4A top 10 in both events.
After this weekend's prom, Bauer will compete at the Wally Ciochetti Invitational in Cottage Grove on May 3. The district meet follows a week later.
Doug Binder is the editor of DyeStat.com