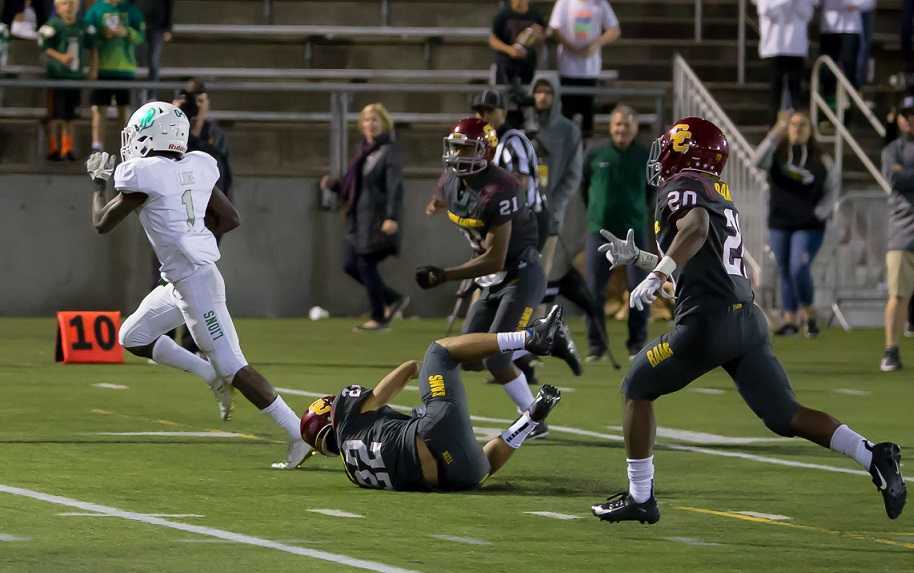 HILLSBORO -- West Linn and Central Catholic played an instant classic Friday night in a Class 6A nonleague football game that was not decided until Dawson Jolley scampered 25 yards up the gut in overtime to deliver the 47-41 win for the Lions.
Jolley finished with 146 yards rushing and two touchdowns and also caught a 36-yard touchdown pass for West Linn, which went to Hillsboro Stadium to face a Central Catholic team voted No. 1 in the OSAAtoday Class 6A preseason coaches poll.
No. 5 West Linn outgained the Rams 639-381 but trailed 41-33 with less than five minutes remaining before a 70-yard drive, capped by quarterback Ethan Long's 14-yard keeper, brought the Lions within two. A razzle-dazzle end-around to Casey Tawa for the two-point conversion knotted the score with 3:10 left.
That seemed more than enough time for Central Catholic and its high-powered offense, especially after a long kickoff return gave the Rams the ball at the West Linn 45. But Central Catholic quarterback Cade Knighton, who passed for 318 yards and three TDs on the night, was intercepted by Ethan Loun. West Linn took over deep in its territory, converted a gutsy fourth-and-one from its 19-yard-line and marched to the Central Catholic 20 before the clock ran out on regulation time.
Central Catholic got the ball first in overtime and made one first down but a third-down sack of Knighton by Brian MacClanathan pushed the Rams into a fourth and 20. Ethan Flynn took the outlet pass from Knighton and blasted his way for 16 yards inside the West Linn 10-yard-line, but Tanner Moore's tackle kept him from gaining first-down yardage.
One play later, after Jolley took the handoff, the game was over.
"I'm incredibly proud of the kids and how resilient they were," said West Linn coach Chris Miller. "We had five starters out suspended and others went out dinged up during the game. The game had its ebbs and flows but our young team hung in there. I couldn't be prouder."
The game marked the first meeting between the schools since the state championship game of 2016, won by West Linn, 62-7. Central Catholic was hoping for payback, but undermanned West Linn hit the Rams in the mouth in the first quarter, getting touchdown tosses from Long to Jolley, Moore and Brodie Corrigan in opening a 20-7 lead.
Central Catholic had the better of the play in the second quarter, and got two touchdown catches from Silas Starr to pull within 26-21 at the half; then used a series of short fields to wear down the Lions in the third quarter. When Miles Jackson scored from two-yards out with 1:07 remaining in the third, Central Catholic had its first lead of the game, 34-33.
Central Catholic added a touchdown to start the fourth quarter on a four-yard run from Khalen Bostic and led 41-33 as the Rams' defense stiffened, forcing a series of three-and-outs by the West Linn offense.
But after West Linn made a defensive stand of its own with less than six minutes remaining, the Lions' offense went 70 yards in less than two minutes for the tying score, getting a huge spark on the ground from sophomore back Cole Peters.
The game was billed as a showcase between two of the best quarterbacks in the state and they did not disappoint. Long passed for 356 yards and four touchdowns and ran for 87 more yards and another score. Tawa led Lion receivers with eight catches for 117 yards. Corrigan caught two, both for touchdowns, for 96 yards.
Starr was Knighton's favorite target for Central, finishing with nine catches for 131 yards and three TDs. Kalvin Souders caught eight for 85.
In a game with skilled players all over the field, the difference may have been Central Catholic's lack of running game. Behind a rebuilt offensive line, talented backs Jackson and Elijah Elliott managed only 59 yards combined on 25 carries.