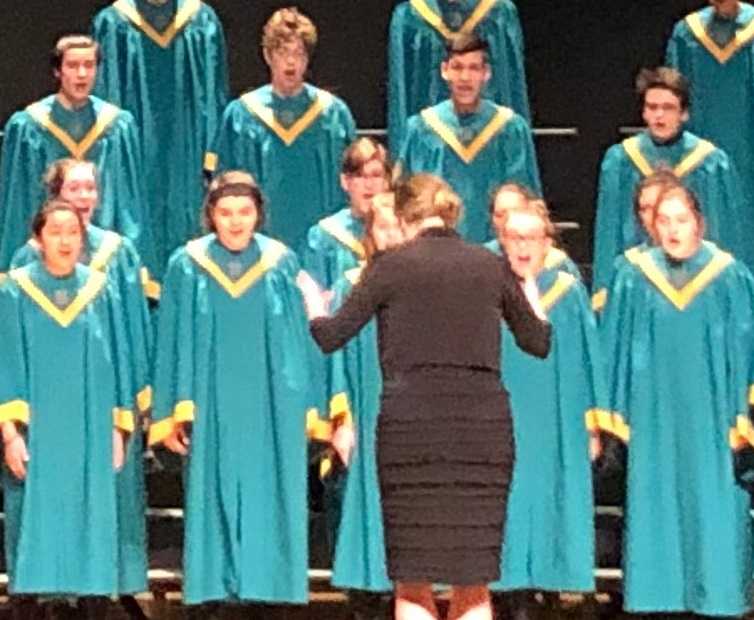 West Linn won its first state title in the OSAA/OnPoint Community Credit Union choir championships last week at Oregon State University.
The Lions, directed by Aubrey Patterson, posted an adjusted score of 346 to share first place in 6A with South Salem. Before taking over at West Linn, Patterson directed Corvallis to 5A championships in 2015, 2016 and 2017.
South Salem, directed by William McLean, won its 15th title and fourth since 2010. It marks the 22nd time in 25 years that a choir from the Salem-Keizer school district has won at least a share of the 6A championship.
West Salem and Sprague, also from the Salem-Keizer district, had scores of 342 and 336 to finish third and fourth, respectively, in the 6A competition. Canby (335) was fifth.
Silverton won the 5A championship with a score of 334. It is the first outright title for the Foxes, who were co-champions with Central last year.
Springfield (318), Hood River Valley (305), Wilsonville (300) and Putnam (293) rounded out the top five for 5A.
La Grande scored 332 to finish first in 4A for its ninth championship, all since 2001. The Tigers shared the title with Molalla last year.
McLoughlin (292), Cascade (288), Molalla (284) and Estacada (274) finished behind La Grande in 4A.
Westside Christian extended its streak of championships to 13 – the last nine under director Will Fox -- by dominating the 3A competition. The Eagles' score of 319 beat Nyssa (255), Salem Academy (247) and Sutherlin (237).
North Clackamas Christian captured its third consecutive championship in 2A/1A with a score of 325. Lowell (313), Veritas (310), Sheridan (301) and Southwest Christian (301) finished behind the Saints.