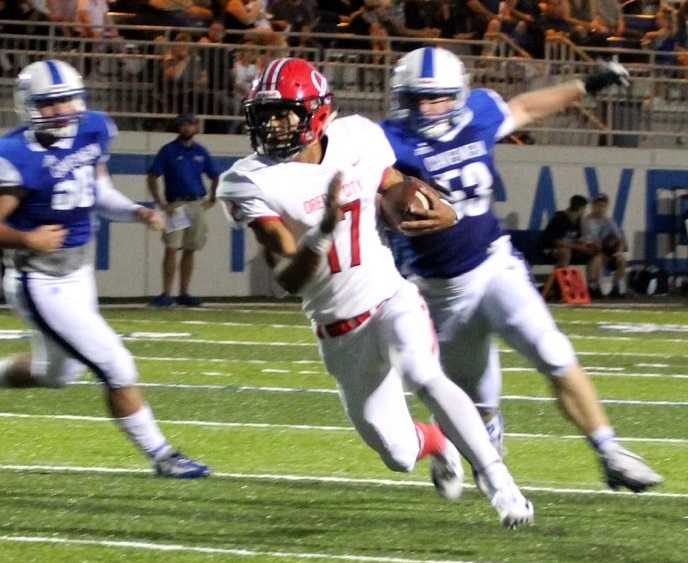 It's way too early to consider candidates for Class 6A football players of the year, but it's hard to ignore the message sent by Oregon City's Zakhayas Dennis-Lee in the season opener Friday night.
The 5-foot-11, 180-pound senior running back rushed for 323 yards and four touchdowns on 20 carries and returned a kickoff 91 yards for a score to lead the Pioneers to a 64-41 win at Grants Pass.
"He's an amazing playmaker," Oregon City coach Dustin Janz said.
Last season, Dennis-Lee was part of an explosive trio along with running back Ethan Kassebaum and receiver Teron Bradford. Now that they have graduated, expect the Pioneers to lean more on Dennis-Lee, who is running behind an offensive line that returned intact.
"He knows what his capabilities are, and he knows that with what he has up front, he's going to have his opportunities," Janz said. "It's just going to increase his game.
"We've got to make sure we do a good job of making calls because good teams are going to do things to take Zakhayas away. We're going to have to find ways to keep him involved without stifling our offense."
Janz marvels at Dennis-Lee's talent, but he also is impressed by Dennis-Lee's evolution as a teammate this season, as evidenced during a play against Grants Pass.
"Unselfish," Janz said. "He ripped off a 75-yard run, and he got caught at the 1. And instead of staying in and saying, 'Hey, it's my touchdown,' he actually waved his backup in and let him score."
Payback time
North Bend had almost a year to think about losing to Marshfield 55-10 in the teams' annual Civil War rivalry game.
So Friday's 23-21 win at Marshfield – a Class 4A finalist last season and ranked No. 1 in the OSAAtoday preseason coaches poll -- tasted extra sweet for the Bulldogs.
"I would imagine that was in the back of our minds," North Bend coach Gary Prince said. "We're not the same team we were last year, but obviously you don't forget those things."
Down 21-20, North Bend's Nathan Monohon attempted a 21-yard field goal with 2:36 left. The snap was low and the ball skidded on the turf, but holder Coleman Compton fielded it to allow Monohon to deliver the winning points.
Coleman, the Bulldogs' sophomore quarterback, threw and ran for touchdowns in the game, but his hold turned out to be the difference.
"He's just a sophomore, but he's cool, calm and collected," Prince said.
The win provides a springboard for North Bend, which has moved from Class 4A to Class 5A Special District 2.
"The kids worked hard all week and they were able to cash a paycheck," Prince said. "Against a very good Marshfield team, it's a boost of confidence for these guys."
Super soph
An injury seems to have only delayed the inevitable for Westview sophomore quarterback JJ Woodin.
Woodin appeared to be on his way to a breakout freshman season in 2017, leading a comeback win over Aloha and propelling the Wildcats to a three-touchdown lead against Southridge. But his season ended in that Week 5 Southridge game when he suffered a broken wrist on his throwing arm.
The 6-3, 195-pound Woodin came back Friday with a dazzling performance in a 57-28 win at David Douglas. He completed 15 of 21 passes for 211 yards and four touchdowns in the first half before calling it a night.
"If we would've kept him in, he would've had 600, 700 yards," Westview coach Ryan Atkinson said of Woodin, whose older brother AJ played quarterback at Southridge.
The coach raved about Woodin's physical gifts, smarts and natural leadership ability. A 4.0 student, Woodin was voted as a team captain this season.
"His football IQ is off the charts. It's like having a coach out there playing for you," Atkinson said. "Guys gravitate toward him. He's a competitor. He's fearless.
"He knows the offense just as well as the offensive coordinator does. He knows where to go with the ball, and he has a cannon. He gets it in spots where our guys can catch it."
Woodin is one of the strongest players on the team, according to Atkinson, who compared his playing style to Oregon quarterback Justin Herbert.
"He's definitely a phenom. He's going to be a really, really good one," Atkinson said. "He's going to explode this year, there's no question about it. People are talking about him being the best quarterback for 2021. I'm not too sure that's not going to happen this year."
Fast start
First-year Lincoln coach Jeremy Johnson has a difficult act to follow in Wes Warren, who left for the job at Franklin after guiding the Cardinals to three Portland Interscholastic League titles in three seasons.
But Johnson, an assistant at Oregon City for the past four seasons, started on a positive note Friday when Lincoln cruised to a 40-7 win over Canby.
Johnson liked how the Cardinals held Canby on fourth down in the red zone on three separate occasions. He said senior linebackers Nick Ostmo, Kyle Gragnola and Zach Schwartz led the charge.
"We didn't give up on a chance to stop them," Johnson said. "It's a credit to our kids."
Ostmo not only played tough on defense, but was a determined runner, rushing for three touchdowns as Lincoln piled up 369 yards on the ground.
"He's willing to do whatever it takes for us to win," Johnson said of Ostmo.
Lincoln played the home game at Wilson High School because the grandstand on its home field was condemned. Johnson said the district is planning to repair the grandstand in time for Friday's home game against Southridge.
Raising their game
The three Bend high schools – Bend, Mountain View and Summit – had mixed results in their openers Friday as they make the jump from Class 5A to 6A this season. Bend beat Barlow 55-21 and Mountain View dominated Roseburg 46-6, but Summit lost to Beaverton 37-7.
In Bend's win, Kyle Reed and Payton Davis ran for two touchdowns each and Cooper Simmonds passed for two scores and ran for another as the Lava Bears capitalized on Barlow turnovers.
Mountain View, which won Class 5A Special District 1 last season and reached the state semifinals, got a big game from senior Jonas Larson, who rushed for 210 yards and five touchdowns. It was the type of performance that was common last season for Larson, who had seven 200-yard games.
"If we can get him 25 touches, we want him to be somewhere around 200 yards every time," Mountain View coach Brian Crum said.
Crum said his players had "a little bit of doubt" early about moving to Class 6A, but that has faded.
"The biggest difference is the consistency. You're playing a solid team every week, which is maybe not what we've had in the past," Crum said. "I think our kids definitely are starting to believe. I thought we competed well with Sheldon in our jamboree. I don't think our kids are even thinking about 6A now, I think it's just football."
Sandy surprise
One of the more eye-opening results from Friday was Sandy's 24-7 win at Sherwood in a Class 6A nonleague game.
The Pioneers, who have moved up to Class 6A this season, don't exactly have the best track record against Bowmen. As foes in the Class 5A Northwest Oregon Conference from 2010 to 2013, Sherwood won all four meetings by an average score of 66-24. They hadn't met since.
But Sandy's defense was the difference Friday, holding the Bowmen's dangerous wing-T offense to 223 yards and forcing three turnovers. Pioneers quarterback Chet Chamberlain threw for two touchdowns.
A glimpse at Week 1 around the state:
CLASS 6A
Tigard's Mitchell Cross and Max Lenzy returned interceptions for touchdowns in a 54-30 win over Sunset. … Jackson Laurent threw for 298 yards and five touchdowns, three to Thomas Dukart, as Lake Oswego defeated West Salem 48-21. … Giovanni Bottero threw three touchdown passes in his first varsity start as South Medford beat Centennial 28-7. … North Medford's running attack dominated and Jeff Carpenter had two interceptions in the Black Tornado's 55-27 win at McNary. … Reigning state champion Clackamas had three interceptions and got a two-yard touchdown run by quarterback Austin Atkeson to win 7-0 at Iolani of Honolulu. … Reynolds throttled Madison 67-0 in a game that was called with 4:12 remaining. … Jesuit extended its Metro League winning streak to 36 by cruising past Mountainside 56-7, spoiling the Beaverton school's varsity debut. Andy Alfieri ran for 183 yards and three touchdowns for the Crusaders.
CLASS 5A
Texas transfer Demontre Thomas II got the start at quarterback for No. 1 Churchill and responded by completing 20 of 24 passes for 295 yards and three touchdowns and rushing for 55 yards and two scores as the Lancers beat Thurston 42-23. Marshaun Tucker Jr. caught 13 passes for 204 yards and two touchdowns for Churchill. … Wilsonville's Nathan Overholt completed 23 of 30 passes for 436 yards and five touchdowns to lead the No. 2 Wildcats past Crater 53-20. ... Dominic Funk caught a touchdown pass and returned a fumble for a score in Forest Grove's 33-13 win over Putnam. … La Salle Prep had two freshmen score touchdowns in a 51-28 loss to Garfield (Wash): Brody Crowley rushing and Jacob Waterman receiving. … Ashland's DaMario Watson ran for 150 yards and had an interception in the Grizzlies' 21-12 win over Willamette. … Eagle Point's Noah Page had touchdown catches of 70 and 65 yards and a touchdown run of 69 yards to help beat Class 4A Klamath Union 35-28. … Springfield, winless last year, outscored North Eugene 51-50 as Arturo Diaz rushed for 320 yards and four touchdowns on 44 carries.
CLASS 4A
Gladstone broke a 28-28 tie when Mason Scheehean scored on a 50-yard run on fourth-and-four with 1:11 left, beating Banks 35-28. … Cobyn Herbert passed for two touchdowns and blocked a punt and returned it 49 yards for a score to lead Elmira past Siuslaw 74-6. … Molalla turned back a two-point conversion attempt in the final minute to beat Class 3A Scio 21-20. Damian Pingo passed for two scores for the Indians. … North Marion controlled the clock with its running game in a 12-6 win over Stayton. … Cottage Grove's Erick Giffen caught a late touchdown pass to lift the reigning state champion Lions over Cascade 23-19.
CLASS 3A
Dylan Westbrook caught a 29-yard touchdown pass from Riley Pinckney on the last play of the game to give La Pine an 18-12 win over Douglas. … Harrisburg's Gabe Knox rushed for 241 yards and two touchdowns and Jonathan Lettkeman added 196 yards and five scores in a 60-29 win over Taft. … Reigning state champion Cascade Christian blanked Phoenix 28-0 as Luke Smith ran for 116 yards and three touchdowns. … Rainier's defense forced six turnovers and had five sacks in a 58-6 win at Umatilla. Joey Tripp ran for 154 yards and two touchdowns for the Columbians. … Yamhill-Carlton topped Class 2A Warrenton 42-13 behind quarterback Jamie Garcia, who passed for two touchdowns and ran for another. … Vale blitzed past Parma (Idaho) 46-6, rushing for 320 yards. Colton Kesey threw two touchdown passes to Kade Haueter and ran for two scores. … Madras rushed for 330 yards and returned two kickoffs for touchdowns to beat Class 4A McLoughlin/Griswold 53-7. Victor Torres ran for 187 yards for Madras. … West Streeter and Jonathan Mather combined to rush for 241 yards and four touchdowns as Amity defeated St. Mary's 51-7. … Irrigon beat Stanfield 34-8 behind the rushing of Lino Covarrubia and Payton Smith and the defense that pitched a shutout until the final minute. … No. 1 Santiam Christian outlasted No. 5 Dayton 20-13. … No. 7 Clatskanie rolled 46-0 over Heppner by holding the Mustangs to 108 yards. ... David Healon ran for 141 yards on 14 carries as Willamina blanked Class 2A Gaston 34-0.
CLASS 2A
Monroe defeated Sheridan 26-21 in a running back duel between Monroe's Zach Young (225 yards) and Sheridan's Josh Rodgers (233 yards). … Garet Wisenbaker ran for three touchdowns to lead Portland Christian past Gervais 40-17. … Kennedy's Emorej Lynk (6-3, 200) rushed for 176 yards and three touchdowns on seven carries in a 47-6 win over Class 3A Blanchet Catholic. Bruce Beyer had a 102-yard interception return for a touchdown for the Trojans. … No. 6 Knappa beat No. 7 Grant Union 26-6. … Glide defeated Bandon 13-0 as Zach Holland rushed for 193 yards.
CLASS 1A
No. 2 St. Paul, playing its first eight-man game after four seasons in Class 2A, built a 46-0 lead on its way to beating No. 4 Wallowa 54-20. … Three-time reigning state champion Dufur defeated No. 6 Triad 70-32 as Asa Farrell, Anthony Thomas and Tanner Masterson combined to run for 475 yards and nine touchdowns on 19 carries. … Yoncalla beat Waldport 48-14 as Jordan Aguilar rushed for 144 yards and two touchdowns. … No. 5 Crane defeated No. 6 Camas Valley 44-30. … Butte Falls/Crater Lake Charter Academy beat Prospect 42-30 as Dylan Bridges threw three touchdown passes, two to Levi Underhill, and defensive end Garrett Parr had three fumble recoveries. … Caleb Parks rushed for 323 yards and four touchdowns in North Douglas' 60-44 win over Riddle. … Rogue River spoiled Myrtle Point's eight-man debut by building a 41-0 lead in the first quarter and winning 60-6. … Tyasin Burns rushed for 215 yards as Pilot Rock/Nixyaawii beat Enterprise 24-12. ... No. 3 Hosanna Christian dominated No. 8 Falls City/Kings Valley Charter 52-22 behind Will Maupin, who eight catches for 200 yards and four touchdowns. ... Scoring was surprisingly low in the first five six-man games since 1959 as teams combined to average 58.0 points.