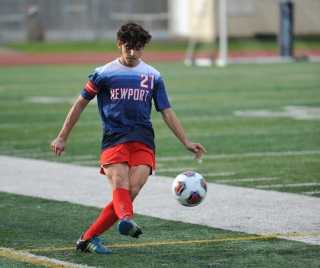 Newport boys soccer has come a long way from being a co-ed program in 2010 to back-to-back Class 4A championships in 2016 and 2017.
The school didn't have a soccer team until 1999, and the Cubs didn't even win a playoff game until their consecutive runs to the title. In a short time, soccer has become a big part of Newport's fabric, supported by a youth program that boasts 450 players from U-6 to U-14.
"The culture here has definitely changed," coach Ollie Richardson said. "I just see the interest level growing. There are less kids playing football, and even baseball and softball, so they can play soccer."
The Cubs have been riding high on their recent success, but now they will find out if they have what it takes to reload and remain among the state's elite. After graduating all but four starters, the depth of the program faces the ultimate test.
"I've got some really good pieces down the middle of the field," Richardson said. "It's all about getting those other chess pieces on the board that can perform the way we need them to."
Newport will need to be at the top of its game to contend in the tough Oregon West Conference. The field not only includes Stayton – runner-up in three of the last four seasons – but two-time reigning Class 5A champion Woodburn, which has dropped down one classification.
"When we get out of our league, we're going to know who the best teams in the state are," Richardson said.
Newport (1-1) plays host to Stayton (1-0) on Thursday in a rematch of last year's state final. The Cubs are home to face Woodburn (1-0) on Sept. 18 in a rare conference battle between two-time reigning state champions.
"When will you ever have back-to-back state champions from different classifications, all of the sudden be in the same league playing each other?" Richardson said. "It won't happen. If it was football, it wouldn't happen."
Woodburn has dropped to Class 4A because the school's other sports teams have struggled and the athletic program met OSAA criteria to play down. The boys soccer team is an exception.
"I'm not going to whine and complain about it," Richardson said. "We're going to go out and compete and try to beat them. If they're not in the finals, it'll be a huge upset. If they lose a league game, it'll be a huge upset."
Newport is building around two Class 4A first-team picks in senior midfielder Jose Gonzalez and senior goalkeeper Luis Reyes, both four-year starters. Much of the Cubs' attack hinges on Gonzalez.
"He has the highest soccer IQ of any player I've ever coached. He's really cerebral," Richardson said. "His first touch, his ability to distribute, his ability to score, his speed with or without the ball, he kind of does it all.
"It's just a matter of getting him to trust all his teammates. Once he does that, if we get to that point, it's going to be impossible for us not to have a successful season."
The Cubs need to replace three forwards who combined to score 35 goals last season. They have two speedy candidates in junior Juan Lopez and sophomore Oscar Jimenez.
Outside of Reyes and Gonzalez, the team's other experience comes from senior midfielder Tryston Wolf, junior midfielder Alex Aparicio and senior defender Jorge Barrios.