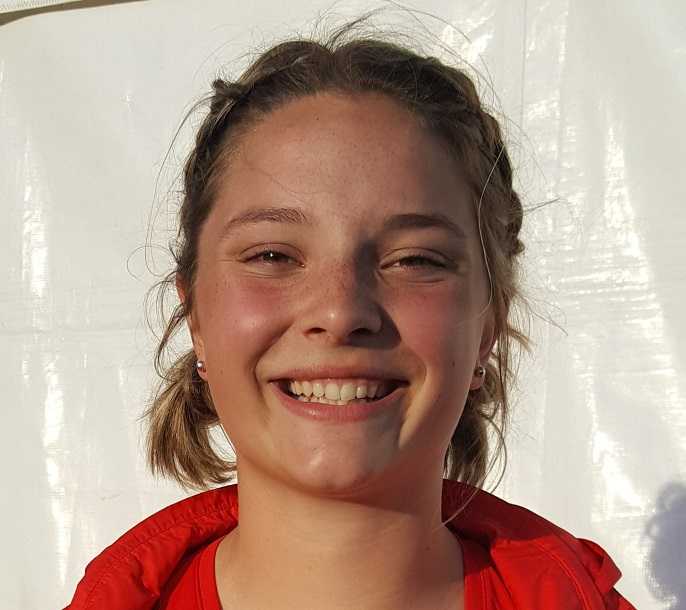 Seaside senior Gretchen Hoekstre will go into this weekend's OSAA Track and Field Championships with the rare distinction of being the U.S. leader in one of her events, and an athlete capable of taking down two storied 4A meet records.
Hoekstre put the shot 50 feet, 1 1/2 inches on May 3 at the Nike Jesuit Twilight Relays. That's the farthest throw in the country this year and more than a foot in front of the No. 2 thrower, another Oregonian, Jaida Ross (48-5) of North Medford.
That big throw was a breakthrough for Hoekstre, who PR'd by nearly 30 inches.
"I was in the right spot in the ring," Hoekstre explained. "A lot of times I won't get behind the shot and so the shot kind of pushed me away from it. This time, I was able to get behind it and put all the force I had behind it."
She could feel right away that it was a lifetime best.
"I knew the moment it came off my fingers," she said.
The 4A meet record in the shot put is 48-7 by Christy Ward of North Valley from 1988. That mark stood as the all-time Oregon record for more than 15 years. The discus record is held by Astoria's Laura Bobek, who threw 152-10 at the 2009 state meet. Hoekstre has a discus best this spring of 154-2.
Due the the construction of the new stadium at Hayward Field in Eugene, the state meets are in different locations this year. The 2A/1A meet will convene in Monmouth at Western Oregon University on Friday for its two-day run. The 4A/3A will take place at Mt. Hood Community College in Gresham. Then the state's big schools, the 6A and 5A classes, will go on May 24-25 at Mt. Hood Community College.
A look inside the state meets this weekend:
4A Boys
Teams to watch: Newport, Mazama, Marist, La Grande
2018 champion: La Grande
Notes: La Grande needs to pull big points out of the field events in order to hold onto the team title. Pole vaulter Jacob Huntsman cleared 14-3 last weekend at the district meet and is part of La Grande's equation to win again. However, Newport, Mazama and Marist all come into the meet with great chances to capture the team title. Newport pairs distance runner Leo Johns with throwers Jake Tucker and Max Moore and sprinter Tanner Stottlemyre -- combination that could be tough to beat. Mazama has sprinter and jumper Ben Carringer, who could have a big meet. And Marist could peel off big points on the track from the 400 to the 3,000.
4A Girls
Teams to watch: North Valley, Philomath, Siuslaw, Hidden Valley, Valley Catholic
2018 champion: Marshfield
Notes: North Valley has a trio of sisters that are looking to score a ton of points this weekend. Baylee Touey, a senior, is seeking to win her 9th, 10th and 11th individual titles in the 100, 200 and 400 meters. She recently moved to No. 3 on the all-time state list in the 200. Kaylee Touey, a junior, could score well in the shot put, discus and javelin. And Karlee Touey, a freshman, could add points in the hurdles and the 4x400 relay. Hidden Valley is also loaded, with sprinter Nyah Kendall, jumper Jenelle Hurley and thrower Kaiah Fisher. HV has a 4x100 relay squad that could take down Siuslaw's 1985 state meet record. The high jump has intrigue. Cascade freshman Emma Bates has cleared 5-7 this season and will take on Valley Catholic's Kate McNaughton, who is one of the top athletes in the meet and the top seed in the 100-meter hurdles.
3A Boys
Teams to watch: Pleasant Hill, Crewswell, Amity, Clatskanie
2018 champion: Pleasant Hill
Notes: Dylan Hopper cleared 14-5 in the pole vault after no-heighting at the district meet last year. He leads the defending champions from Pleasant Hill into the state meet and the Billies are going to need to score well in the field events, such as the discus, high jump and javelin, in order to stay on top of 3A. Gauge Smith of Creswell is the main cog for his team and he is entered in the 100, 200, 400 and the 300-meter hurdles. Cooper Blodgett of Clatskanie is also seeking the 100, 200 and 400 titles and is part of the state's leading 3A 4x100 relay. Hurdler/jumper Jonathan Mather and thrower Benjamin Hayes are the top entrants for Amity.
3A Girls
Teams to watch: St. Mary's, Pleasant Hill, Blanchet Catholic, Catlin Gabel
2018 champion: Blanchet Catholic
Notes: Emma Bennion of St. Mary's could score in a lot of events at the state meet, but she is limited to four. She'll do the 400, 800, 300 hurdles and 4x400 relay as she tries to help lift St. Mary's to its first team title since 2016. Catlin Gabel's Lila Fenner has a busy weekend planned. She'll focus on the 800, 1,500, pole vault and 4x400 relay. Pleasant Hill and defending champ Blanchet Catholic, which returns 100-meter hurdles champ Trinity Phipps, are in the mix but need to pull big points out of the field events.
2A Boys
Teams to watch: East Linn Christian, Enterprise, Heppner
2018 champion: Bandon
Notes: East Linn Christian is deep and has the potential to score in a lot of events this weekend, making the Eagles the favorite for the team title. Senior Jedaiah Wasson is the top entrant in the 1,500 and 3,000, and Christian Wilson is the top entry in the 110 hurdles. Wilson finished in the top three in both hurdles events last year. Senior Tyson Brasfield of Lowell could score big points in the 100, 200 and 400.
2A Girls
Teams to watch: Enterprise, Portland Christian, Grant Union, Monroe
2018 champion: Monroe
Notes: Monroe's Kyndal Martin, who won three events last year to help her team win the state title, is re-entered in the 100 meters, both hurdle events and the long jump. Her performances this spring are a bit down compared to 2018. Enterprise, led by sprinter Hero Peters and distance runner Kyla Hook, are in the mix. Kaylee Wright of Grant Union is a threat to win the 100, javelin and high jump. Kathryn Nyone, the top 2A entrant in the 200 and triple jump, leads Portland Christian.
1A Boys
Teams to watch: Dufur, Cove, Prairie City
2018 champion: Pacific
Notes: The sprints and jumps trio of Asa Farrell, Tanner Masterson and Cole Kortge, and distance runner Friedrich Stelzer, could roll up a lot of points for Dufur this weekend. Cove senior Tim Stevens, a University of Idaho recruit, is one of the top distance runners in the state regardless of classification. He could go after state meet records in the 1,500 and 3,000 meters.
1A Girls
Teams to watch: Joseph, St. Paul, Cove
2018 champion: Cove
Notes: Sophia Pettit, the reigning champion in the 100 meters, returns to lead Cove. She false started in the 200 at the district meet, so she only has three events in which to help her team this weekend. Joseph distance runners Ellyse Tingelstad and Ella Coughlan could rule the 800, 1,500 and 3,000. St. Paul enters the meet with the fastest relays.
Doug Binder is the editor of DyeStat.com