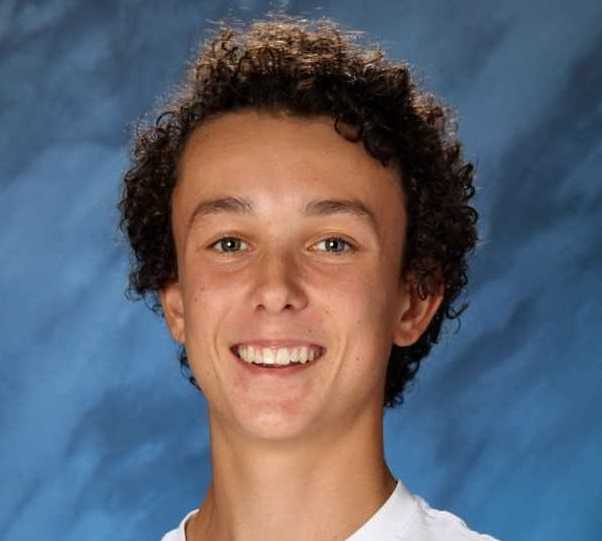 BEAVERTON -- Jesuit junior Peter Murphy moved to the brink of a third consecutive singles title in the OSAA/OnPoint Community Credit Union 6A boys tennis tournament Friday at Tualatin Hills Tennis Center.
The top-seeded Murphy defeated the No. 6 seed, Lake Oswego junior Gabe Horowitz, 6-0, 6-1 in the quarterfinals and the No. 4 seed, Lakeridge senior Jack Ninteman, 6-2, 6-0 in the semifinals to advance to Saturday's final.
Murphy will face Sprague junior Judson Blair in the championship match. The second-seeded Blair won by default over the No. 3 seed, Lincoln senior Avi Shugar.
"It's exciting," Murphy said. "Obviously there's pressure on your shoulders to perform, but you've got to embrace that and move on from it. You've got people watching you. You've just got to look at the bright side, as opposed to, 'What if I lose?' it's, 'What if I win?'"
Murphy met Blair in the quarterfinals last year, winning 4-6, 6-2, 6-1. Murphy defeated Blair handily in their most recent USTA match.
The Alabama-bound Shugar, a semifinalist last year, defaulted because he was unable to play due to a scheduling conflict with an International Baccalaureate test.
The match, tentatively scheduled for 2:30 p.m., was moved up to 1 p.m. due to courts becoming available. Players and coaches are made aware that matches may be played up to 90 minutes before their scheduled time.
Lincoln coach Todd Mansfield said if the match had been played at 2:30 p.m., Shugar might have been able to play.
"My main thing is I don't know officially if the OSAA did anything wrong, but they had an opportunity to do what was right, and they didn't do it," Mansfield said. "That's what I'm most disappointed about."
The testing conflict also affected Lincoln's doubles team of seniors Michael McPhee and Regen Li, who defaulted in the quarterfinals to the No. 1 seed, Jesuit senior Tommy Kallgren and junior Jaden D'Abreo.
Lincoln's second-seeded doubles team of senior Danny Luo and James Chen nearly defaulted, too, but Luo arrived just in time for their semifinal match against Jesuit senior Charlie Law and sophomore Wyatt Warrington.
Luo and Chen won 6-1, 6-1 to advance to the final against Kallgren and D'Abreo, who defeated Jesuit juniors Spencer Barnett and Connor Barnett 6-2, 6-3 in the semifinals in a rematch of last year's state championship.
Jesuit – which has won 10 of the last 11 team titles, including the last three -- holds a 30-26 lead on Lincoln in the standings.
5A
The first two rounds of the 5A tournament were played Friday at Portland Tennis Center, setting up the semifinal pairings for Saturday morning at Tualatin Hills.
In singles, the No. 1 seed, Churchill junior Alle Banna, will play fourth-seeded Redmond junior Braeden Brooks, and second-seeded Crescent Valley junior Bojan Soskic will face Hood River Valley sophomore Vaughn Reardon.
In doubles, Redmond senior Benny Saito and sophomore Skyler Jones, the top seed, advanced to meet Crescent Valley sophomore Ronny Junkins and senior Evan Kooyman, the No. 3 seed. Corvallis sophomore Eddie Hu and senior Lukas Reinkenobbe, the No. 2 seed, goes up against La Salle Prep senior Nico Hey and sophomore Wade Nichols, the No. 4 seed.
Crescent Valley (14 points), Redmond (12.5) and La Salle Prep (8.5) lead the team race.
4A/3A/2A/1A
Saturday's semifinal matchups were determined after two rounds of play at Oregon State University.
Valley Catholic senior Kristian Peev, last year's runner-up and the No. 1 seed, will play third-seeded Marist Catholic sophomore Jackson Whittaker. Second-seeded Catlin Gabel sophomore Grant North advances to meet Valley Catholic sophomore Miguel Rodriguez.
The reigning doubles champion and top seed, Marshfield seniors Max Nicolaus and Josh Nicolaus, will face the No. 4 seed, Oregon Episcopal sophomore Shiloh Day and senior Tod To. In the other semifinals, Marist Catholic sophomores Ethan Cross and Joey Laing play Catlin Gabel's third-seeded team of senior Jake Girard and freshman Will Silver.
Valley Catholic is in first place with 12 points, followed by Catlin Gabel (10) and Marist Catholic (8).