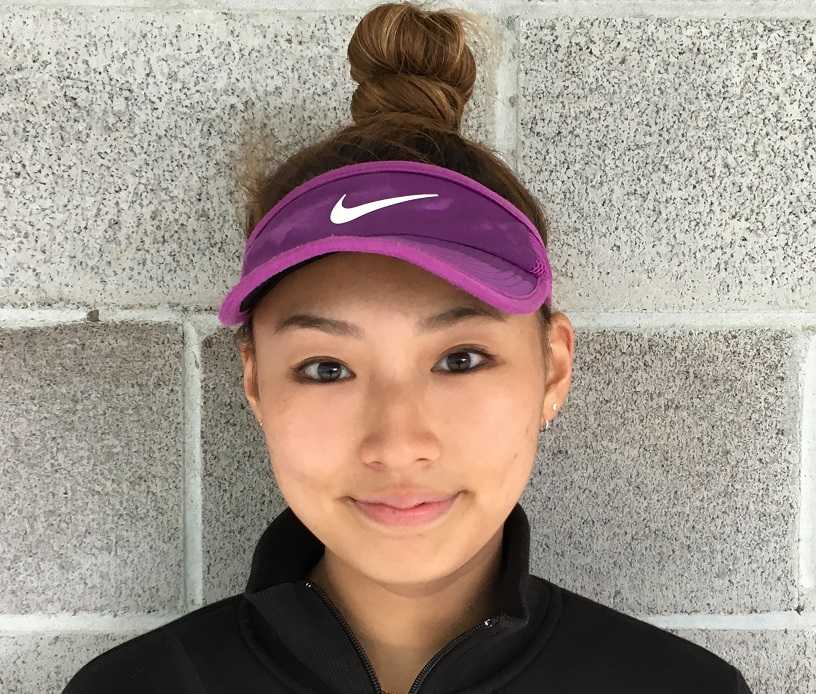 BEAVERTON – After spending a year away from high school tennis, Serim Jin is right back where she left off.
The Sunset senior, runner-up as a sophomore, will once again play for the singles title in the OSAA/On Point Community Credit Union 6A girls tennis tournament Saturday at Tualatin Hills Tennis Center.
The No. 1-seeded Jin earned a spot Friday by beating Jesuit junior Nicole Hopman 4-6, 7-5, 6-1 in the quarterfinals and Wilson sophomore Eryn Fiabane 6-1, 6-1 in the semifinals.
She will face Westview freshman Karolina Dobiecka, the No. 2 seed, for the championship. In last week's Metro League district final, Jin battled to defeat Dobiecka 7-5, 7-6 (2).
The last time Jin played in the state final, she lost in straight sets to Tigard's Lizzy Stevens. As a freshman, Jin made it to the semifinals before falling to the eventual champion, Jesuit's Bess Waldram.
"I know I have a great chance this year," Jin said. "Those two years, I lost to some great opponents in Lizzy and Bess. But now I'm a senior, there is unfinished business, and I've got to finish it. It's really motivating."
Jin, who has committed to play in college at Division III Wesleyan University in Connecticut, opted to return to high school tennis this year after spending her junior season on the USTA circuit.
"I missed it junior year," Jin said. "I still remember playing as a freshman and sophomore, and it's really exciting, because you don't get to play on a team often. It's one of the few opportunities until I get to play college tennis where I can get the opportunity of playing with a high school coach and a bunch of teammates who are there to support me."
Dobiecka made the final by defeating Barlow senior Grace Maxey 6-2, 6-1 in the quarterfinals and Beaverton junior Cassidy Binder 6-3, 3-6, 7-6 (2) in the semifinals.
The doubles final will match two Sunset teams, the No. 1 seed, juniors Bo-bae Yu and Jin Yu, against the No. 3 seed, junior Yara Chehab and sophomore Lucy Erickson.
The Yu sisters dropped only one game in three tournament matches
Sunset has locked up its first team title since 1990. The Apollos lead second-place Westview 24-12.
5A
The first two rounds of the 5A tournament were played Friday at Portland Tennis Center, setting up the semifinal pairings for Saturday morning at Tualatin Hills.
The two-time reigning singles champion and top seed, Corvallis senior Anna Kern, did not drop a game in her first two matches. She will play the No. 4 seed, Ashland sophomore Alyssa Retiz, in one semifinal.
The other semifinal features second-seeded Corvallis junior Journey Lipscomb and third-seeded West Albany senior Ceanne Elliott.
The top-seeded Corvallis doubles team of senior Olivia McGough and junior Sarah Forester, last year's champion, cruised into the semifinals, where they will play Crescent Valley junior Megan Nebeker and freshman Kara Paterson.
The other doubles semifinal pits Silverton senior Alyssa Khiew and junior Aneisa Frank, seeded second, against North Bend senior Macy Metcalf and freshman Adrianna Frank, seeded third.
Four-time reigning champion Corvallis is dominating the team standings with 18 points. Ashland is second with 6.5.
4A/3A/2A/1A
Saturday's semifinal matchups were determined after two rounds of play at Oregon State University.
Klamath Union senior Courtlyn Lam, last year's champion and the top seed, advances to meet Catlin Gabel freshman Anna Semler, the No. 4 seed. The other semifinal features two unseeded players in Valley Catholic freshman Sofia Tubito and Marist Catholic senior Chloe Lee.
In doubles, Oregon Episcopal's No. 1-seeded freshman team of Sonia Shenoy and Nicole Anderson will play Marist Catholic junior Ellie Gonyea and sophomore Ellie Christian, and Marist Catholic's fourth-seeded team of senior Nithya Vaikuntam and freshman Kira Weigel will meet Catlin Gabel senior Layton Rosenfeld and junior Ellie Nicholson.
Marist Catholic (10 points) leads Catlin Gabel (8), Oregon Episcopal (6) and Valley Catholic (6).