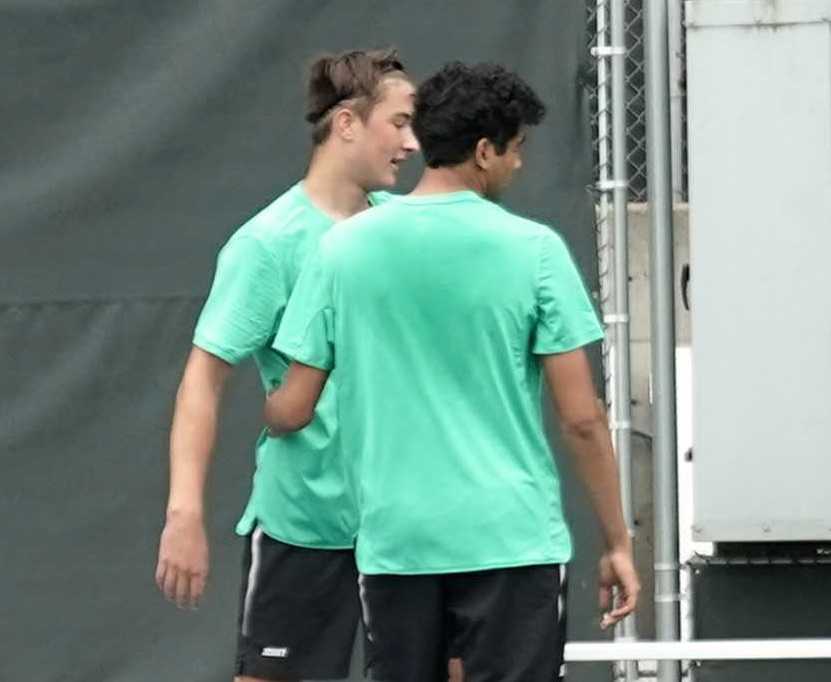 BEAVERTON – Jesuit players showed their championship pedigree Saturday in the OSAA/OnPoint Community Credit Union 6A boys tennis championships at Tualatin Hills Tennis Center.
The Crusaders' reigning champions in singles and doubles shook off dropping the first set of the finals to successfully defend their titles, leading Jesuit to its fourth consecutive championship and 11th in 12 years.
First, it was the top-seeded doubles team of senior Tommy Kallgren and junior Jaden D'Abreo rallying to beat the No. 2 seed, Lincoln senior Danny Luo and junior James Chen, 5-7, 6-4, 6-4.
Then it was junior Peter Murphy, the No. 1 seed, completing a three-peat by turning back Sprague junior Judson Blair, the No. 2 seed, 6-7, 6-2, 6-2.
Jesuit outscored runner-up Lincoln 35-27 for first place.
"I'm glad we got the team title. This is just the cherry on top," Murphy said.
Murphy's win over Blair in the final was not unlike when the two met in last year's quarterfinals and Murphy prevailed 4-6, 6-2, 6-2. He buckled down in the second set and took control.
"That's what you've got to do, you've got to kick it into another gear," Murphy said. "He did a really good job of pushing the envelope and coming to the net, and it kind of disrupted my rhythm and my game a little bit. I made a few adjustments. It just calmed me down and made a difference.'
Now Murphy has a chance to become a four-time champion in 2020.
"Obviously, that's crossed my mind," he said. "But one day at a time. I'll get better before then and see what happens."
Kallgren and D'Abreo anticipated a challenge from Luo and Chen, a team they defeated in the semifinals last year, and it was clear early that they were in for a battle.
"They got the first set on us, so I think we were a little bit rocked," D'Abreo said. "But we fought back nicely. We got a break early and we just kept the momentum.
"I knew that we had been there before, so I knew we were in a position where we could come back and win. I think there was a little bit of nerves. Tommy played great. I couldn't ask for him to do anything more."
The intensity cranked up as both teams played before vocal cheering sections.
"It was something I've never felt before," D'Abreo said. "I'm at an all-time high."
5A
Redmond claimed its first state championship in the 5A tournament at Tualatin Hills. The Panthers scored 15 points to beat Crescent Valley (12), Churchill (8) and La Salle Prep (7.5).
Redmond's clinching victory came in the doubles final from its top-seeded team of senior Benny Saito and sophomore Skyler Jones, who scratched out a 2-6, 6-2, 6-3 win over the No. 2 seed, Corvallis sophomore Eddie Hu and senior Lukas Reinkenobbe.
"We had to fight like our lives depended on every single point," Saito said. "We were blessed to be in this position."
It is Redmond's fifth state title of any kind and first since the boys basketball team won one in 2003.
Churchill junior Alle Banna, the No. 1 seed, ousted Crescent Valley junior Bojan Soskic, the No. 2 seed, 6-3, 6-2 in the singles final.
"I didn't want to repeat what I did last year," said Banna, who lost in the semifinals in 2018. "I think I had a good chance last year, and I just wanted to fulfill that this year."
Banna said his play was "a little rough" early in the tournament, "but once I got my teeth in it, I started playing really well. Everything I thought would happen, happened. I had a goal in mind. I knew Bojan would be a really tough opponent. I knew moving him around was what I needed to do."
4A/3A/2A/1A
Marshfield's doubles team of senior Max Nicolaus and senior Josh Nicolaus repeated as champion in the 4A/3A/2A/1A tournament at Oregon State.
The Nicolaus brothers, seeded first, rolled over the No. 3 seed, Catlin Gabel senior Jake Girard and freshman Will Silver, 6-0, 6-4 in the championship match.
Valley Catholic senior Kristian Peev, the No. 1 seed, rebounded from a slow start to defeat Catlin Gabel sophomore Grant North, the No. 2 seed, 0-6, 6-4, 6-4 for the singles title. In last year's tournament, Peev was runner-up and North was a semifinalist.
Catlin Gabel scored 15 points to slip past Valley Catholic (14) and Marist Catholic (12) for the team title. It is the first title since 2010 for Catlin Gabel, which ends a seven-year run by Oregon Episcopal.