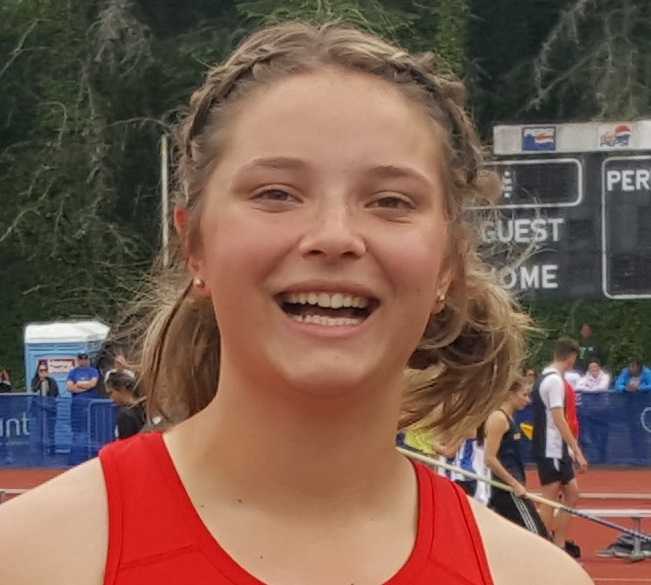 GRESHAM -- Hidden Valley won its first state title in girls track and field Saturday with a spectacular performance in the OSAA/OnPoint Community Credit Union 4A championships at Mt. Hood Community College.
Nyah Kendall and Jada Hurley combined for 24 points in the 100-and 200-meter dashes, but what they did together with teammates Jaaden Steele and Jenelle Hurley in the 4x100 relay was out of sight.
Hidden Valley clocked an all-time 4A record 47.61 seconds in the relay. That's tied for the sixth-fastest performance in state history regardless of classification.
Jenelle Hurley and Steele also grabbed a combined 13 points out of the long jump, placing second and fourth, respectively. And Hurley also got second in the high jump. Throwers Kaiah Fisher and Hallee Jesse contributed a total of 23 more points in the shot put and discus.
The Grants Pass school used superior depth to stay well ahead of neighboring North Valley and its star senior Baylee Touey, who won her ninth, 10th and 11th individual state titles.
Touey won the 100 meters in 12.10 seconds, the 200 meters in 24.63 and the 400 in 56.24. It was the third year in a row that she completed the sprint sweep.
Hidden Valley pulled away with 97 points. Philomath, which won the 4x400 in 4:02.90, got contributions throughout the meet on the way to second place with 69.5 points. Marshfield was third with 51.5 points, North Valley was fourth with 49 and Siuslaw was fifth with 48.
Seaside senior Gretchen Hoekstre, already the national leader in the shot put, came up with a big personal best in the discus and broke the meet record with 156 feet, 11 inches. That moved her to No. 6 on the state's all-time list. She also came back to win the shot put with 43-8.75.
"I got a good grip, a good pull," Hoekstre said. "I had one that scratched that was out there, about 157 or 158. I pulled it just a little too far and I was able to focus and get it back out there."
3A
St. Mary's of Medford dominated the 3A meet at Mt. Hood by tallying 79 points to outpace Sutherlin (60), Blanchet Catholic (55.5) and Catlin Gabel (52).
Senior Emma Bennion led the way with her wins in the 400 meters (59.49), 800 meters (2:18.25) and 300-meter intermediate hurdles (46.35). Bennion also anchored St. Mary's to a victory in the 4x400 relay, which clocked 4:05.79. Katie Rietman gave the team another win in the shot put, where she threw 40-11.
Blanchet Catholic senior Trinity Phipps won the 100-meter hurdles for the second straight year, running 15.37 seconds. She also won the triple jump with 34-2 and placed second to Bennion in the 300 hurdles.
Sutherlin's Jadyn Vermillion, a sophomore, won the long jump with 17-4, placed second in the 200 meters, placed second in the triple jump, and was part of the winning 4x100 relay (50.25).
Catlin Gabel junior Lila Fenner edged out Oregon Episcopal senior Stephanie Finley in a close finish in the 1,500 meters, winning 4:44.30 to 4:44.67.
Doug Binder is the editor of DyeStat.com