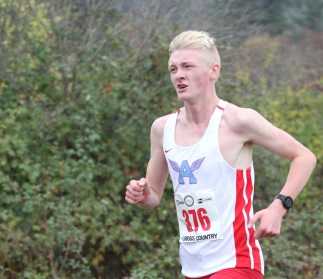 It shouldn't be surprising that Ashland junior Evan Holland started the cross country season with a laser focus after finishing a step away from the Class 5A title last season.
But it's the way Holland burned up the trail in his first meet that invites questions about just how fast he can go this season.
Holland won by nearly one minute Saturday at The Invitational, a 12-team event at Marist Catholic. His 5,000-meter time of 15 minutes, 30.3 seconds is the fastest in the state this season by 14 seconds and only 11 seconds off his best, set last year in the Class 5A meet.
The time is even more impressive considering the race's flat, grassy course, according to his coach, Hans Voskes.
"It's constant work. There's no coasting anywhere," Voskes said. "It's a surface you have to push off hard, and he did."
Holland, who won the 1,500 and 3,000 at the Class 5A track meet in the spring, showed his determination Saturday by pushing himself without a challenger in sight. He also displayed improved speed, which Voskes believes is connected to his participation on the 4x400 relay during track season.
"His turnover has gotten better," Voskes said of Holland, known as EJ to his teammates. "Coming out of track, I ask a lot of our distance kids to diversify, and after a while it really pays off. EJ was one of those."
Holland's sophomore cross country season ended in disappointment when he lost a footrace against Crater's Andy Monroe down the stretch of the Class 5A meet. Both runners finished in 15:19, the fastest times on the Lane Community College course since Summit's Matthew Maton ran a state-meet record 14:45 in 2014.
Monroe has graduated, leaving Holland as the state favorite. It could be until the Oxford Classic in Bend on Oct. 5 before Holland gets anything close to a challenge like he had against Monroe.
"I'm hoping that happens again a couple times," Voskes said. "EJ needs that for his overall career. You want it to where he's used to running with people of high caliber."
In the meantime, Holland is counting on his teammates, in particular junior Arlo Davis and sophomore Reed Pryor, to sharpen him up.
"You can't do it on your own. You have to have someone with you," Voskes said. "He has two teammates that are right there with him."
Crater senior Jantz Tostenson, who finished fourth in the Class 5A meet last year (15:31) and was runner-up to Holland by two seconds in the 3,000 at the state track meet, will pose a threat in the Midwestern League district meet.
"That will be a showdown. Jantz is not going to roll over," Voskes said. "He's had some losses to EJ, so he's not going to back down."
Voskes, the coach at Southern Oregon University for nine seasons, said it's difficult to gauge the ceiling for Holland.
"Is he a Maton? That's up to EJ," Voskes said. "He has the ability. Yes he does, there's no doubt about it."