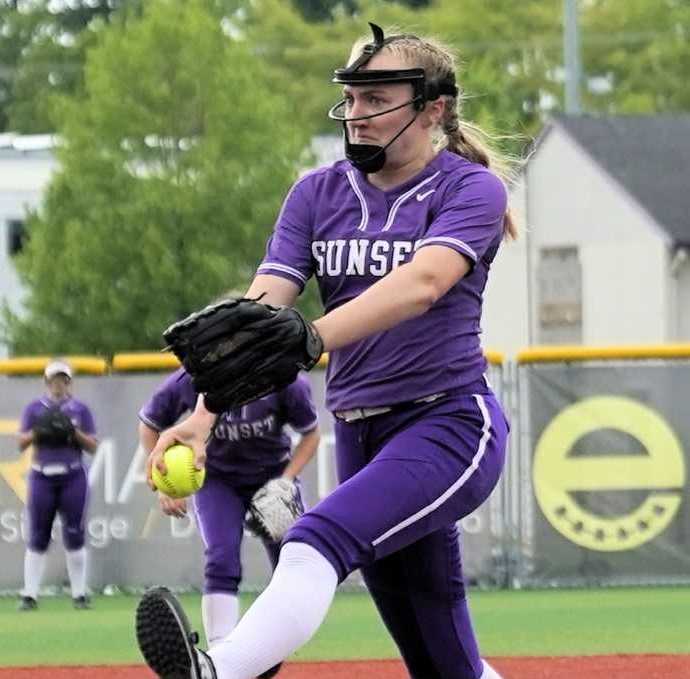 BEAVERTON -- Sunset was in no position to be picky after its biggest win in nearly a decade Friday against Roseburg in a 6A softball quarterfinal.
The second-seeded Apollos scored twice on three errors in the first inning and finished with one hit in dispatching No. 7 Roseburg 2-1 to reach the semifinals for the first time since they were state runners-up in 2009 and 2010.
It was far from an aesthetic masterpiece, but, "a win's a win," said junior pitcher Grace Kimball, who once again was superb in the circle for the Apollos.
Sunset third-year coach Montana McNealy said her team had two goals for the game – score early and not allow the visiting Indians to put up any crooked numbers.
"So they accomplished both of those," McNealy said. "The goal was just to kind of hold them and try to sneak out one or two. We didn't hit the ball super hard, but we found a way to produce, and that's the name of the game."
The Apollos (24-5) will play host to a Tuesday semifinal against third-seeded Sheldon, which beat Glencoe 4-2 on Friday. Sunset, which went the last six seasons without a playoff win, is delivering on its own high expectations.
"We all kind of came into the season like, 'This is our year,' especially with all our juniors and seniors," Kimball said. "This is our year and this is the time for us to prove ourselves.
"Sunset has had that deficit of just not being very competitive, and I think over these past couple years, especially since Montana came, we've been able to build the program. And finally this is like the breakthrough point."
With Friday's win, the Metro League champion Apollos avenged a 3-1 loss to Roseburg (18-10) in their season opener.
"It's kind of nice to come full circle and take it away from them," Sunset senior shortstop Abby Wingo said. "Once the season went on, I think we started to know that we have a real shot. It's a cool experience."
The Apollos got off to a shaky start Friday, though. McNealy walked the leadoff batter, senior Jordan Gibson, who advanced to third on two wild pitches and scored on a sacrifice fly by senior Samie Bergmann.
But Sunset quickly answered with two runs off Roseburg senior pitcher Madysn Blevins in the bottom of the inning.
Kimball reached on an error and advanced to third base with one out. Wingo hit a sharp ground ball to sophomore shortstop Jazmyn Murphy, who couldn't control it, allowing Kimball to score the tying run.
One out later, senior Kendra Knapp hit a come-backer to Blevins, who sailed a throw over the head of freshman first baseman Kami Gibson. Wingo came around to score for a 2-1 lead.
"It's always important to answer, but the way we did it, it kind of took the wind out of their sails, especially because it was kind of on their part," the Seton Hall-bound Wingo said. "Just putting the ball in play and making stuff happen, that's how we've won all year."
Kimball took it from there. She found her rhythm in the middle of the game and finished with a three-hitter and eight strikeouts, raising her season total to 283. She has held opponents to a single run in all three playoff wins.
"I didn't have my normal mindset in the first inning," Kimball said. "Usually I try to think of it like the middle of the game and just try to act like I've settled in. I always say, 'Fake it 'till you make it.' As long as you look confident, eventually you'll be there."
Roseburg junior Brittany Glaser singled to lead off the fifth inning and was bunted to second base, but Kimball fanned Murphy and Jordan Gibson to end the threat.
Blevins didn't allow a hit until Kimball reached on an infield single with two outs in the fifth inning. Blevins struck out four and did not walk a batter but the Indians' defense committed five errors.
"She's been lights out in the playoffs," Roseburg coach Brad Deaver said of Blevins. "She's right there with the best.
"A couple little plays make all the difference when you're at this point in the playoffs. I think they were ready, I just think it was one of those things. Both teams settled in after the first. It was really similar to the first time we played them, it was just kind of opposite."
Sunset can turn its attention toward Sheldon, which lost two of three games against Roseburg this season. McNealy, the star player for Century's 6A title team in 2011, likes how her experienced team has come together.
"The chemistry that hasn't been there the last couple years, it's finally there," McNealy said, "and I think it's paying off."