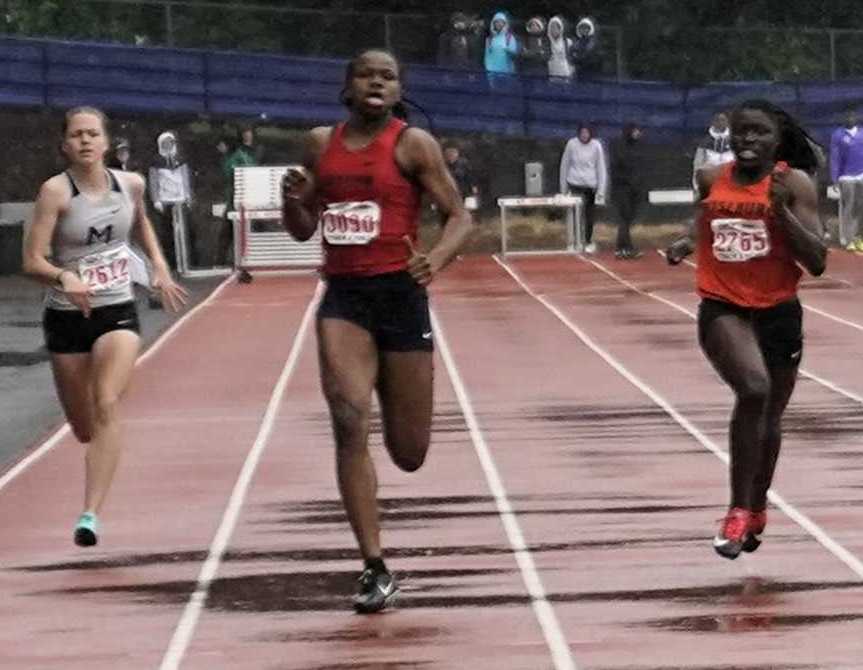 GRESHAM -- South Eugene's Madison Elmore waited a long time for a moment like this.
The junior helped South win the 6A girls team title with a fantastic performance in the 1,500 meters, outkicking Summit's Fiona Max to win in 4:27.13 at the OSAA/OnPoint Community Credit Union track meet at Mt. Hood Community College.
Elmore's time is the second-fastest recorded in the country so far this season and it beat a personal best she has carried with her since the eighth grade.
Injuries robbed Elmore of her 2018 track season and prevented her from running state the past two years in cross country.
"I've had a year and a half of injuries," she said. "I had a stress fracture and pneumonia and I tore my plantar fascia, so it's my first state meet in two years. It feels really great."
Elmore later contributed her energy to a third-place finish in the 4x400 relay to tip the scales for South Eugene in a tight team race on a rainy day. The Axemen won it with 55 points, while Jesuit (52), Bend (51), Centennial (51) and Summit (50) were all close.
"We knew that we had to (leave) everything on the track, and that definitely showed, and we're so happy," said Elise Unruh-Thomas, who finished second in the 200 meters and anchored the relay.
The individual standout of the meet was Westview junior Colleen Uzoekwe, who collected 38 points in winning the 100 meters, 200 meters, long jump and placing second in the high jump.
Her point total was the most by a girl in the state's largest classification meet since Benson's Sara Callier scored a perfect 40 points in 2005.
"I'm really proud," Uzoekwe said. "I wish I could have done better on that (high jump), but I didn't let it bring me down in any of my other events."
Not to be outdone, Centennial got a big push from Oregon State-bound Madison McHone, who swept the hurdles events and beat Uzoekwe in Friday's high jump. She scored 30 points.
Jesuit ran the second-fastest 4x400 relay in state history, clocking 3:50.03 with a lineup of Molly Grant, Ella Nelson, Greta Anderson and freshman sensation Chloe Foerster, who anchored.
Foerster earlier charged home with a strong final 200 to win the 800 meters in 2:09.52. That's a new freshman class state record and moves her to No. 7 in state history.
5A
The 5A girls meet was thoroughly dominated by North Salem, which got the ball rolling with a state meet record 47.77 seconds in the first final of the day, the 4x100 relay.
North Salem had the depth and talent to be in the hunt against the top 6A teams.
Rebekah Miller and Maliyah Thompson went 1-2 in the 100 meters. Miller also grabbed 15 points out of the horizontal jumps. Thompson won the 100 hurdles in 14.69 and was part of a 2-3 finish, along with her sister, Nerissa, in the 200.
The Vikings scored 119 points to finish well ahead of second-place Silverton (68 points).
"What are coaches and all of us have been talking about is if we go and do what we've been doing all season, we shouldn't have anything to worry about," Maliyah Thompson said. "The energy in the stands and with our team is amazing and we wouldn't be here without them."
North Salem won its first state championship since 1997, the year Sasha Spencer starred and broke an all-time Oregon record in the 400 meters that is still on the books.
"She's a great mentor and she's been guiding me since freshman year with little tips, and she's someone I can go to with questions," Miller said.
Silverton duo Justice McBride and Katie Sinn went 1-2 in the 5A girls 400 to give the Foxes a shot in the arm and 18 points. West Albany finished third with 41 points and Hood River Valley was fourth with 37.
Doug Binder is the editor of DyeStat.com