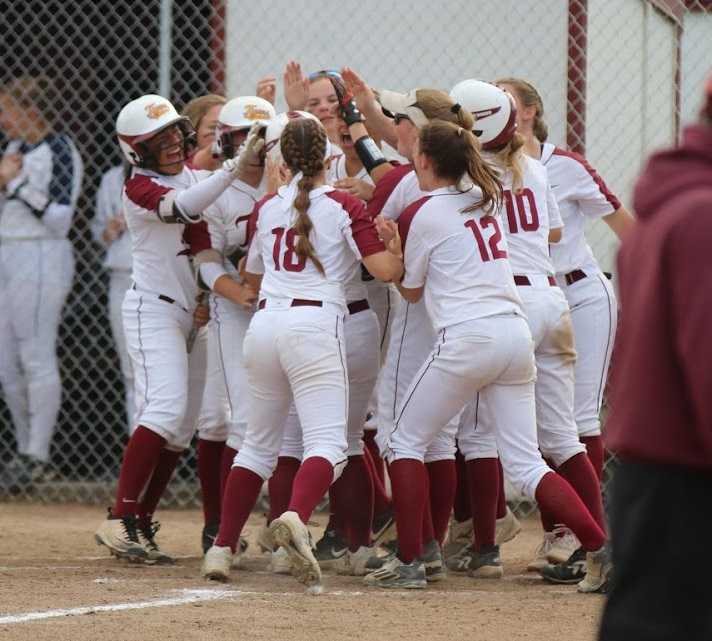 The dark cloud of recent playoff disappointments has lifted for Junction City's softball team.
The fourth-seeded Tigers (25-4) have reached the semifinals for the first time in program history, earning a spot opposite reigning 4A champion La Grande on Tuesday by knocking off longtime nemesis Marist Catholic 6-3 in the quarterfinals Friday.
"It's a great time to be playing good softball," Junction City coach Mike Campbell said. "We've got the bats going. I think we can hang with anybody. Right now, after that cooker of a Marist game, they're really jacked for the opportunity to go play La Grande."
The Tigers won 22 games in 2017 but lost in the first round to Gladstone 8-2. Last year, they took a 26-1 record and No. 2 seed into a quarterfinal against South Umpqua and fell 2-1.
"We laid an egg," Campbell said.
For years, Junction City was overshadowed in leagues with powerhouse programs such as Marist Catholic, Elmira, Glide and Pleasant Hill. The Tigers have had lots of good teams, but their back-to-back Sky-Em League titles in 2017 and 2018 were their first league championships since 1981.
"I had about 20 coaching colleagues text me and go, 'That can't be right,'" said Campbell, who has coached at Junction City for 26 seasons, the last 15 as head coach. "They forget who's in our league."
Marist Catholic left the Sky-Em in 2011 to climb to 5A – where it won a state title in 2017 – but moved back to the Sky-Em this season. The Spartans edged Junction City by one game for the league title, taking two of the three league meetings between the teams.
But the Tigers beat Marist Catholic 18-2 in their final league meeting. In that game, they opted to issue intentional walks to the Spartans' devastating slugging duo of Ariel Carlson and Abby Doerr, and they knocked out Carlson, Marist Catholic's dominant ace pitcher, in the second inning.
"I would wager that Marist hasn't seen an 18-2 game in probably 15, 20 years," Campbell said. "It left an impression. We knew we got to them. For my kids, they knew they were mortal, and if we play like we can, they knew they could beat them."
The Tigers have been on a roll ever since. They tuned up for the playoffs by beating 6A semifinalist Sheldon 3-1 and 3A semifinalist South Umpqua 4-3, then crushed Astoria 8-1 in the first round to set up a quarterfinal showdown with Marist Catholic.
This time, the Spartans moved Carlson and Doerr to the top of the order, forcing Junction City's hand.
"I had to do some serious thinking before the game," Campbell said. "If we walk them, we're putting all the pressure on our infielders, and I just didn't want to do that. We went right at them because we didn't really have a choice."
It worked out fine for host Junction City.
Junior pitcher Jenna Kister, Campbell's granddaughter, surrendered a home run to Carlson, but it wasn't until after the Tigers had the game in hand. The offense reached Carlson for four runs in the fifth inning, getting a solo home run from senior Lindsey Stripling and RBI doubles from Kister and freshman Jada Fuller.
"That was the most intense grinder of a game," Campbell said.
Junior all-state catcher Abby Bumcrot, who drove in four runs against Astoria, is batting .510 with five home runs and 39 RBIs. Senior Camryn Potter, an all-state second baseman in 2018 who moved to shortstop this season, is hitting .523 with five home runs and a team-high 43 RBIs.
Fuller has been a huge addition at first base, batting .372 with three home runs and 38 RBIs. Kister has driven in 29 runs and carried the load in the circle, where in 156 1/3 innings, she has allowed 108 hits, struck out 183, walked 56 and compiled an ERA of 1.88.
"We've got some kids, they want it so bad," Campbell said. "For them, getting over the fear of failure is just a big, big deal. They kind of bought in this year that we're going to fight that negative feeling harder, and they really are."