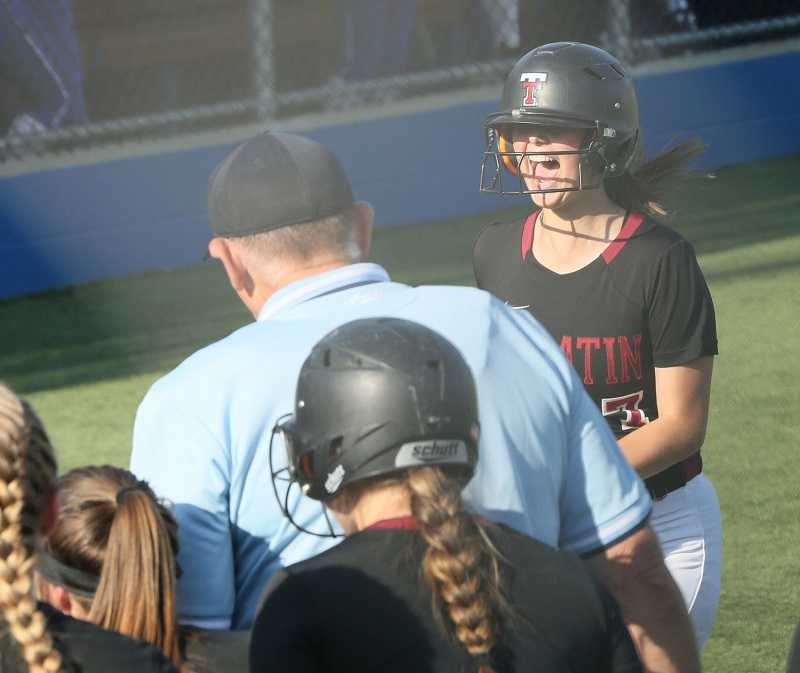 Tualatin's softball team may not be perfect – like it was last season in winning the 6A title – but the Timberwolves haven't lost their championship mentality.
They showed it in the semifinals Tuesday at top-seeded Grants Pass, scoring six runs in the seventh inning to erase a 6-4 deficit and win 10-7.
"There was a big crowd, there was a lot of noise in that stadium, and the girls just rose above it. It was unreal," Tualatin coach Jenna Wilson said.
After going 30-0 last season, No. 4 seed Tualatin will carry a 25-5 record into the OSAA/OnPoint Community Credit Union 6A final against No. 3 Sheldon (24-6) on Saturday at the University of Oregon.
The Timberwolves extended their winning streak to 45 games – believed to be a state record – before going through a 10-game stretch in which they lost five times. They dropped two games each to Tigard and Jesuit and fell to Canby, a team that finished 7-19.
"I think the losing this year made them tougher, to be honest," Wilson said. "We just had to keep fighting. We've been tested all year. The girls, they don't give up, and that showed Tuesday."
The end of the winning streak took some pressure off the team.
"It was a target, and the girls felt it, and they played scared a little bit," Wilson said. "They played phenomenal, but scared is not what you want to be. You want to put everything out there and leave it on the field."
Tualatin also has had to deal with injuries to key players. Sophomore Taylor Corcoran, who got the game-winning hit on last year's state final, has not played at all after suffering a torn ACL in preseason practice. Junior shortstop Bella Valdes, the team's leadoff hitter, missed the last month of the regular season after breaking two bones in her hand on a slide.
Portland State-bound senior Emily Johansen, a left-hander who has played her entire career at first base, moved to shortstop to fill the void. Valdes returned to action in the semifinals, playing left field and batting ninth, where she went 1 for 3.
"She's just a gamer," Wilson said of Valdes. "She would give anything to be out there, and she did."
Facing elimination against Grants Pass, the Timberwolves got a go-ahead grand slam in the seventh inning from junior Savannah Braun, her first home run of the season. Junior Sydney Wagner followed with a solo home run, her second of the year.
Tualatin has made it back to the final despite replacing four starters from last season, including all-state pitcher Megan Woodward.
"This is a completely different team," Wilson said. "Our leadership knows what it feels like to win, and that's what's driving them. The younger girls that haven't felt it, they all want to do it for these seniors. It's pretty cool to watch."
A look at the matchups for the finals Friday and Saturday at the University of Oregon:
6A, Saturday, 11 a.m.
No. 4 Tualatin (25-5) vs. No. 3 Sheldon (24-6): Reigning champion Tualatin goes for its third title in five seasons. Junior pitcher Tia Ridings (138 1/3 innings, 207 strikeouts, 29 walks) tossed three consecutive playoff shutouts, striking out 37, before holding on for a 10-7 win over No. 1 Grants Pass in the semifinals. Senior Emily Johansen (six home runs, 38 RBIs) provides a big bat. Sheldon, which had never won a league title before this season, is appearing in its first final. Since allowing a two-run homer in the first inning of the first round, Irish junior pitcher Camille Leach (18-4, 2.16 ERA) has not allowed an earned run in four playoff games. The lineup features senior catcher Emma Neuman (.484, seven home runs) and juniors Jordan Henderson (.488, 36 RBIs) and Kelsi Sorensen (.419, 33 RBIs).
5A, Saturday, 2 p.m.
No. 7 Dallas (23-5) vs. No. 1 Ridgeview (23-2): Two teams that have never won a title collide in the final. Dallas, runner-up in 2017, enters with a 15-game winning streak. The Dragons have the Mid-Willamette Conference pitcher of the year in senior Kaelynn Simmons and two other first-team picks in senior outfielder Emma Classen and junior infielder Zoe Whitlow. Classen went 4 for 4 with 3 RBIs in a 7-4 semifinal win at Hillsboro. Ridgeview coach Sandy Fischer coached Oklahoma State for 23 seasons before coming out of retirement to start the program in 2013. The Ravens made the semifinals in 2014 and fell in the quarterfinals the last two years. Among the eight starters back from last season are two fourth-year starters in first baseman Natalie Hill and outfielder Taylor Smith. Junior ace Allicitie Frost transferred from Bend as a sophomore.
4A, Saturday, 5 p.m.
No. 2 Henley (29-2) vs. No. 1 La Grande (23-1): A rematch of last year's final, won by La Grande 6-1. In that game, La Grande's Allie Brock pitched a two-hitter with 11 strikeouts to outduel Lilly Poe, who gave up eight hits. The same two pitchers will match up again. Brock, a junior, is 21-1 with a 0.89 ERA and 208 strikeouts and only 15 walks in 117 2/3 innings. Poe, a senior, is 21-2 with a 2.63 ERA and 160 strikeouts in 124 1/3 innings. La Grande's only loss was 4-3 to 5A Pendleton. Tigers junior catcher Jayce Seavert, who hit three home runs in a semifinal win over Junction City, is batting .590 with 12 homers and 61 RBIs. Henley senior Kaila Mick is hitting .574 with 23 doubles, four homers and 61 RBIs. Henley, the 1989 champion, lost six consecutive championship games until winning the title in 2017. La Grande hadn't won a title until last year.
3A, Friday, 2 p.m.
No. 2 Dayton (19-5) vs. No. 1 Clatskanie (26-0): Clatskanie, going for its first title, meets perennial power Dayton, which has appeared in five of the last six finals (all against Rainier), winning in 2015 and 2018. The Tigers, with key players from the school's girls basketball state champion, are the only unbeaten team in the state at any level. Sophomore pitcher Shelby Blodgett is dominant in the circle (15-0, 1.20 ERA, 140 strikeouts, 99 innings) and at the plate (.549, seven home runs, 41 RBIs), and sophomore Olivia Sprague is batting .597. Dayton has five players back from the starting lineup in last year's final, but has a first-year ace in sophomore Maddie Fluke, who hit a two-run triple in a 5-4 semifinal win over Cascade Christian. Pirates freshman shortstop Lacey Smith had six hits in the first two playoff games. Dayton coach Rob Umbenhower is 503-164 in 20 seasons at Dayton and six at Oakridge. He has won four state titles at Dayton.
2A/1A, Friday, 5 p.m.
No. 9 North Douglas (27-3) vs. No. 7 Kennedy (22-4): The 2017 champion Warriors and 2018 champion Trojans face off. North Douglas junior Nicki Derrick, the 2A/1A pitcher and player of the year in leading the team to the title as a freshman, has bounced back strong from missing 2018 after suffering a torn ACL in basketball. She is 20-2 with a 0.53 ERA and 298 strikeouts in 133 innings and is batting .644 with five home runs and 34 RBIs. Senior second baseman Riley Black is hitting .457 with five homers. Kennedy lost twice to Dayton and once to Clatskanie, both 3A finalists. Five of the Trojans started in last year's final. Junior Grace Schaecher, who has taken over as the team's ace, allowed four runs in three playoff games and has provided power at the plate, ripping two home runs in the quarterfinals. Kennedy coach Walt Simmons is 283-119 in 16 seasons.