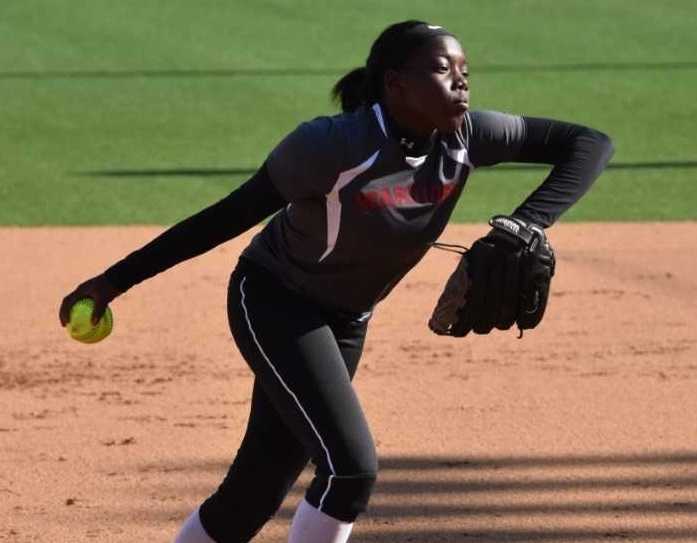 EUGENE -- Don't misunderstand Nicki Derrick. She was thrilled to pitch and hit North Douglas to a softball state title as a freshman in 2017.
But after missing her entire sophomore season with a torn ACL, Derrick had a new appreciation for the accomplishment Friday when the Warriors blitzed Kennedy 15-6 in the OSAA/OnPoint Community Credit Union 2A/1A final at the University of Oregon.
"I'm super excited. The feeling just doesn't get old," Derrick said after striking out 16, raising her season total to 314. "People think that you settle or you're satisfied with the feeling, but it feels just the same, even better than the first time."
Derrick has been a force in the circle this season, but she didn't need to be dominant Friday as her team rapped 14 hits. No. 9 seed North Douglas (28-3) built a 7-0 lead with a six-run second inning and coasted past No. 7 Kennedy (22-5), the reigning champion.
"That was a good little cushion for me on the mound," said Derrick, who allowed six hits and walked six. "It helped me relax a little bit."
Junior first baseman Natalie Draeger went 4 for 5 with three RBIs, senior second baseman Riley Black had three hits, junior catcher Sofia Alcantar had two hits and two RBIs and freshman left fielder Cydni Dill drove in three runs for the Warriors.
Derrick also had two hits and scored three runs for the Warriors, who avenged a 13-0 loss to Kennedy in last year's quarterfinals.
"We may have discussed that many times before we got here today," North Douglas coach Jesse Rice said of the loss to the Trojans. "And after we got here today, we were determined that wasn't going to happen again."
Black, one of the team's two seniors, said that she "wanted it back this year; I didn't want to lose." It made a big difference that this time, Derrick was dealing for them.
"I think we were just lacking the energy and motivation that Nicki brings," Black said. "She's a confident pitcher, so it gives us confidence in the field."
Derrick, the 2A/1A pitcher and player of the year as a freshman, did some soul-searching while sitting out last season.
"My faith really wavered last year," she said. "Why did this happen to me? Why couldn't I be out there competing? But this year it just showed me why it happened. Everything happens for a reason."
Rice said that Derrick "came in a little rusty, but man, there's no one that's more of a competitor than she is. I tell you, she started throwing hard in the beginning and didn't slow down all year long."
North Douglas got to Kennedy junior pitcher Grace Schaecher for nine hits and six earned runs in 3 ⅓ innings. Sophomore Ellie Cantu pitched the last 3 ⅔ innings for the Trojans, yielding four earned runs.
Kennedy scored two runs in each of the fourth, fifth and sixth innings, getting two RBIs from freshman left fielder Lydia Berning and single RBIs from Schaecher, Cantu and sophomore shortstop Kelsey Kleinschmit.
The Trojans, who committed four errors, couldn't put any heat on the Warriors, however.
"I think we were maybe just a little bit too excited about the game," Cantu said. "We were just kind of tense and we never really settled down. I think that's how it kind of got away from us."