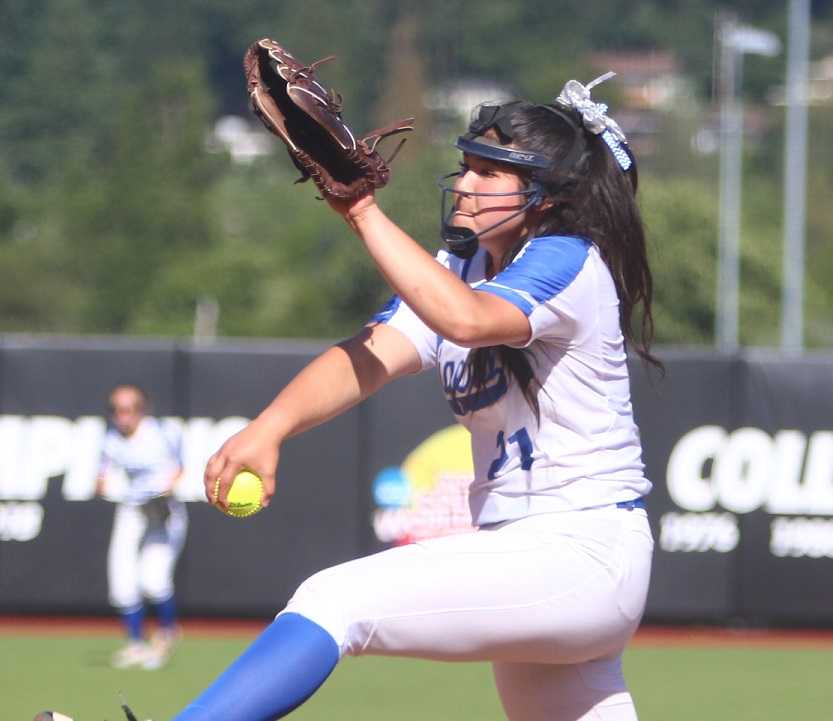 EUGENE -- With her knee aching, and surrounded by baserunners, La Grande pitcher Allie Brock could feel the pressure mounting in the OSAA/OnPoint Community Credit Union 4A softball final Saturday at the University of Oregon.
But that suited her just fine.
"That's one thing I like about pitching is pressure moments, and then pulling through," the junior said.
That's exactly what she did. Brock did a high-wire act to escape bases-loaded jams in the fifth and sixth innings, helping the top-seeded Tigers (24-1) repeat as champions with a 4-2 win over No. 2 Henley (29-3).
"Allie's a warrior, straight up," La Grande coach Woody Wright said. "She'll work her way out of jams. She's done it ever since she was a little kid. I expect the same from her."
Brock tossed a four-hitter with 12 strikeouts to defeat the Hornets in the final for the second year in a row. Last year, she pitched a two-hitter with 11 strikeouts in the championship game on her way to being named the 4A pitcher of the year.
Behind Brock, who struck out 220 batters in 124 ⅔ innings this season, La Grande followed up on its first title with another one. The Tigers' only stumble was a 4-3 loss to 5A Pendleton.
"The pressure was on, but we were there," said junior catcher Jayce Seavert, the reigning 4A player of the year who had 12 home runs and 61 RBIs this season. "It was a team effort. We were in it to win it, for sure.
"There was a target on our back again this year, but our team bonding and our chemistry is so good, anybody would be lucky to be on this team."
La Grande got all the offense it needed in the first three innings Saturday.
Junior Jaden Haifer was hit by a pitch to bring in La Grande's first run in the first inning. The Tigers added three runs in the fourth -- getting RBI singles from Haifer and senior Lexee Gomes and a run-scoring walk by freshman Kinzy Bowen -- to lead 4-0.
That's about the time that Brock's knee began to get sore, affecting her control. She had walked only 15 batters all season, but finished with seven walks Saturday.
"I think I hyperextended it because I couldn't push off of it," Brock said. "I think it was just from the way I was pitching."
Henley drew four walks from Brock in the fifth inning, scoring its first run on a free pass to sophomore Maddie Perez. But Brock escaped further damage by getting sophomore Carli Moore on a come-backer to the circle.
Things got really dicey for Brock in the sixth. The Hornets loaded the bases with no outs on singles by senior Jessica Northcutt and junior Alex Sharp and a botched fielder's choice. Senior Lilly Poe followed with an infield single to make it 4-2.
But that's when Brock buckled down, getting a popup, strikeout and popup from the top of Henley's batting order to end the inning.
"It was stressful, but we came together in the middle and we said, 'Hey, we're a team and we'll get it done as a team,'" Seavert said. "'Nothing to worry about, just play softball.'"
Brock finished off the Hornets 1-2-3 in the seventh, and the celebration was on.
The Tigers repeated their title despite losing coach Kirk Travis, who moved when his wife found a job out of town. He was replaced by Wright, a former assistant at 2A/1A Union who had coached many of the Tigers on summer teams.
Wright embraced the lofty expectations.
"There's always high expectations when you're returning most of your team, but that's a good thing," Wright said. "We expect to come here every year. That's part of having a successful program."
Henley, which won the title in 2017, was hungry to reclaim the trophy after losing to the Tigers 6-1 in last year's final. But the Hornets couldn't come up with the big hit when they needed it.
"It was frustrating, but honestly, last year's game felt completely different than this year's game," said Poe, who gave up eight hits and three earned runs. "I felt like we battled the whole time. Even though we didn't get the hits we wanted, it was a whole different atmosphere than last year."
Photos of state championship events are available from Northwest Sports Photography at 4nsp.com