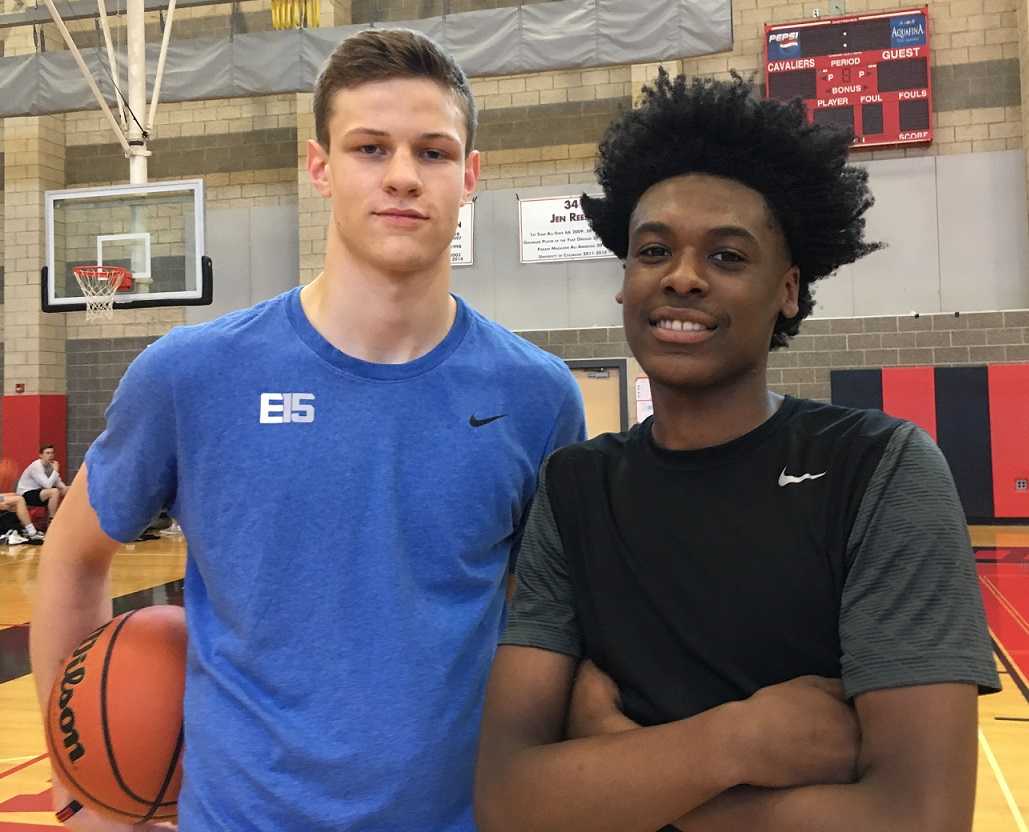 CLACKAMAS -- Clackamas boys basketball took a step back last season, finishing 8-16 and missing the 6A playoffs after winning three consecutive Mt. Hood Conference titles.
But the Cavaliers' fortunes are about to rebound in a big way.
Ben Gregg, a 6-foot-8 forward from 2A Columbia Christian who has eight Division I scholarship offers, and Damontae Burns, an electric 6-1 guard from 5A Parkrose, have decided to transfer to Clackamas.
Gregg and Burns, who will be juniors this year, have been teammates since last summer on the Rose City Rebels AAU team. They have been playing together for Clackamas in summer games, helping the team to four wins and a second-place finish in a tournament at Oregon State last weekend.
"We get back almost the whole team, and then you add Ben and Damontae, it's pretty exciting for all of us," Cavaliers coach Cameron Mitchell said. "So far, so good, but we obviously have a long way to go."
Gregg and Burns have lived near Clackamas High School throughout their prep careers.
"We actually thought about coming here eighth grade, both of us together," Burns said. "But it ended up not happening."
Gregg was a dominant force at Columbia Christian, leading the Knights to a 2A title as a freshman and runner-up finish as a sophomore. Last season, he averaged 23 points, 14 rebounds, five assists, three blocks and three steals.
How much did playing for a 6A school factor into his decision?
"It played a little bit, as far as competition, because in 2A, you get like two or three good games a year," Gregg said. "I'm leaving a great coach in Bart Valentine, but I've got to move on."
There were other factors.
"It's just more convenient for me, living across the street from the high school," Gregg said. "My dad won't have to drive me 25 minutes to school every day."
Burns was a second-team Northwest Oregon Conference selection for Parkrose last season, helping lead the team to an 18-6 record.
"I live right down the street, and I just thought it would be a great opportunity to play with him and come play for this school," Burns said. "The whole time, I kept thinking about Clackamas, but I was just in my situation, so I just tried to make the most of my situation. It's time for a change now.
"I'm going to miss it, but I'm excited for a new opportunity."
The Cavaliers, who had five sophomores in their rotation last season, are young but will have plenty of varsity experience. They bring back two starters in 5-7 junior guard Artur Gavrilovich and 6-1 sophomore forward Ryan Lewis.
Mitchell, who is entering his third season as the team's coach, likes what he has seen so far.
"We're a real close-knit team, is what I like," Mitchell said. "They've all played together and they're good friends, and you can see it on the court. They move the ball really well."
Gregg, who won 58 games in the last two seasons at Columbia Christian, also is encouraged.
"It's a lot better than I expected coming in," Gregg said. "I thought we'd be middle of the pack in the Mt. Hood, but I think we have a real shot of winning it this year."
Mitchell said Gregg has "made a huge impact" on the team.
"Defensively, I think, is the biggest," Mitchell said. "One of his biggest strengths is his ability to protect the rim. Having a guy like Ben can really help erase defensive mistakes. And obviously, offensively, his skill level is unlike what you really see at the high school level, for the most part."
Burns also will add a new dimension to the Cavaliers.
"He's one of the top point guards in the state, and a really good shooter," Mitchell said. "He brings another tough-nosed defender, shooter, as well as another leader."