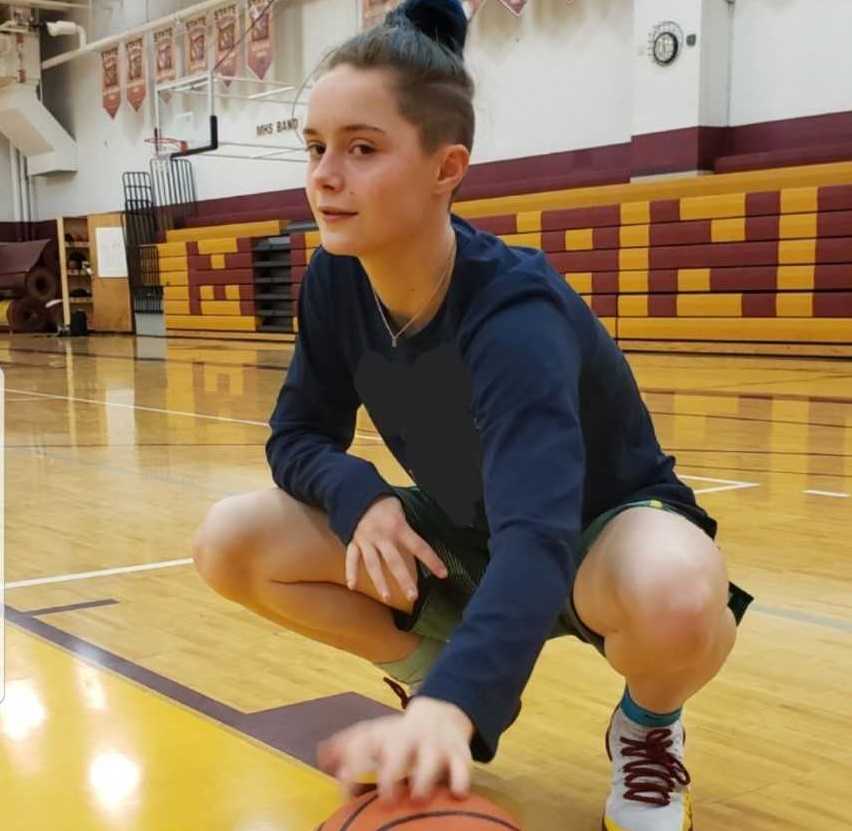 In her first high school basketball season, she led the state in scoring, broke the state freshman single-game scoring record and set a pace that would rank her among the state's all-time leading three-point shooters.
As Milwaukie point guard Cali Denson gears up for a busy summer, she reflected on her wildly successful debut.
"It was better than I expected," Denson said. "I had a lot of fun. It was a really good experience for me in my first year of high school. Just the overall chemistry, getting along with my teammates, and the production that I had."
Still, Denson toiled mostly in the shadows at Milwaukie, where the Mustangs finished 8-15 and failed to make the 5A playoffs. For now, she is content to quietly go about her business.
"She's very introverted," said Milwaukie coach Michael White, her father. "She doesn't have social media, doesn't even have a cell phone. So no one knows who she is. She doesn't really put herself out there like that. The kids in those circles know who she is, for sure."
The 5-foot-7 Denson averaged 27.1 points per game to account for 60 percent of her team's offense. She eclipsed 30 points seven times, including a state-freshman-record 46-point outing in a double-overtime win over Hillsboro. She made 79 three-pointers, twice making seven in a game.
She also shot 8.5 free throws per game, hitting 75 percent.
Denson is ready to crank it up a notch heading into her sophomore season, a point of emphasis as she leads her Flames International club team into a stretch that includes July tournaments in Oregon City, Chicago and Las Vegas.
"Looking back and watching games, I noticed I wasn't as fast as I need to be," Denson said. "So I'm going to work on getting faster, pushing the ball more up the court."
Denson initially was headed to 6A St. Mary's Academy. But when the Milwaukie coaching job opened, White, who had spent the previous two seasons assisting in the St. Mary's Academy program, landed the position and brought Denson with him.
"It was a chance for us to kind of build a program and change the culture," White said. "I felt like she could flourish and learn how to become a leader on the court. I thought it was a perfect fit, honestly. I'm very happy with the decision."
Added Denson: "I thought it was just an overall better decision for me, especially where I want to go, what my goals are for the future."
Milwaukie went 14-12 in 2017-18, but did not return a single player or coach to the team last season. The Mustangs made it through the year with seven players, only one of them a senior.
"We probably had the most depleted roster in all of Oregon," White said.
Much responsibility fell on Denson, and she embraced the role as the team's go-to player, scoring 96 points in her first three games. In 27.8 minutes per game, she averaged 27.1 points, 6.0 rebounds, 3.5 assists, 3.3 steals and 1.1 blocks. She shot 41 percent from the field, including 33 percent from three-point range.
Denson said the heavy workload "was a little bit different, but it was kind of what I was used to from my eighth-grade year. It was exciting to me. A new challenge, definitely."
In the 46-point outburst against Hillsboro, she made 14 of 29 shots, including 7 of 14 from three-point range, and 11 of 14 free throws.
"I was kind of like, in the moment. It was crazy," she said.
She also had two games of 37 points and one each of 38 and 36.
"Some of those scores kind of took me off-guard a little bit, for sure," White said. "I knew it was in her. But first year playing varsity girls basketball, I thought some of the butterflies would be there. She seemed pretty comfortable. It was definitely a little surprise."
Denson wasn't shy about pulling up from well behind the arc, hitting shots from more than 30 feet away.
"The first one she did, I was like, 'Why are you shooting it from out there?'" White said. "And she was like, 'They're not guarding me out there.'"
The Mustangs are hoping to provide more support for Denson next season.
"I've got a couple of eighth-graders coming in that are definitely difference makers," White said. "I'd be shocked if we don't win a couple playoff games. I think in a couple years, we're in the middle of it, for sure."
White and Denson both talk about changing the culture at Milwaukie. They say they are committed to making it happen with the Mustangs.
"We've had options to look at other schools, maybe even go back to St. Mary's, but she is really, really happy with what's going on at Milwaukie," White said. "It's really special to have three more years to play for me."