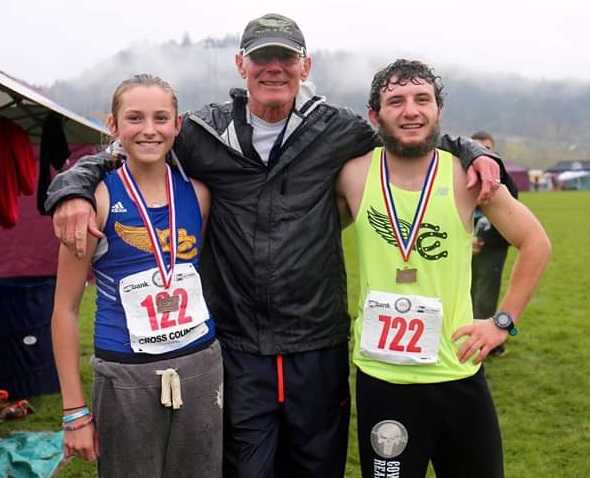 Few have been more successful at conquering great distances than Tracy Smith.
But after two decades as Crook County's cross country coach, the 1968 Olympic distance runner no longer will be making his daily 64-mile round trip from Bend to Prineville. He resigned from his position last week.
"I've been driving back and forth for 23 years. I'm just tired," said Smith, who retired from teaching in 2013. "I'm 74 now, and I think it's time to do some other things, enjoy life a little more."
During his tenure, Smith coached 5A champion sisters in Michelly Foley (2007) and Kellie Foley (2008) and guided the boys team to the 4A title in 2017 and a 5A runner-up finish last year.
"That's one of the reasons I don't feel too bad about finally leaving," Smith said. "I was a little worried that I might have some second thoughts, but I don't have any regrets so far."
Smith had a decorated career as a runner. He was a state champion miler at Arcadia (Calif.) High School, where he graduated in 1963, and was the NCAA Division I cross country runner-up for Oregon State in 1966.
He left Oregon State after two years to join the Army, where he was assigned to the track team. He set world records in the indoor three mile in 1967, 1968 and 1973, posting a personal-best time of 13:07.
He won the 10,000 meters in the 1968 U.S. Olympic Trials in a race held at Echo Summit near Lake Tahoe, the same 7,300-foot elevation as the Olympics in Mexico City.
"They wanted to make sure that people who made the team could run at altitude," said Smith, who won in 30:00.4. "Some people had more trouble than others."
Smith finished 11th in the Olympics, the highest-placing American. In the 1972 Olympic Trials in Eugene, he focused on the 5,000 meters but came up short, placing fifth in the final after finishing second to Steve Prefontaine in a qualifying race.
Smith said he was not at full strength after recovering from an Achilles injury he suffered two years earlier.
"I missed a whole year," Smith said. "I got back into pretty good shape, but the problem was you had to run a trials race to get into the final, and because of a year off, I could run one race really well, but I couldn't recover well. I got into the final and I could tell before the race that my legs were dead."
The 1972 Trials marked two of Smith's four races against Prefontaine.
In 1969 -- the year Prefontaine set a national high school two-mile record while at Marshfield -- Smith beat Prefontaine to win a three-mile race in the AAU National Championships in Florida, one of his six AAU national titles. In 1973, Prefontaine beat Smith to win an indoor two-mile race at the Los Angeles Sports Arena.
Smith recalled how during warmups for the final race of the 1972 Trials, he offered to help Prefontaine with strategy against another contender, George Young. Prefontaine defeated Young by seven seconds to win, setting an American record that wouldn't be broken for 40 years.
"I said, 'I'm willing to help you set a hard pace that he might not be able to be there for the last lap,'" Smith said. "He said, 'Oh, OK,' but he really had a plan of his own. I said, 'How about I lead a lap, you lead a lap?' He said, 'Oh, yeah,' but he didn't follow that. He had another plan."
After the 1972 Trials, Smith quit his job as a Los Angeles police officer, finished his degree at Long Beach State and settled with his wife and three children in Bishop, Calif..
In Bishop, he worked as a youth pastor, alternative high school teacher, Christian school teacher and coach before moving to Bend in 1994.