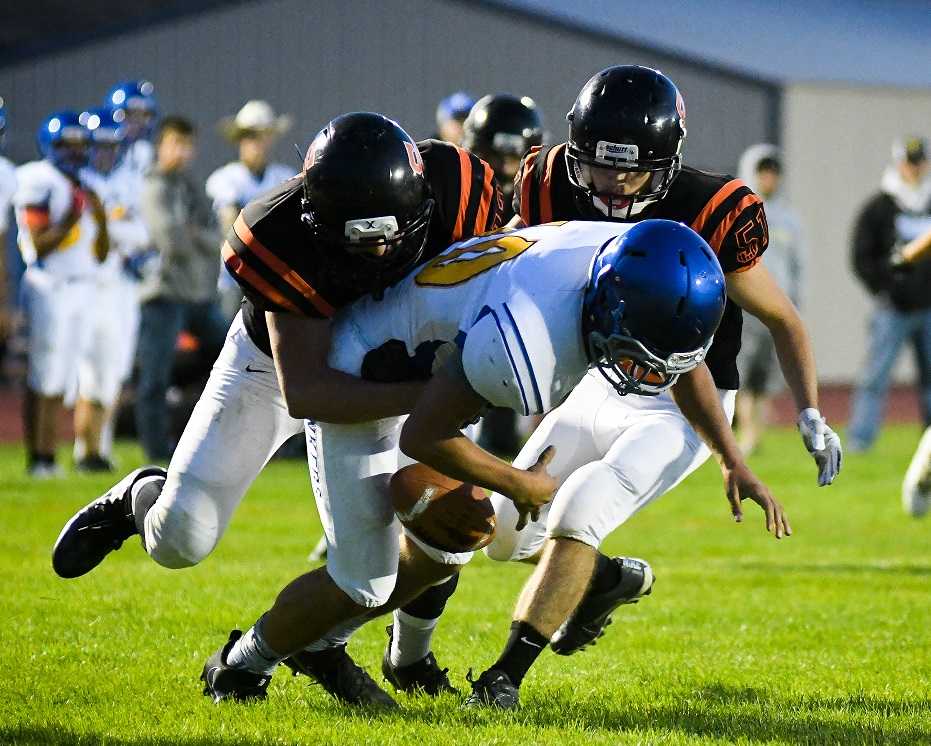 The OSAA's six-man football pilot program got a big thumbs-up from coaches when they met in January to discuss last year's inaugural season.
They agreed, though, that the season was missing one important element: a playoff system.
So coaches came up with a plan for the second season of the two-year program. No, six-man football won't have an official OSAA bracket this season, but it will crown an unofficial champion.
Coaches arranged the schedules to use the final two weeks as a playoff of sorts. A crossover schedule between the two divisions will include semifinals in Week 8 and a championship game in Week 9.
"As successful as it was, and as much as everybody enjoyed the season, not having something to play for at the end of the season was a bit anticlimactic for everybody," said Sherman coach Mike Somnis, who helped drive the playoff plan. "Hopefully we're heading in the right direction."
Last year, six-man had 15 teams in two divisions, although three teams were unable to finish the season. This year -- with the addition of Alsea, Crow and Sherman / Condon and the loss to Burnt River – six-man has 17 teams split into two conferences.
The 2018 season ended with a four-game crossover round at Madras High School, including a matchup between first-place teams in which undefeated Joseph beat McKenzie 64-31.
This year, the plan is for all teams to participate in a Week 8 six-man showcase Oct. 25 and 26 at Sherman High School, culminating with the semifinal games Saturday night. The Week 9 schedule, at Madras High School, will include the championship and third-place games and potentially other matchups, according to Somnis.
"We're still working out the details for that final weekend," Somnis said. "It just depends on if we can get the field for one or two days."
Somnis, a member of the OSAA football ad-hoc committee, has helped provide direction for six-man with Sherman joining the fold for 2019.
"I have a little different and unique perspective from being behind closed doors with the ad-hoc committee," he said. "I was just kind of hoping to add some of that for this season."
Sherman, Alsea and Crow are new to six-man this season. Sherman forfeited three of its last four eight-man games last season due to lack of players.
"We really should've gone six-man the first year, but we made the transition this year because our numbers are a little lower than they used to be," said Somnis, who also serves as Sherman's principal and athletic director.
"It's great. You get east of the mountains and the options for us are to co-op with other schools, and that's always a 45-minute to an hour drive. Anytime we can keep a team on our campus, in front of our community, is extremely important. It's good for the school."
Alsea played in a co-op with 4A Philomath last year after playing only one eight-man game in 2017. Crow won one game the last two seasons in eight-man after not having enough players for a team in 2016.
Condon and Pacific have decided to co-op with six-man teams. Condon, which spent the last four seasons in an eight-man co-op with Arlington, has joined forces with Sherman. Pacific, a co-op partner with 3A Coquille for three seasons before joining up with 2A Gold Beach last year, has connected with Powers.