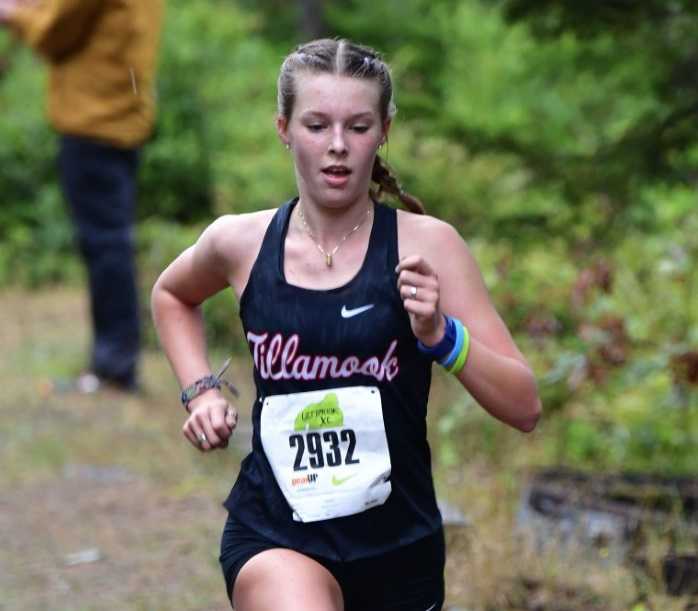 There was a time when anything other than first place was unacceptable to Tillamook senior Solace Bergeron.
After finishing runner-up in the 4A cross country meet as a freshman, Bergeron entered the state track meet with high expectations, only to take second in the 3,000 meters and third in the 1,500.
"That was the first time I've ever gotten a third-place medal," she said. "I was like, 'Nothing else matters than running and winning.' Getting second and third, I was devastated. Frankly, I was not in a good place after those races. I was just so mad at myself."
Winning still matters to Bergeron, but as she prepares to go after a third consecutive 4A cross country title this season, she is rediscovering the joy of running.
Bergeron's new perspective comes after a difficult junior year. She was eager to win her first track titles in the 1,500 and 3,000 after finishing second in both races as a sophomore, but suffered an ankle injury last winter and never fully regained her form.
"She never sprained her ankle, but it felt like one," Tillamook coach Pat Zweifel said. "She ran through it. She was in terrible shape. She could've ran from it, and said, 'I'm not going to do track.' She never did run from it. She had a pretty good attitude about it."
The final blow to Bergeron's track season was when she fell ill for the district meet and did not qualify for state.
"That morning, I woke up and I was like, 'This is your junior year, all the colleges are looking at you, that sucks, but it is what it is, and you can't really fix that. You just have to be positive about it,'" she said.
"After I got injured, and after I realized there really wasn't that much of a chance that I was going to catch up, I started running for fun again. I was just playing it out real smooth, and being relaxed, racing and running for fun."
Bergeron – whose mother, Ginnette Marberry, was a standout distance runner at Benson – anticipated making her mark when she arrived at Tillamook in 2016. And she has delivered, running school-record times in cross country and the 3,000.
Still, there is pressure to do more.
"There's definitely pressure from the outside," Bergeron said. "After sophomore year, winning state, I felt it even more. I definitely feel those outside forces that have high expectations for me. Coming from myself, that's definitely the worst of it. I'm highly competitive. Second just isn't going to do."
Bergeron suffered anxiety attacks before the state cross country meet the last two years.
"It's bad. I go into the locker room and I'm just like freaking out," she said. "But I think without that, I definitely wouldn't have the drive and courage and strength to get through it all, and the will to do it. I work best in crisis."
Once she steps to the starting line, her competitive instincts take over.
"Nothing else matters, and everything goes away. I'm in race mode," she said. "There's nothing that can stop me. I'm in a place in my mind where anxiety isn't a thing. Those nerves, they're still there, but they're there in a different way. They're not negative, not jittery. They change to a drive."
That drive was stifled last winter when her ankle flared up and she missed about six weeks of training. The injury remains a mystery to her.
"I have no clue," she said. "I went to like four doctors and they all told me different things. It was painful to run on, and it was painful to walk on some days."
The ankle is 100 percent now. It has taken some time, but she believes she is back to where she was before. She gets an early test Friday in the Night Meet at Wilsonville, where she will square off against one of her 4A rivals, Marist Catholic senior McKenna Priske.
"She's smart enough to know that what counts is at the end of the season," Zweifel said. "That's where her mind-frame is. But at the same time, she's looking really good right now. The last two weeks, she's had really good workouts. Gaining confidence, which is really important."
Bergeron said that the first race "will definitely tell me for sure. On a mental standpoint, I'm definitely ahead of the game this year than last year. I'm feeling better. I'm just playing it out like I'm going to have fun."