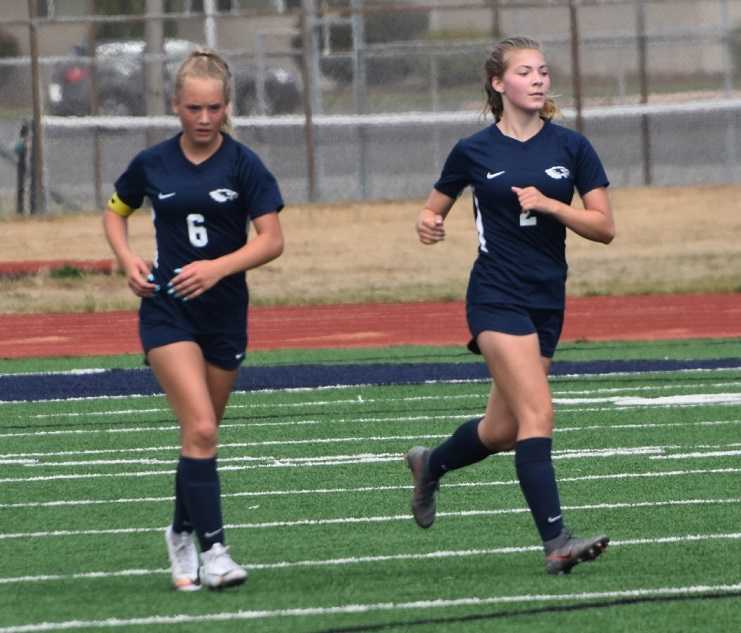 STAYTON – The one-two punch of senior KJ Nyquist and junior Maddie Pask looks like a potent force for Stayton's girls soccer team this season.
Nyquist and Pask each scored twice to spark the Eagles to a 7-0 win over visiting McLoughlin in the 4A nonleague girls soccer opener for both teams Saturday.
Pask, making her return after missing her sophomore season with a torn ACL, scored two goals off assists from Nyquist as Stayton took a 3-0 lead at half. Nyquist added a pair of goals as the Eagles pulled away.
"It's really great to have her back," Nyquist said of Pask. "We really missed her last year, but we're definitely trying to make her mark this year and work together with the rest of the team and keep her out at practice and win some games."
The addition of Pask is a big boost for Stayton, which lost nine players from last season, when it won the Oregon West Conference and reached the 4A quarterfinals. The Eagles were voted No. 8 in the OSAAtoday 4A preseason coaches poll.
"It's really nice. I'm really excited to be back," Pask said. "It was rough in the beginning, but after practicing and getting back into the groove, it's really nice with KJ. I have a strong connection with her and all the practices and stuff help build it."
Senior Savanna Baker and sophomore Rian Hill also bolstered the Eagles' attack in the win. Hill scored a goal in the second half.
"We just got to be able to communicate really well and be able to pass to feet because that's what is going to help us out and being able to play to the outside," Hill said. "Just making sure we always got a job, that's very important when we're all crowded up in the box. Being able to have a drop-in and kind of reset, that's the big thing that we need to be looking for."
Stayton is home to face No. 6 Gladstone on Tuesday.