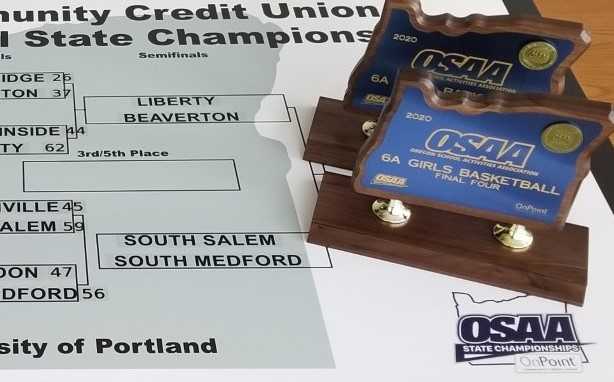 It seemed almost cruel in March when Liberty's girls basketball team had nothing tangible to show for the best season in school history.
The Falcons were preparing for a 6A semifinal showdown with top-seeded Beaverton when the tournament was canceled due to health concerns about the coronavirus.
But as it turns out, the Falcons – along with the other 6A, 5A and 4A teams still alive in the championship brackets – won't come away empty-handed, after all.
The OSAA has awarded "Final Four" trophies to teams that reached the semifinals of the 6A girls and 5A boys and girls tournaments, as well as "Elite Eight" trophies to quarterfinalists in the 6A boys and 4A boys and girls tournaments.
"I think that's huge," Liberty coach Melanie Wagoner said. "People don't necessarily remember in five years who was all-conference or this or that, but if you have a team that does something like this, that does get remembered. And that trophy is a big symbol of it.
"I was just really proud and happy to get that, and thankful to the OSAA to be able to get something like that."
The trophies feature blue metal, traditionally reserved for champions, "because they were all still alive," according to OSAA executive director Peter Weber. They were shipped to schools along with a 20-second congratulatory message from Tory McVay of OnPoint Community Credit Union, title sponsor of the tournaments.
"We were trying to figure out how we could honor the achievements of those teams who were in the middle of their tournaments," Weber said. "Even the ones that were in the quarterfinals, they had to win to get there."
Valley Catholic girls coach Pat Thomas, whose team was in the 4A tournament, met with his players by video call and showed them the trophy.
"In the six weeks I have been teaching remotely, I haven't seen any smiles nearly so big as the girls' when they saw the trophy," Thomas said. "I could see how much it meant to them, and I know how good I feel when I see it sitting in my dining room, for now."
The trophies provide a measure of consolation for the teams, who have not been able to meet in person since the tournaments were canceled. The shutdown deprived them of their team banquets, which traditionally close the book on a season.
"It's not the blue trophy our team wanted, but it is very important in giving closure to a special season," said Crater boys coach Chris Schmerbach, whose team was in the 5A semifinals. "Looking at the positive, it was a unique season, and we are proud to be one of only a handful of the state of Oregon that will be able to hold up a final four trophy."
North Marion's boys were among the teams receiving "Elite Eight" trophies for making the 4A quarterfinals.
"It's nice to have some sort of recognition," Huskies coach Tully Wagner said. "I think that's really the only way the OSAA could've done it in a fair manner is to recognize all eight teams still remaining.
"I think we all know that at that point, it's really anybody's game We obviously thought we had a great chance if we played our best basketball, but so did the other seven teams still in it."
Wagner sent photos of the trophy to his team, which had seven seniors in its nine-man rotation.
"I know that they were happy that we were recognized," Wagner said. "We expected to be there, so that was a goal that we had realized. But we still had other goals for our season. … But I'm still super proud of my kids and happy to get to that point."
Liberty's Wagoner said the trophy isn't an "ideal situation," but will be appreciated as a visible reminder of the team's historic season. By making the semifinals, the Falcons were guaranteed to receive first, second, third or fifth place.
"I think it's hard to have actual closure," Wagoner said. "We still hope, if the time's right, or if there's an opportunity, for the girls to get together for one last time, just to celebrate their season. But I do believe it helps to get the trophy. You can start looking back and enjoying it, feeling like it's something they achieved."