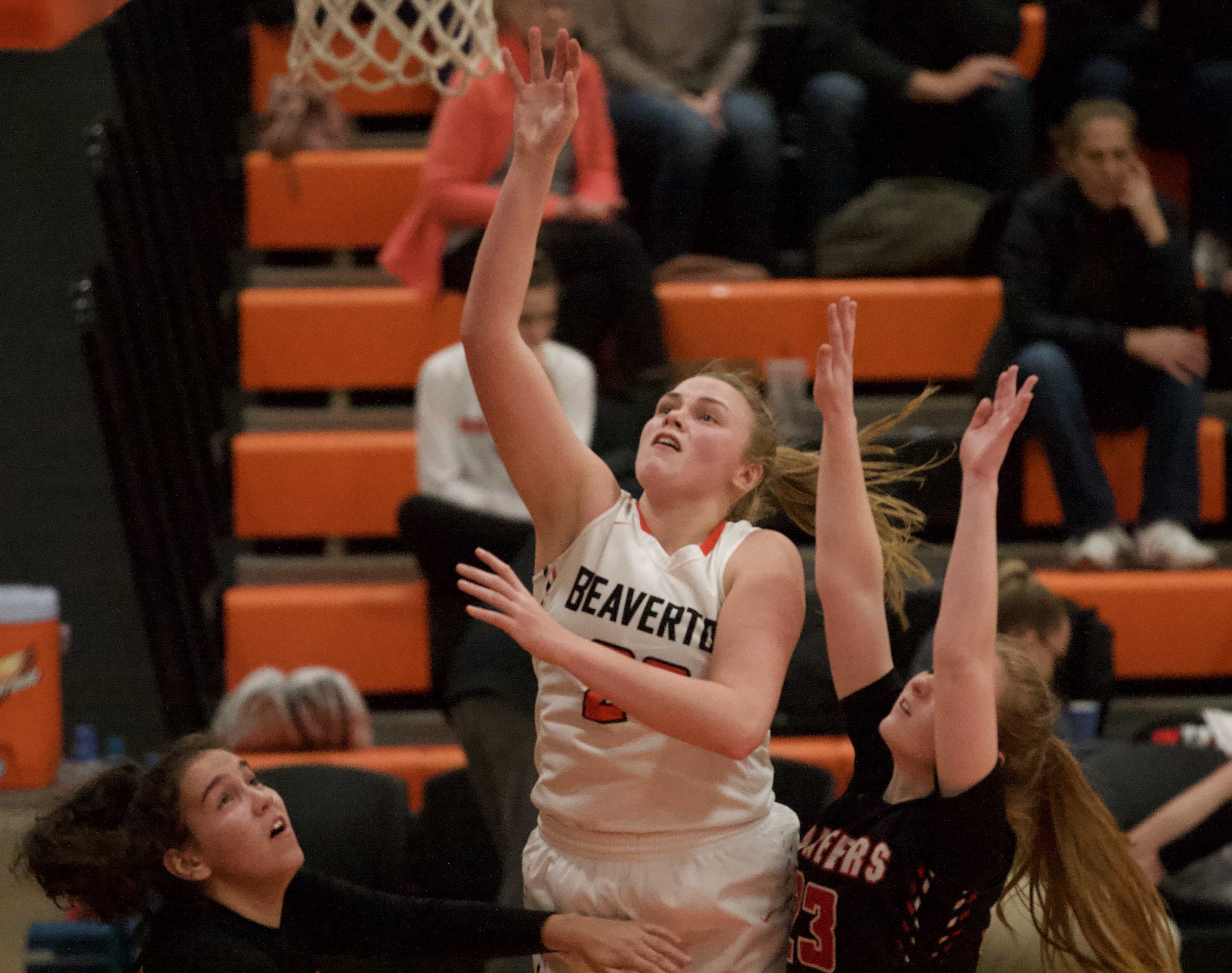 BEAVERTON — For Beaverton's fourth-ranked girls basketball team, what happened in Spokane apparently stayed in Spokane.
It had better. The ambitious Beavers bit off two games in the Dan Fitzgerald Memorial Tournament last weekend, but they bit back and Beaverton lost them both.
So the Beavers took out their frustrations from that weekend on an Oregon City program that is starting from scratch and hammered the weaponless Pioneers 61-25 Friday night.
It was easy. The Beavers ran off the first 11 points of the game, had a 21-point run in the second half and held the Pioneers to six field goals. They blocked shots, stole the ball, intimidated the inexperienced visitors and generally played like the team that made a long run into the Chiles Center last year.
In a way, it was a game the Beavers had to have go the way it did. Lewis and Clark and Mt. Spokane are two of the best in the Greater Spokane League. Next Friday night Beaverton has a home match against undefeated Tigard, which knocked off two-time reigning state champion Southridge on its own court Friday night.
After that, it's a trip to Arizona.
So Friday night was no time to play it casually. There was too much work to do.
"Last week we learned that the little things matter," said junior post Laura Erikstrup, who led both teams with 16 — mostly uncontested stuff under the basket. "Especially on defense. We needed to take pride in what we were doing.
"And on offense we had to work on not going too fast, and to be smart about what we do. Tonight was an opportunity to prove to ourselves that we're better than we played in Spokane."
It was hard to tell sometimes against OC. The Pioneers have only three seniors on their roster, no real size and not a lot of weapons to attack a relentless team like Beaverton, which is just as young, but has a high quality season behind it and a lot of off-season experience.
Still, they put a facial on Clackamas in the opener of their own tournament last week before getting hosed down by Southridge.
But against Beaverton, nothing worked: OC scored two points in the third quarter, on a field goal that turned out to be the only field goal it scored until their were 40 seconds left in the game and the backups were having at it.
The result was satisfactory for Beaverton coach Kathy Naro.
"We have an extremely tough schedule," she said, "It's where we find out right away what we need to work on. When you hit a bump like we did in Spokane, this is an opportunity for growth and to get better and change anything we need to change.
"(In Spokane) We weren't making the smart pass. We forced things and played really uptight. Tonight we were more locked in defensively and moved the ball around to find who was open."
Daughter Mary Kay Naro had 15 points for the Beavers. Emily Fortin was the only Pioneer who had two field goals and finished with five points.