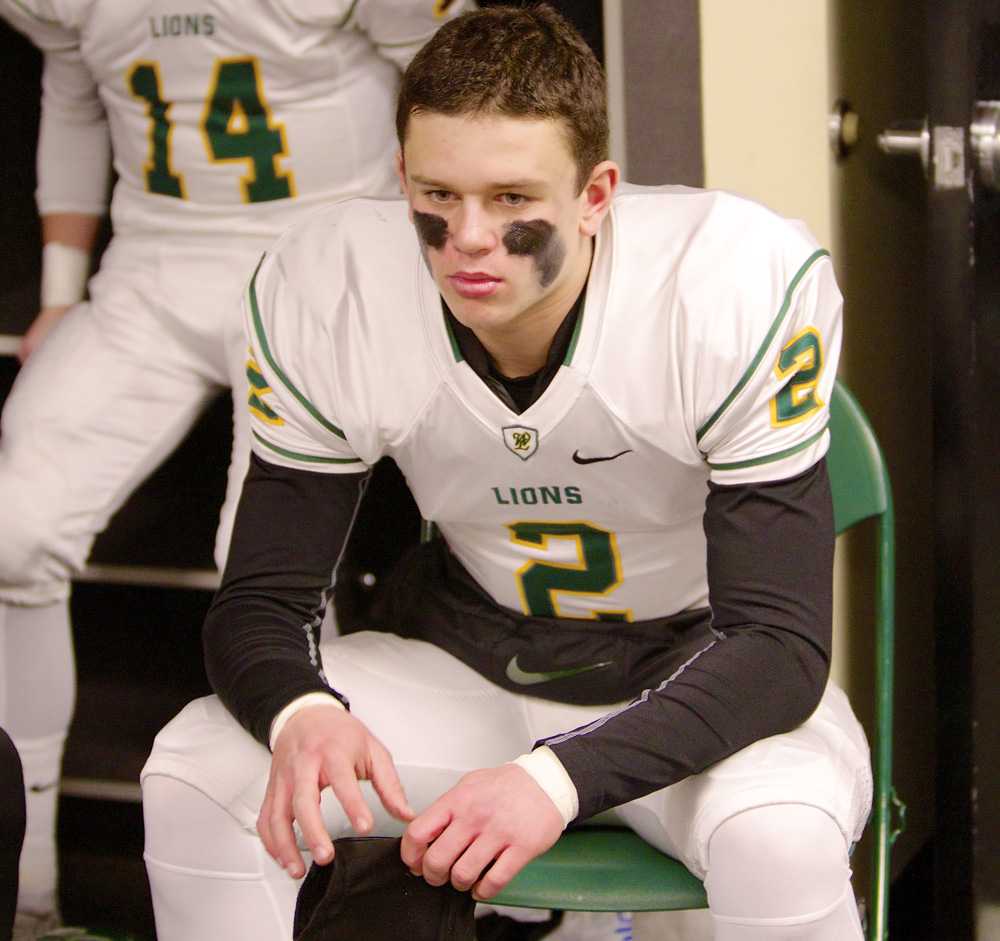 Tim Tawa threw the first touchdown pass of his life when he was nine years old. It went to Qawi Ntsasa, who scored from 21 yards out.
Tawa threw the last touchdown pass of his life in the third quarter of the 2016 6A football state championship game. It also went to Ntsasa, who scored from 21 yards out.
You can't make this stuff up.
That final TD toss was No. 143 in the three-year varsity career of the West Linn signal caller. Before Tawa came on the scene in Oregon, the state career touchdown pass list read like a Who's Who of Oregon greats: Taylor Barton, Derek Anderson, Alex Brink, Kellen Clemens…And yet, only two quarterbacks, Clemens at Burns (102; 1998-2000) and Grant Hedrick at Central (103; 2007-2009), had ever thrown more than 100 touchdown passes. Tawa threw 40 more scoring strikes than anybody else in the history of the state. Forty! He set the new standard at almost 40 percent higher than Hedrick's previous mark.
"Records didn't mean much to me while I was playing," Tawa said. "I was focused on winning."
***
In order to set the record, Tawa needed a perfect storm of good fortune to smile on him. After a remarkable youth career in which his teams went undefeated in four of his six seasons, Tawa was immediately hit with adversity in his freshman year at West Linn. Fellow freshman Connor Neville, called by Barton the most physically gifted young quarterback he'd ever seen, transferred into the high school from Beaverton. While Tawa played freshman football (and led the young Lions to an undefeated campaign), the more physically mature Neville split time between the JV and varsity.
After the season, West Linn made a coaching change. When Mike Fanger stepped down, Neville transferred to Wilsonville and had an outstanding career with the Wildcats. He stands sixth on the Oregon career touchdown pass list. West Linn hired Chris Miller to replace Fanger. The former NFL signal caller brought a pass-first offense to West Linn, hoping to change the fortunes of a Lion program that had suffered consecutive 4-7 seasons under Fanger.
Miller inherited no experience at the quarterback position. The Lions had graduated starter Hayden Coppedge and Neville, who started one varsity game as a freshman; was also gone. With no heir apparent, Tawa had the opportunity to compete for immediate playing time as a sophomore.
The first two games, Tawa split time with Brooks DeBisschop, a junior who would grow to 6-9 and make his mark on the basketball court both for West Linn and Northern Arizona University. Tawa threw four touchdown passes in his first two starts, then tossed three in a fulltime role in a program-defining 20-6 win over Lake Oswego. He finished with 38 touchdown passes as a sophomore and threw 50 his junior year. Throughout his career, Tawa was blessed to have extraordinary receivers – Connor Berggren, Cody Coppedge, Kurt Moon, Ntsasa, Jake Meisen, Justin Altenhofen – who could turn any catch into a trip to the end zone.
That last touchdown pass to Ntsasa was a prime example. The junior, now playing at Air Force, took a bubble screen, broke it outside and dove for the pylon. It was No. 55 in Tawa's senior campaign, one shy of tying Barton's then-single-season mark (later eclipsed by Wilsonville's Nathan Overholt, who tossed 59 in 2018).
Late in the 2016 championship game, Miller told Tawa that he was going to call plays to get him the record-tying 56th TD toss. West Linn was ahead of Central Catholic 56-7 at the time. Hayes Gardner, a sports writer for The Oregonian, was on the sidelines and heard Tawa tell Miller, "No." He didn't need another record.
Tawa had a better idea. He brought the starting offense back onto the field for one more play, a handoff that lost yardage. The team then exited, walking hand-in-hand, 11 across, to the cheers of the West Linn faithful.
***
Tawa hasn't played in a football game since. He accepted a baseball scholarship to his dream school, Stanford University, in the fall of his sophomore year, before he was ever a legitimate football prospect. He has never looked back and is a three-year starter for the Cardinal playing mostly shortstop.
***
Are Tawa's 143 career touchdown passes an unbreakable Oregon record? The answer is a resounding, "No!" I expect it will be broken within the next five years. All it will take is a talented quarterback in a pass first offense who gets his chance as a freshman or sophomore, stays healthy throughout his career and has great receivers. It also will help if the team is good but not too good. Tawa averaged only 2.5 quarters per game in his senior year, when West Linn went 14-0 and won every game by an average of 34 points.
Need more proof that Tawa's mark is meant to be eclipsed? The National Federation of High Schools record book lists 11 players with career totals that are better. It'll only be a matter of time…
Tawa won't care when the record is broken.
Said Tawa: "14-0. 62-7. The first football state title in the history of West Linn. That's all that matters. That's what I think about."
*This is part of a summer series…Mondays…
Read the other articles in the series…
The day Rainier terminator Breana Edwards shattered the single-match kill record
The night Aloha back Thomas Tyner ran wild!
The Taft pitcher who knew what it was like to be perfect
The wrestler who knew when it was time to raise his hand
The girl who ran faster than the wind
The lefty who was a hit when he wasn't giving up any
The leadoff batter whose hitting led to a run
The day Tommy Skipper's record vault also cleared a hurdle
The day Morgon Henderson-Kunz destroyed his own record in the 100 freestyle
[Editor's note: This was a last resort article, as two other record breakers did not get reply back by press time]